Wimbledon: Maria Sharapova eyes second SW19 title after French Open success
Last Updated: 08/06/14 4:25pm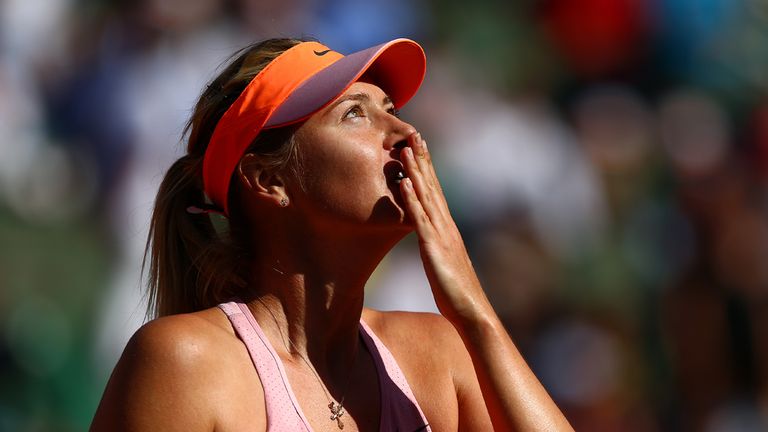 French Open champion Maria Sharapova has set her sights on another Grand Slam title at Wimbledon.
Sharapova clinched her second title at Roland Garros with a 6-4 6-7 (5-7) 6-4 victory over Simona Halep on Saturday, and the 27-year-old now wants to add another Wimbledon title to the one she claimed in 2004.
She stunned Serena Williams in that final as a precocious 17-year-old, and further success on grass appeared almost inevitable.
But semi-final appearances in 2005 and 2006 and a 2011 final defeat by Petra Kvitova have been the highlights of Sharapova's appearances at SW19 in the decade since that famous victory.
"I'd love to win it again. It marked my career and I appreciate that moment so much," said Sharapova.
"It came so unexpectedly yet 10 years later to be having five Grand Slams, to come back and still be playing and still have the energy and the passion to win more, that brings a lot of joy because I want to get better and I want to win more.
I'd love to win it again. It marked my career and I appreciate that moment so much.
Maria Sharapova
"I think my results have been up and down in the last few years based on a few things. I've been to a final again, I've been to a couple of semi-finals, but obviously the goal is to win it again.
Clean slate
"I don't care what my results were in the past. You start from a clean slate, that's how I go into a Grand Slam.
"I don't think that I've won it before because when you have the mentality that you've won it then it gets boring. You have to go out there hungry for more.
"Even though you always remember those incredible moments of holding that trophy, you've got to try to erase that from your mind because you've got to create new ones."
Sharapova won three Grand Slam titles between 2004 and 2008 before her career was seriously threatened by a shoulder problem that required surgery.
"So many things have happened within those 10 years," she said. "I've gone through a tough injury, I've had to come back. I feel like I was thrown a lot of adversity in my career.
"I've had to get through all that, and in the middle of it all I've had incredible moments like these: winning all the Grand Slams, being number one in the world, it's all that a little girl wishes for when she's trying to become a tennis champion."