Murray's finals
Andy Murray is through to his fifth Grand Slam final after beating Tomas Berdych in the last four of the US Open. We take a look back at the Scot's near misses
Last Updated: 08/09/12 10:00pm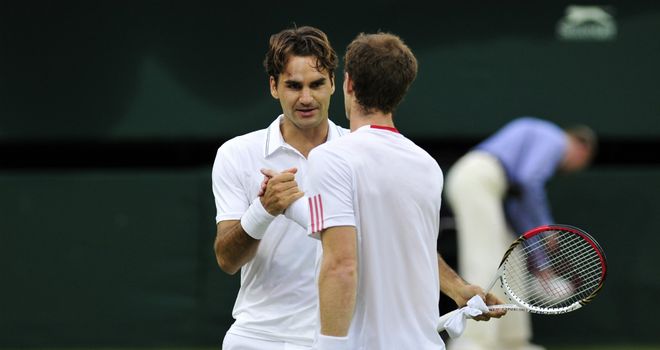 2008 US Open Final: Roger Federer 3 Andy Murray 0 (6-2 7-5 6-2)
Murray's hopes of catching Federer cold were high following a semi-final win over Rafael Nadal, but his Swiss opponent, smarting from losing a Wimbledon final epic with Nadal, was too good.
Just 21 at the time, Murray looked raw against the grand master and was cleaned up in an hour and 51 minutes.
"I had a great tournament but I came up against, in my opinion, the best player ever to play the game today," said Murray.
2010 Australian Open Final: Roger Federer 3 Andy Murray 0 (6-3 6-4 7-6)
Murray had looked fresh in Melbourne after playing the Hopman Cup with Laura Robson, and when Nadal retired out of their quarter-final, he had a golden chance.
He saw off Marin Cilic in the semis but again came up against Federer, being reduced to tears by the imperious Swiss.
Referencing how Federer had shed tears following a loss to Nadal in 2009, Murray said: "I can cry like Roger. It's just a shame I can't play like him."
2011 Australian Open Final: Novak Djokovic 3 Andy Murray 0 (6-4 6-2 6-3)
It was a new opponent but the same old story for Murray as Djokovic, emerging as the game's new superpower, handed Murray the same cards as Federer in Melbourne.
He spoke after about winning a "mental battle" with the Scot, who responded by saying he would "not lose any sleep" over the loss.
On winning a major, he added: "If it doesn't happen, it doesn't happen."
2012 Wimbledon Final: Roger Federer 3 Andy Murray 1 (4-6 7-5 6-3 6-4)
A huge weight was lifted off Murray's shoulders when he beat Jo-Wilfried Tsonga in the semi-final to become the first British man since Bunny Austin in 1938.
In a summer designed to showcase British sport, the omens seemed set fare for Murray to get his hands on te prize he craved the most, especially when he took the opening set against Federer - his first in a slam final.
But he lost his way after a delay for the roof to be closed and Federer ramped up to the vintage of 2008 and 2010 to finish the job.
"I'm getting closer," sobbed Murray on the court after, winning the hearts of the nation on the process.