Beating the best
Our man in New York looks at Andy Murray's chances of beating Novak Djokovic in the US Open final.
Last Updated: 10/09/12 12:53am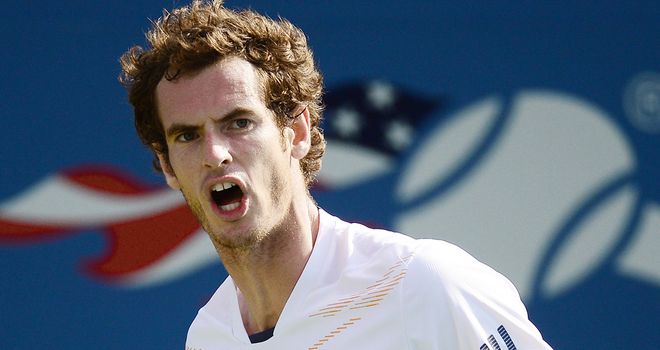 Whether the monkey remains on Andy Murray's back is up for debate, but the Scot will still have to beat the best if he is going to end his wait for a first Grand Slam title.
The build-up to this year's US Open was dominated by talk about whether Murray was liberated of his major hoodoo, with his Olympic triumph representing a significant shift in mentality.
Murray admitted himself that he previously had "doubts about myself and my place in the game", but, following his semi-final victory over Tomas Berdych, acknowlegded that his Olympics win "took a bit of pressure off."
Beating Djokovic en route to that success will be equally important in instilling belief in the British number one, given he has lost their two Grand Slam final meetings.
The duo are equal in their head-to-head away from the majors while their career title tallies are similar when you take away Djokovic's five Slam titles.
In other words, these two 25-year-olds are separated almost solely by their achievements in the four showpiece events.
That is the difference between being considered one of the greatest in a golden era and being the ever-present bridesmaid.
How Murray finds an even footing with his peer is the million dollar question.
Be it training harder, getting stronger or switching coaches, the third seed has tried just about everything.
His latest coach Ivan Lendl has received much acclaim for helping improve Murray's mental fortitude, evident by the way he bounced back from his Wimbledon loss to claim gold, having endured wretched runs following his previous major final losses.
The similarities between the pair are clear and not there by coincidence.
The duo share the unenviable record of having lost their first four Grand Slam finals, with Lendl going on to win eight after coming from two sets down against John McEnroe in the 1984 French Open.
Following footsteps
For those expecting history to repeat itself, Sky Bet's unique set-exacta market offers a LLWWW victory for Murray at 45/1, which could be a nice punt given his tendency to be a low starter.
Their 'What If... he does a Lendl' enhanced special offers Murray at 15/2 to win in five sets in his fifth final.
I personally find it very hard to oppose Djokovic with not too much between their prices, with a four or five-set victory the way to go.
Murray is certainly in the right place to produce his best tennis on the biggest stage of all, but whether that is good enough to halt the Serb on his favoured surface remains to be seen.
We are talking about the reigning champion on both hard-court majors, the Australian Open and the US Open, a man who has only dropped one set at Flushing Meadows this year.
That set came in the wild conditions of Saturday when his array of weapons, which tore David Ferrer apart on Sunday, were unavailable.
With good weather expected for our Monday final, Murray will have explore his full repertoire of attacking strokes to halt Djokovic.
The Serb pointed to his rival's new-found tendency to be offensive in the big matches as his key development.
He said after ousting Ferrer: "I think he's going for the shots more than he used to. That's something that I guess he was looking for. I don't know if it's with Ivan's help or not, but he's definitely improved in that part of the game."
We now believe that Murray is in the right place to produce his best tennis on the big stages, it is time to see whether that best is enough to end Britain's 76-year wait for a male Grand Slam winner.