Williams the warrior
Greg Rusedski praised the fighting spirit of Serena Williams after she won her fourth US Open title.
Last Updated: 10/09/12 9:19am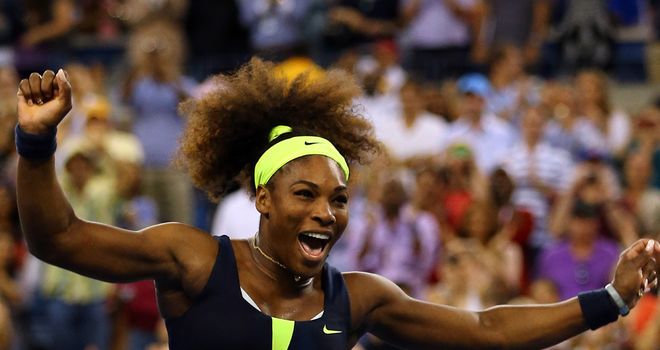 Greg Rusedski praised the fighting spirit of Serena Williams after the American sealed her fourth US Open title with an epic win over world number one Victoria Azarenka.
After out-playing her Belarusian opponent in the first set, Williams struggled in the second against the Australian Open champion, before saving match point and winning a tight third to wrap up the 6-2, 2-6, 7-5 victory.
Azarenka was 12-0 in three-set matches this season before the match and Rusedski hailed the hometown hitter's mental focus and performance to end that streak.
"You feel devastated for Azarenka because, having served for the match, she was so close to winning her first US Open, but you have to say Serena Williams is a deserving champion," he said.
"She found a way to dig so deep, she never lost belief and she came back from 5-3 down to win the third set 7-5.
"Considering all the difficulties she's had here in previous years at the US Open, to come back and finally win this tournament again, her 15th major, she is ecstatic.
"This was also a very good advert for the women's game. A lot of people have questioned whether Azarenka is the deserved number one but she showed us a lot with her tennis."
Composure
Annabel Croft also had praise for the losing finalist.
"Azarenka played such a great match out there," she said. "When you consider she was thumped off the court in the semi-finals of the Olympics for just three games, here she pushed Serena all the way, but Serena produced a fantastic performance.
"I was so impressed with Serena's composure. She didn't panic at any stage. She was finding it hard to find her best tennis out there but she kept a lid on all her emotions, although we knew she was bubbling underneath the surface."
For Boris Becker, the 2012 final was one to remember.
"What a great final that was," said the 1989 men's US Open champion. "That exceeded our expectations. "Congratulations go to the Williams camp because Serena played an unbelievable match, coming back from 5-3 down.
"Azarenka isn't happy and has shed a few tears. This will really hurt her in the next few days. She made a great comeback after losing the first set 6-2 and served for the match but unfortunately for her, Serena Williams prevailed."