Past showdowns
Ahead of the US Open final, we look back at the previous meetings between Andy Murray and Novak Djokovic.
Last Updated: 10/09/12 1:20pm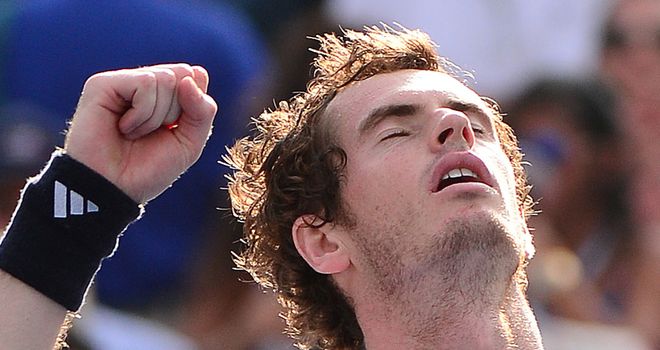 Andy Murray's coach Ivan Lendl has backed the British number one to win his first grand slam title when he takes on Novak Djokovic in the US Open final on Monday.
The Scot has lost each of his four previous major finals, an Open era record he shares only with his coach, but will fight to win his maiden title at Flushing Meadows.
This will be Murray's second US Open title bid, his first being in 2008 when he lost to Roger Federer.
Five-time grand slam winner Djokovic has the upper hand in their head-to-head record, having won eight of their 14 meetings but it was Murray who defeated the Serbian at the London 2012 Olympics.
But Novak's record is impressive. He has won 27 consecutive hard court grand slam matches stretching back to the 2010 US Open and looks ready for victory in his fourth New York final.
Here we look back at the previous encounters between the two 25-year-olds...
2008, Cincinnati Masters: Murray won 7-6 (7-4) 7-6 (7-5)
Murray marked himself as a serious competitor by winning his first Masters Series title in the pair's first meeting four years ago. His nerves did not go unnoticed as the game developed and he spurned four championship points in the ninth game of the second set. It was then his biggest career opportunity but when Djokovic pulled it back to a second tie-break, Murray upped his game to avoid a deciding set.
2009, Miami Masters: Murray won 6-2 7-5
The Scot beat the Serbian in the final to become the first player that year to win three titles. It seemed that Murray coped better with the hot weather conditions in Florida when cruising through the first set. Djokovic established a 5-2 lead in the second but Murray reeled off five games to take the $590,000 winner's cheque.
2011, Australian Open: Djokovic won 6-4 6-2 6-3
This was the year that the Serbian proved to be a world-class player as he won Wimbledon and the US Open after defeating the British number one in the semi-finals in Melbourne. However, hopes were high for Murray to claim his maiden grand slam title after losses in the final of the 2008 US Open and 2010 Australian Open. The year also saw Murray lose successive first-round matches to Marcos Baghdatis, Donald Young and Alex Bogomolov before recovering to reach the last four at Roland Garros, Wimbledon and Flushing Meadows.
2012, Australian Open: Djokovic won 6-3 3-6 6-7 (4-7) 6-1 7-5
Twelve months after his defeat against Djokovic, Murray met his rival again in the semi-finals. Despite a noticeable improvement in Murray's performance, history was repeated when Djokovic advanced to meet Rafael Nadal in an epic final. Hopes for a comeback looked good when Murray upped his game when trailing 5-2 in the fifth set. But the Scot failed to convert three break points at 5-5 which left Djokovic open for victory.
2012, London Olympics: Murray won 7-5 7-5
After an emotional loss to Roger Federer in the final of Wimbledon, Murray felt that he had a lot to prove at the Games. He beat Djokovic in the semi-finals, leaving a bid for gold against his Swiss rival. Murray was victorious by breaking his opponent's serve at 6-5 in both sets. Djokovic wasted numerous opportunities to claim the Murray serve in the second but the Brit stood his ground and claimed a win.