Murray's Milestones
Skysports.com takes a look back at Andy Murray's greatest moments ahead of his US Open final.
Last Updated: 10/09/12 3:30pm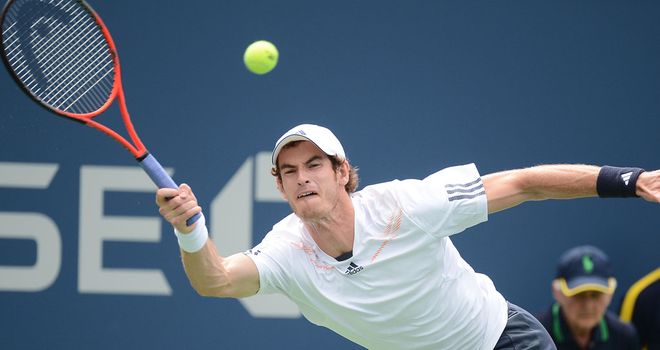 Andy Murray has come a long way since winning the US Open junior title in 2004 and will now face Novak Djokovic in his fifth grand slam title at Flushing Meadows on Monday.
Here we look back at the Scot's career milestones from when he first appeared on court at a young age to being British number one nearly a decade later.
September 2004: US Open junior title
At the age of 12, Murray's ability on court was evident when he won the prestigious Orange Bowl in Florida. Three years later he went to Spain to develop his game and his hard work proved to be worthwhile as two years later at 17 years of age he beat Sergiy Stakhovsky in the final of the US Open juniors. He came through in straight sets to win 6-4 6-2. Past winners include Pat Cash, Stefan Edberg and Andy Roddick.
June 2005: Grass Debut
Wild-card Murray reached the third round at Queen's and was in a winning position against former grand slam winner Thomas Johansson before succumbing to cramp. A similar story followed on his senior Wimbledon debut when he beat world number 16 Radek Stepanek in the second round. He then faced David Nalbandian but lost in five sets despite being two sets up.
September 2005: First ATP Tour final
Swiss rival Roger Federer soon became Murray's biggest obstacle after the Scot failed to beat him in the final of the Thailand Open in Bangkok. Murray had enjoyed a superb run throughout the tournament and helped him reach the top 100 for the first time.
February 2006: Maiden ATP Tour title
It was here at the SAP Open in San Jose when Murray established himself into the top 50 when he defeated Lleyton Hewitt in three sets. He also beat world number three Andy Roddick in the semi-finals, the American becoming the first top 10 victim to lose against the Brit.
December 2007: Team Murray
Brad Gilbert was hired by the Lawn Tennis Association (LTA) to work with Murray. After only 18 months together, the young Scot ended the arrangement and assembled his own team, including Miles Maclagan as coach, fitness trainers, a physio and various friends.
June 2008: Wimbledon Breakthrough
If there's one thing Murray knows what to do best it is putting the Wimbledon crowd through a rollercoaster of emotions. The player gave Centre Court a match to remember after coming back from two sets down against Richard Gasquet to reach the quarter-finals for the first time. However, he was then well beaten by Rafael Nadal (6-3 6-2 6-4).
August 2008: Magic at Cincinnati Masters
Murray established himself as a serious competitor when beating Novak Djokovic in the Masters final in Cincinnati. Despite feeling nervous, the Scot battled to an important victory and lifted the trophy which marked his biggest career win.
September 2008: US Open Final
Four years ago Murray found himself in the US Open final after beating Nadal for the first time in a two-day marathon match. He previously came back from two sets down against Jurgen Melzer in the third round. But Federer proved to be in a class of his own after defeating Murray 6-2 7-5 6-2. Despite his loss, the Brit wasmoved up to world number four.
October 2008: Back-to-back Wins
Murray's US Open heroics lifted him to number four in the world for the first time and he cemented that position by winning the Madrid Masters, beating Federer in the semi-final, and successfully defending his St Petersburg Open title. He also qualified for the Masters Cup for the first time.
April 2009: Miami Masters
Murray was victorious at the Miami Masters - known as the unofficial fifth major - beating Djokovic in the final. He cruised through the first set of the match and then, despite his rival leading 5-2 in the second, reeled off five games to claim the $590,000 prize.
May 2009: Ranking Milestone
An outstanding month for British tennis as Murray became the country's first player to be officially ranked as world number three.
June 2009: King of Queen's
The Scot justified his British number one seeding by becoming the first British winner at Queen's for 71 years, resulting in his first title on grass. He also reached the quarter-finals of the French Open.
July 2009: Getting Closer at Wimbledon
Murray put the British public through a thrilling semi-final against USA's Andy Roddick on the grass at SW19. But the American produced an outstanding performance to beat our hopeful in four sets.
January 2010: Missing Out in Melbourne
A grand slam title finally looked on the cards for Murray after he knocked out Nadal and Marin Cilic to reach the final of the Australian Open, but he was to face old rival Federer. His hopes of winning a major title were quickly dashed when the Swiss triumphed - 6-3 6-4 7-6 (13-11)
January 2011: Another Melbourne Miss
An optimistic Murray hoped to go one better than the previous year when he reached the final yet again, but it wasn't meant to be after suffering a 6-4 6-2 6-3 defeat against Djokovic.
June - September 2011: Nadal Has Murray's Measure
With a consistent season under his belt, Murray marked a change in his career by reaching the semi-finals of the French Open, Wimbledon and the US Open. But each tournament finished with the same ending: Murray was good, but not good enough to beat Spain's Rafael Nadal.
January 2012: So Near But Yet So Far
A five hour semi-final match in the Australian Open against Djokovic demonstrated Murray's ability on court. Under new coach Ivan Lendl, the Scot pushed the world number one all the way before finally losing out in five sets.
July 2012: Britain's 74 Year Wimbledon Wait Ends
The wait for a British Wimbledon finalist was over. But could Murray beat Federer? The whole country got behind the Scot and supported him to the bitter end. After losing to the Swiss in four sets Murray could no longer keep his emotions in check - the British number one sobbed on court when finishing runner-up but claimed he would be back next year.
August 2012: Olympic Gold
It was as though Murray wanted it to happen: an Olympic final against Great Britain and Switzerland. Yet again Murray stood on Centre Court opposite Federer in his bid to win gold for his country. The 25-year-old bounced back with a 6-2 6-1 6-4 victory before partnering Laura Robson to silver in the mixed doubles.