Roger's records
As Roger Federer secures a 300th week on top of the world rankings, Andy Schooler looks at some of his greatest feats.
Last Updated: 11/10/12 5:21pm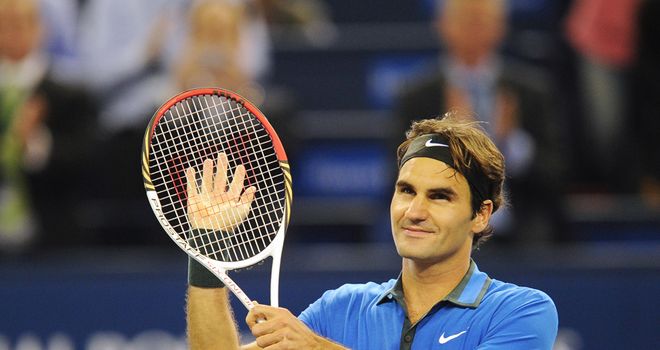 Tennis fans have long admired Roger Federer's style of play but his greatest legacy may well prove to be the rewriting of the history books.
Federer's feats have ensured he will be mentioned on a regular basis in the years to come as media pundits and fans alike compare his achievements to those in future eras.
The Swiss great has penned another chapter in those books on Thursday when he beat Stanislas Wawrinka in Shanghai to ensure a 300th week on top of the world rankings.
It is the latest in a long line of records to fall to Federer. In awe of such achievements, Andy Schooler decided to look at some of the greatest.
Most weeks as world number one
This tally will reach an incredible 300 on Monday. The latest of Federer's records translates as getting on for six years at the summit of his sport. The majority came between February 2004 and August 2008 - 237 consecutive weeks being another record. He returned to top spot in 2009 but lost it in 2010 - falling agonisingly one week short of Pete Sampras' tally of 286 weeks when he lost the match he needed to win to claim the record - against Robin Soderling at the French Open. However, this year's Wimbledon success saw him hit the summit for a third time and claim the record and now he has reached another milestone.
Grand Slam singles titles
Federer has 17; Sampras managed 14 - the next best. He was eclipsed back in 2009. Recent form would suggest Federer can extend this record even further. He has seven Wimbledon titles, five US Open crowns, four Australian Open trophies and one French Open on his CV. Victory over Andy Murray earlier this month drew him level with Sampras and 19th-century player William Renshaw as the most successful of all time at Wimbledon. At the US Open, Federer is tied for the Open-era best with Jimmy Connors and Sampras, while he is in a two-way tie in the Open era with Andre Agassi in Australia.
Grand Slam singles finals
Federer's tally of 24 major finals puts him well clear of his nearest rival - Ivan Lendl, who reached 19. Lendl won just eight of his. Federer has won 17. In addition, no other player has reached eight finals at Wimbledon since the abolition of the 'challenge round' - the defending champion used to get a bye to the final.
Consecutive Grand Slam finals
Jack Crawford made seven straight finals in the 1930s but Federer qualified for 10 in succession from Wimbledon 2005 to the 2007 US Open. He also made eight in a row from the 2008 French Open to the 2010 Australian Open.
Grand Slam match wins
Federer has won 247 Grand Slam singles matches. He overtook Jimmy Connors' record of 233 at this year's French Open. If you are interested, Federer has lost 37 times in Grand Slam play. He also stands alone as the only man to have won at least 50 matches at all four Grand Slam tournaments.
Grand Slam semi-finals
Wimbledon saw Federer become the player with the most Grand Slam semi-final appearances - 32 - passing Connors (31). The latter was aged 39 when he made his last semi-final. Federer is currently 30.
Consecutive Grand Slam quarter-finals
At the recent US Open, Federer reached his 34th consecutive Grand Slam quarter-final - another Open-era record. It is one which underlines his incredible consistency, not to mention his physical fitness.
Consecutive Grand Slam semi-finals
Many argue this is the most impressive of Federer's records. He reached 23 semi-finals in a row from Wimbledon in 2004 to the Australian Open of 2010. His feat annihilates the previous best streak of 10 which both Rod Laver and Ivan Lendl managed.
Career Grand Slam
Federer is one of just seven male players to have completed the career Grand Slam of winning all four major tournaments. He stands alongside Fred Perry, Don Budge, Rod Laver, Roy Emerson, Andre Agassi and Rafael Nadal. Only Federer, Agassi and Nadal won on three different surfaces.
Winning Grand Slam years
By winning at least one Grand Slam title each year from 2003 to 2010, Federer sits alongside Bjorn Borg, Sampras and Nadal as the only players to have won a Slam eight years in a row.
Consecutive match wins
Federer won 40 matches in a row at the US Open between 2004 and 2009, another Open-era record. He has also managed 40 wins in a row at Wimbledon but that left him one short of Borg's record of 41. He does, however, hold the record for consecutive grasscourt match wins. Between 2003 and 2008, Federer racked up 65 victories in a row on the surface. Nadal ended the streak in their memorable 2008 Wimbledon final.
Consecutive final wins
Federer won a record 24 finals in succession from October 2003 to September 2005.
Tournament titles in a single season
Federer won 12 titles in 2006 and this shares this record with Thomas Muster.
And one still to come, perhaps...
ATP level titles
Federer has won a total of 76 ATP titles (including Grand Slams) but that still puts him well short of Jimmy Connors' tally of 109. Ivan Lendl (94) and John McEnroe (77) are also ahead of the Swiss on this particular list.