Mark Petchey's favourite moments from the ATP World Tour Finals at the O2
Drama is rarely in short supply at the ATP World Tour finals. Sky Sports' Mark Petchey picks his top moments at the O2 so far...
Last Updated: 06/11/12 10:25am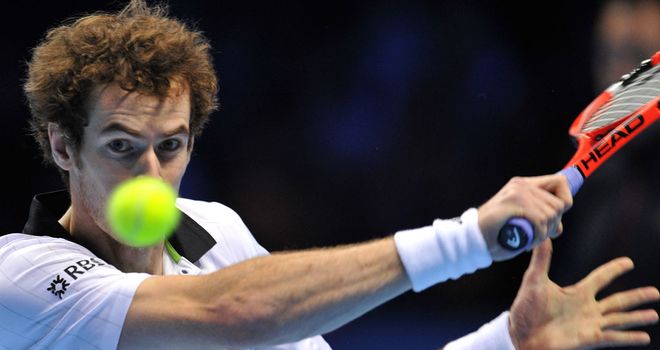 Phenomenal - there's no other way to describe the 2010 semi-final between Rafael Nadal and Andy Murray. Rafa had already been involved in one of the all-time great three-set matches ever - his clash against Novak Djokovic in Rome in 2009, a match which is still the longest three-set encounter in the Open era. Then the following season he was involved in this stand-alone epic. The quality of the tennis for the entire three hours and 11 minutes was so gripping that nobody wanted the match to end.
With a place in the final against Roger Federer at stake, both players put in heroic shifts even though they must have been a touch weary at the end of another long season. It was nip-and-tuck throughout; just when you thought one of the players was on the cusp of making something happen they got pegged back, and vice versa.
I remember Andy producing an amazing volley to win a stunning point in the first-set tie-break only for Rafa to take it 7-5. Andy elevated his game in the second set, which was extraordinary given how well he played in the first, and he took it 6-3 to level the match. Somehow the tennis got more intense and more physical in the third set.
The drama just kept coming - the length of some of the rallies and some of the shots they were hitting on the big points almost defied belief. Rafa served for the match in the third only for Andy to break back and force a breaker, which he led 4-1.
On three different occasions I thought 'this is it, this is the moment Andy's going to win' but Rafa got back to 4-4 and then 5-5 before, with tensions running high, taking the tie-break 8-6. If you ask Andy, I'm sure he'll say that it was one of the greatest tennis matches he's ever played - which tells you all you need to know.
Del Potro delivers - just!
There was high drama in 2009 - the first year the season-ending Championships came to the O2 - when Andy Murray's hopes of progressing to the semi-finals all hinged on the outcome of Juan Martin del Potro's final group game, against the then World No 1 Roger Federer.
If Roger won, Andy was through but Del Potro had other ideas and as the match unfolded, it became clear that Andy's fate could come down to whether he'd won a greater percentage of his games than the Argentinean. Del Potro took the first set 6-2 playing fabulous tennis befitting a player who had won the US Open earlier in the year.
Back then I'd hoped Andy would be the next guy up in the Grand Slam circle but Del Potro stole his thunder in New York and suddenly here he was again in London, stealing the limelight against Federer, who was widely expected to win the match. Roger got back on terms by winning the second set breaker and as the third set unfolded pretty much everyone was trying to work out how many games Del Potro would have to win by to knock Andy out.
With such a massive side story playing out, it was hard to stay focused on the individual points! Del Potro won the third 6-3 and ultimately that was good enough to send him through to the semi-finals at Andy's expense by just one game. It was my job to interview Del Potro after his victory but I wasn't allowed to tell him if he was through or not because at that stage we weren't 100 per cent sure!
I had to admit as much to him, even though we were fairly confident that he had made it. While we were waiting for the decision, Del Potro started hitting with footballer Carlos Tevez! Finally the confirmation came through and I was delighted for him because he deserved it, but admittedly there was also a sense of disappointment that Andy wouldn't be in the last four the next day.
A record for Roger
Despite the dominance of tennis' top four, we've actually had a few surprise finalists at the O2 including Del Potro and Nikolay Davydenko in 2009 and Jo-Wilfried Tsonga in 2011. It was great to see Tsonga get that far because his style of play and persona are such great additions to any event that he competes in, even more so when there are only eight players in the field.
I've always felt that the final should be best of five sets because otherwise there's always the risk of getting a blowout with one player dominating and that's where last year's showdown appeared to heading when Roger took the first set 6-3 and was serving for the match at 5-4 in the second.
But Tsonga dug in and produced a memorable performance in the second set to get right back in it and he certainly had Roger worried for a while before the Swiss hit back and went on to claim victory in his 100th career final, winning in just over two-and-a-quarter hours. In so doing, Roger made history by claiming a record sixth ATP World Tour Finals title.
Roger hadn't won a major that year so, given all that he has done for our sport, it was good to see him finish the season on a high. In many ways it was the perfect end to 2011 for Roger, who ended 2011 with 17 straight wins from as many matches!
Don't miss the 2012 ATP World Tour Finals, starting at 12pm on Monday on Sky Sports 1 HD. For full coverage details click here...