Annabel Croft answers your questions ahead of the ATP World Tour Finals
Before heading to the O2, Sky Sports expert Annabel Croft took time out to reply to your emails...
Last Updated: 03/11/12 10:52am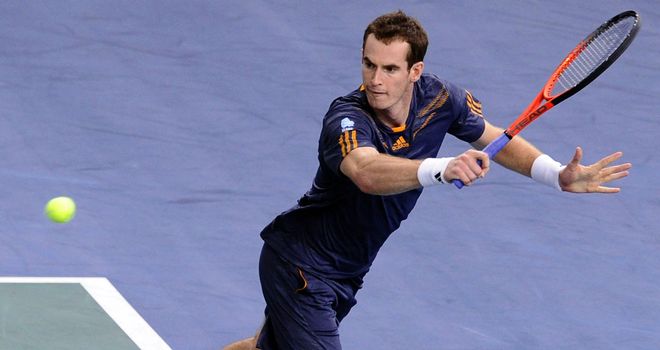 NO FRENCH CONNECTION
Afternoon Annabel, now I wouldn't for one moment suggest they weren't trying but do you think that in a funny way that both Murray and Djokovic will benefit from their early exits in Paris? I've been watching the coverage and wonder if you think those defeat will really affect how they play next week and in 2013. Hope London lives up to your expectations! Craig, Coventry
ANNABEL: Hi Craig. I don't think either of those defeats have any relevance to what happens in London whatsoever - if anything, it will help Andy and Novak. Traditionally, Andy's never played that well in Paris. For some reason he seems to struggle there. Going out early gives him much more time to prepare to London and adjust to conditions. Andy had talked about being very tired after the Asian swing and how he'd benefit from a bit of time off, which is one of the reasons why he missed Basel. He'll be very fresh and ready going into London.
Djokovic achieved back-to-back wins in Beijing and Shanghai but was quite emotional when he came to Paris. He didn't want to go into too much detail but if the reports about his father's health are to be believed, it's understandable if there's a lot going on in his head. His early exit in Paris may give him a chance to regroup. Either way, his defeat to Sam Querrey won't affect how he performs in London.
JERZY'S NO PULL OVER
Hi Annabel, good to chat. After his victory over Andy Murray in Paris, I reckon it won't be too many years before we see Jerzy Janowicz at the O2. How highly do you rate him? Steve, Lincoln
ANNABEL: I'm really excited about Jerzy, for a number of reasons. He's a new name and a real breath of fresh air. What's more, he's only 21 so he's got plenty of time to refine his game. If he was 25 or 26 and had been grinding things out on the Tour for a while and then had a crazily good week, I'd be less enthusiastic but this is a guy who has real potential to build on what he's achieved this week.
It's extraordinary to think that he started the year 221th in the world, losing in Barnstaple to a player ranked 499 - David Rice, who is the 19th-highest ranked British player. Something's obviously clicked! He says he's changed racquets and he's working much harder on his fitness - he's doing more fitness work than playing tennis. Crucially, he also says he's changed his attitude so that he's putting up more of a fight.
A big breakthrough win like this sends shockwaves out through the Tour but equally it's probably fair to say that before this week other players didn't know much about Jerzy; once they start to learn about his game, I expect there will be a little bit of a levelling-out period in Jerzy's progress.
END THIS SHRIEK SHOW
I want to ask Annabel, how would she go about solving the grunting/cheating that is spoiling women's (and men's to a degree) tennis? Keith Bishop
ANNABEL: Hi Keith - this is a really tricky one. I remember when Monica Seles was pulled to one side before the 1992 Wimbledon final and officials had words with her about her grunting. Back then, of course, it wasn't very common. She stopped grunting for the final and then couldn't play, because she'd grown up doing it. Steffi Graf won 6-2 6-1.
I was also at the French Open in 2009 when Aravane Rezai complained about Michelle Larcher de Brito - who at the time was considered the loudest grunter on the tour. It was only when Rezai complained to the umpires that the tour supervisors came out and they actually had to say something. That's when things can change but at the moment not enough players complain about their opponent grunting.
Then, of course, we have scenarios such as that involving Serena Williams at the 2011 US Open where players grunt during the point and are subsequently told by the umpire that they are losing the point due to hindrance. For me that's an area where there is too much discrepancy; until they develop a 'grunt-o-meter' you are reliant on umpires' discretion, which can be a grey area. What is certain is that more and more people are talking about this issue; that's hardly surprising, really, because when the noise does reach a ridiculous level it does spoil the enjoyment of watching the match.
A GREAT JO O2 SHOW?
I'm a massive Tsonga fan and desperately wanted to him win last year's final. Have you seen anything about him this year to suggest that he could go one better next week - that would be amazing. Adam, Luton
ANNABEL: He's so flamboyant and exciting, Adam, that I always find him a joy to watch and a joy to interview too. I think he's had a pretty consistent season but there are always moments in a match when you don't have a clue what he's going to do next. This is a fascinating stage of his career because we're all scrutinising his game, trying to work out how it will develop with Roger Rasheed as his coach. What is Roger going to bring to his game? Perhaps we'll get a few clues in London but I have to say it is going to be a tough ask to match what he achieved at the O2 last year.
PLAYERS POORLY SERVED
Hi Annabel, I have a question with regards to Tennis as a whole. Do you think the Challenge system has exposed a particular rule as being unfair? It's when a Challenge has been made on a 2nd serve. If the challenge is successful, the umpire follows the rulebook and demands they replay the point. This is grossly unfair on the returner. Why should the server, get given back the first serve that went into the net, just because a line judge made an error on the 2nd serve? If the server makes a fault on the 1st serve, that should be it, it's only 2nd serves from that moment on, regardless of any mistakes by officials. The reason I referred to the Challenge system, is because Hawk-Eye has highlighted this ridiculous rule more than ever before, due to the number of replayed points these days. Thank You, Darren Dixon
ANNABEL: Darren, I have to say you make a really good point. What I would say is that the scenario you describe is not fair on the server either, primarily because the whole process causes too much delay and if there's any hindrance to a player's routine, you will be given a first serve.
MATTER OF TIMING
Hi Annabel, I'm a tennis player from NZ now living in London. You may remember two NZ tennis players - Kelly Evernden and Chris Lewis - I grew up watching them. Here's a question for you: Tennis has led the way in using technology to ensure the right calls are made more consistently. One area that needs to be improved is in the time taken by players to make a challenge. Some players take too long and Del Potro has been guilty of this in the past. What is the rule regarding the time available to make a challenge? Is the ATP looking to tighten up on this rule? Where do you stand on this issue? Thank you for your time. All the best. Alfred Mani
ANNABEL: At present the length of time you have to make a challenge is at the umpire's discretion. I don't like that at all - and that's because, Alfred, I saw one of the worst decisions I've ever seen in all my years of playing and watching tennis at this year's Australian Open when David Nalbandian was not allowed to challenge a point in his marathon match against John Isner.
After playing in the heat for several hours, the match was at a crucial stage at 8-8 in the fifth and deciding set when John served an ace that was rightly called out by a line judge; the umpire over-ruled it only for Hawk-Eye to show that the line judge had got it right. The crowd went nuts and as Nalbandian walked forward he clearly couldn't hear the umpire properly because of the noise; when he got close enough, umpire umpire Kader Nouni told him 'I've over-ruled it, it's a point to Isner'. So at that point David obviously decided to challenge only to be told it was too late! I couldn't believe it!
It's clear from watching the Paris Masters this week that things have moved on because I've seen player will walk up to the line, see if there's a mark, maybe look at their camp and then decide if they are going to challenge or not. In fact this week, I've seen Nouni give a player a considerable amount of time to decide what to do - so quite why he didn't allow Nalbandian the same option in the fifth in Australia is quite beyond me. To answer your question, Alfred, I would really like to see this area of the game tightened up.
MATTER OF TIMING
Annabel - always enjoy watching you on TV. Keep up the good work. I'm sure there have been many but I just wondered what has been your highlight of the whole season so far? Edward Brown, London
ANNABEL: There have been many highlights, Edward, but one was truly outstanding in my mind and that was Andy winning the US Open. It was such a significant moment in the history of our sport, partly because British tennis had waited 76 years for a Slam winner! It was an extraordinary achievement.
I have to mention the Shanghai Masters final too, when Andy had five match points against Djokovic but ended up losing. I was glued to my television for the entirety of the match; it was certainly one of the best matches of the season because it contained so much drama and you were never quite sure which way it was going to go. Andy and Novak seem to bring the best out of each other, forcing them to raise their levels, and long may that continue! I can see their rivalry escalating to new levels next year.