Momentum with Andy Murray after win over Tomas Berdych at ATP World Tour Finals
Greg Rusedski says Andy Murray's win over Tomas Berdych at the O2 is "an absolutely perfect start".
Last Updated: 05/11/12 5:59pm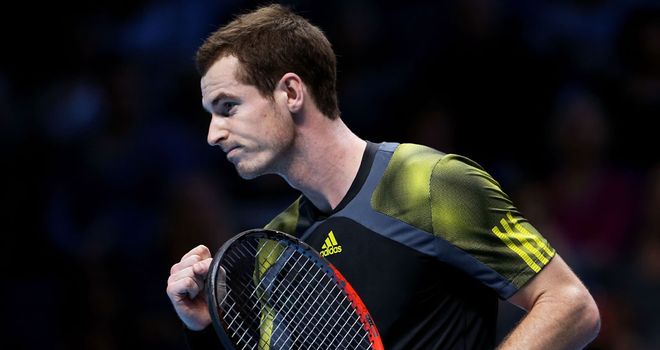 US Open and Olympic champion Murray lost the first set to Czech fifth seed Berdych but came back to secure a 3-6 6-3 6-4 victory at the O2 in just over two hours.
Rusdeski - who predicted before the match that Murray would win in three - told Sky Sports the result was never in doubt once the British number one settled into a decent rhythm.
"You know with Andy Murray that his level is going to go up once he starts to feel comfortable out there and finally when he took his 11th break point you felt the momentum was going to go with him because up until then he wasn't playing his best tennis," said Rusedski.
"Berdych couldn't keep serving at 70 per cent because Murray's got one of the best returns of serve on second serve in the world. It's a very good result - a solid performance.
"It means that things are still in control so if he wins his next two matches he's into the semi-finals. It's an absolutely perfect start for Murray because Berdych is a dangerous opponent."
Both players won over 80 per cent of their first serve points, but crucially Murray hit 36 winners to Berdych's 28 and former British number one Annabel Croft told Sky Sports that proved decisive in the final outcome.
"I don't think Murray played too badly [early on] - I just thought the forehand looked less smooth than it did by the end," she said.
Hammer-blows
"He's a much more aggressive tennis player than he was this time last year and, incidentally, he actually hit more winners than Berdych.
"In the past when they've met Berdych has hit a lot of winners against him and made him feel uncomfortable, taking his time away at the back of the court.
"But today you felt as though Berdych wasn't able to do that and Murray was very much up on that baseline, [playing] hammer-blows of forehand winners. I thought it was a very, very good performance with just the jitters at the end trying to close it out."
Six-time Grand Slam champion Boris Becker explained why he was so pleased to see Murray acknowledge the support of the home fans at the O2.
"Finally he understands that it is a factor," he said. "For so long he almost felt like he was playing against the public, with his body language and some of the things he did.
"Ever since he won the Olympics at Wimbledon he's understood that it does make a difference, especially when the going gets tough. So he spoke well to the crowd and hopefully he will continue to do that."
Reflecting on the contest itself, Becker added: "Overall it was a tough match. Berdych had the better start but as the match went on Murray got to grips with it and started to control the baseline rallies.
"He started to serve a little bit better and be more aggressive on the forehand side and once he had that early break in the third set he was on his way home."