Roger Federer favourite to win ATP World Tour Finals, says Greg Rusedski
Greg Rusedski explains why Roger Federer is his favourite to win the ATP World Tour Finals at the O2.
Last Updated: 07/11/12 11:19am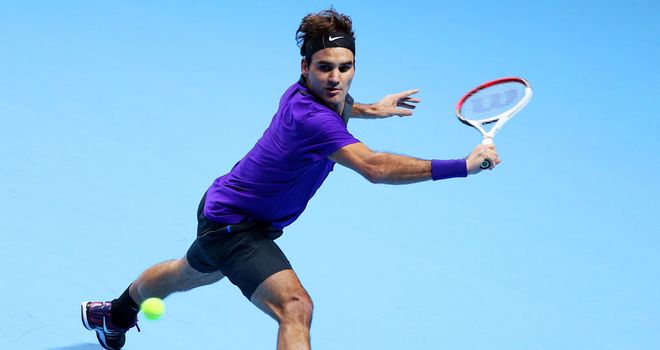 Defending champion Federer, 31, eased to a 6-3 6-1 victory over the Serbian, chalking up his 40th career victory at the end-of-season championships.
Tipsarevic, the world number nine, lost his first service game of the match and failed to earn a single break point thereafter as Federer turned on the style - much to Rusedski's delight.
"I was just so impressed by his moment today and by the end it was magical," Rusedski told Sky Sports.
"Some of the feel with the drop shots, the movement forward, the serve and volley - he was in full flow and I would put him as my favourite after that performance. He was brilliant."
Favourite
Federer showed no ill-effects from the "niggling" injuries that forced him to miss the Paris Masters, following his defeat to Juan Martin del Potro at the Swiss Indoors in Basel and Rusedski said missing the French tournament was definitely a smart move.
"It was the right decision [to miss Paris]," he said. "This man doesn't make the wrong decision very often and that's why he's been the greatest player to ever play this game. Nobody, in my opinion, has ever played the game as well as Roger Federer.
"He doesn't make mistakes and he knows how to listen to his body. By taking the week off in Paris, it's put him in a really good position because it gives him more time to recover while all the other players played the week leading up to this. So right now it looks as though Federer is a deserved favourite for these Championships."
Ambassador
In contrast Tipsarevic, who also missed the Paris Masters - due to illness, struggled to get a foothold in the game and Sky Sports expert Boris Becker suggested the Serbian could learn several crucial lessons from his defeat.
"It was a tennis clinic from Federer - it was like the masterclass videos that show you how you are supposed to play tennis," said Becker. "I think Tipsarevic is going to watch this all over again at Christmas time!
"It was a fine example of Roger Federer very much at the top of his game.
"He is the greatest ambassador the game has ever known. He puts the bar so high every year, winning two or three Grand Slams a year, so if he wins only one Grand Slam we talk about a crisis - and yet we celebrate Andy Murray winning his first Grand Slam!
"So it's always good to see Roger back on top, it's always good to see him healthy. Greg said it - the secret to his success is knowing his schedule and his body better than anybody else.
"He has a clear plan of what he wants to achieve every year and if he loses in the first round here or there it doesn't bother him - he continues his way."