Juan Martin Del Potro kept his focus against an unwell Janko Tipsarevic, said Boris Becker
Boris Becker praised Juan Martin Del Potro's focus as he beat an unwell Janko Tipsarevic at the O2.
Last Updated: 09/11/12 8:52am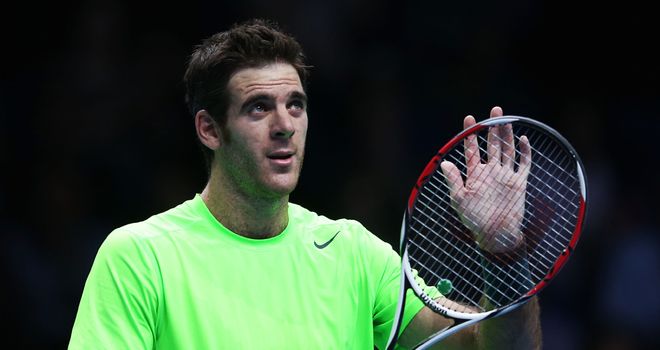 Del Potro cruised past his Serbian opponent, who has been struggling with illness, 6-0, 6-4 and faces Roger Federer in his final group match for a spot in the semi-finals.
However, Becker pointed out defeating a below-par opponent is not always as easy as it seems.
"It wasn't an easy position for Del Potro to be in," said Becker.
"He played against a wounded warrior and what do you do? You wait for him to default, you take a bit off the speed of your shots and you have a bit of mercy for the other guy. On the other hand Del Potro wants to get through himself because he's still very much in the tournament.
"Del Potro kept his concentration, though. After the first couple of games I almost felt Tipsarevic wasn't far away from defaulting all together but he showed his fight and heart by finishing and he did come back in the second set a little bit.
"Obviously Del Potro had too much energy, firepower and Tipsarevic had no answer to his questions."
However, despite the easy win, the match allowed Del Potro to utilise some aspects of his game which had been restricted by his previous opponent, David Ferrer, said Greg Rusedski.
"What impressed me about Del Potro was his willing to go behind his opponent at times, rather than always going to the open court, like he did against Ferrer," he said.
"He was allowed to play much more inside the baseline against Tipsarevic and we saw that slice come into play when he had to defend and those combinations really worked.
"He was very confident - he's never lost to Tipsarevic - and that lets you free up out there."
Fight on
As for Tipsarevic, Annabel Croft said she doesn't expect the world number nine to pull out of the tournament ahead of his final match against David Ferrer, despite his health problems.
"I don't think he'll be thinking about defaulting," she said. "He said he's improved since the previous match he had, he'll have another day off and I think he'll want to play that final match.
"I'm sure he gets paid a little extra to play in that final match but that will be his last match of the year as well, so he'll want to go out there and give it his best shot.
"I thought it was fantastic the way he managed to increase his levels in the second set. He gave the crowd something to cheer about and showed glimpses of what he can do out there, but it proves if you don't have your energy and physical capabilities you're half the player you are.
"His foot work was very sluggish in the first set, he was clearly lacking in energy, but once he got going we could see what he's capable of."