Andy Murray a different beast, says Annabel Croft, after ATP World Tour Finals win over Jo-Wilfried Tsonga
Annabel Croft says Andy Murray's displays in London show he is now a more dangerous tennis player.
Last Updated: 11/11/12 9:14am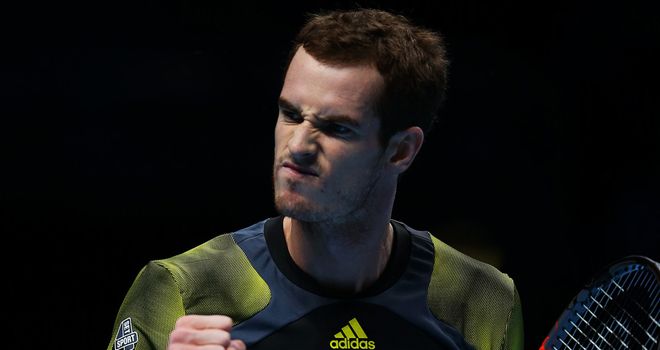 The US Open champion sealed his place in the semi-finals of the season-ending event in London with a straight sets victory over Jo-Wilfried Tsonga on Friday night, his second win of the round robin phase.
The only disappointment for the Scot at the O2 Arena so far was losing from a set up against Novak Djokovic on Wednesday afternoon, but Croft insists Murray produced some sparkling tennis in the early part of that match.
And the Sky Sports expert says Friday's win confirmed he is a much more aggressive player than he was earlier in his career.
Croft said: "I thought that first set against Djokovic was some of the best tennis I have ever witnessed from Andy Murray, he was virtually unplayable.
"We keep saying it, he is so much more aggressive and he takes you out of the court with such heavy blows, particularly off that forehand side.
"His movement is superb. He can cover every angle of that tennis court and recover back to the middle and put you in awkward positions. That's always what he's done so well throughout the course of his career since he was a little kid.
"He is using the sliced backhands, the dinks and the angles and now he's added all this aggression on top.
"For the majority of his career we've said he's a passive tennis player, who makes things awkward for you; now we have to say he is an aggressive tennis player who has all these other added elements to his game."
Class
Frenchman Tsonga showed glimpses of his best on Friday night, particularly in his net play during the second set, but was ultimately outclassed by his opponent.
Croft said playing the ball short is a wise way to approach a clash with Murray, but says it is almost impossible to unsettle to the British number one for an entire match.
"It's very difficult to get Andy Murray uncomfortable on a tennis court," she added.
"We saw glimpses of it today when Tsonga was keeping the points short. It was lights out tennis into the centre and finishing off with little short volleys.
"Jeremy Chardy, who beat him earlier in the year in Cincinatti, played Andy that way and he made him uncomfortable.
"But it's very difficult to do that when he covers the court so well."