Roger Federer can beat Novak Djokovic and win ATP World Tour Finals, says Greg Rusedski
Greg Rusedski tips Roger Federer to beat Novak Djokovic and retain the World Tour Finals crown.
Last Updated: 12/11/12 9:46am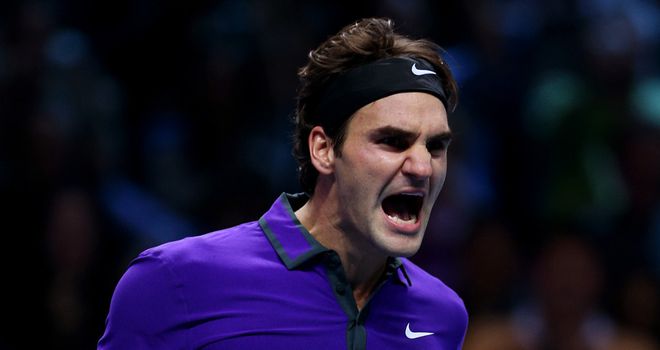 The Swiss superstar, currently second on the ATP world rankings, secured his place in Monday night's showpiece with a straight-sets victory over Andy Murray in Sunday evening's semi-final.
The 17-time major champion was heavily supported by the London crowd and Sky Sports expert Rusedski believes he is in better form than Djokovic, who overcame Juan Martin Del Potro earlier on Sunday.
He said: "With the way Federer played [against Murray], if he can replicate that performance he has to be favourite going in.
"Djokovic has to raise his level because I think he was nowhere near as good as he was in his match against Murray. This is a very intriguing final coming up.
"The other thing you've got to think of is that Federer goes in as underdog. He's going in as world number two and he's going to have this crowd like it was on Sunday night behind him. I think all those things play into it and he's quite a clever guy.
"However, even though he didn't put that much energy out there against Andy Murray and it wasn't a long match, his concentration and focus from the first ball to the last ball was immense. That can be tiring more mentally than physically."
Reward
The financial rewards on offer on Monday night are huge with $830,000 available for winning the final and $1,760,000 on offer to Djokovic for finishing as undefeated champion.
But Rusedski says that will mean little to the competitotrs who are more concerned with building their ranking points for next season.
He says Federer is determined to reclaim the world number one spot from his opponent - and he says he may realise that goal in 2013.
"I wouldn't put it past him to go back to world number one," Rusedski added.
"He went out a little early in the US Open and didn't have a great run and I was thinking 'maybe'.
"But you can never doubt Roger Federer. If he plays like he did on Sunday night and like he did at Wimbledon then he might get back to number one and win another major.
"For these guys in the finals, they're multi-millionaires and it's a lot of money, but they're more worried about winning this title and getting the points for next season.
"When you've made $74million or as many millions as these guys have made, it's all about being number one in the world and lifting trophies at the end of the day."