Novak Djokovic proved why he is No 1. with win over Roger Federer, says Greg Rusedski
Greg Rusedski says Novak Djokovic's win at the 02 can see him step out of Roger Federer's shadow.
Last Updated: 13/11/12 4:09pm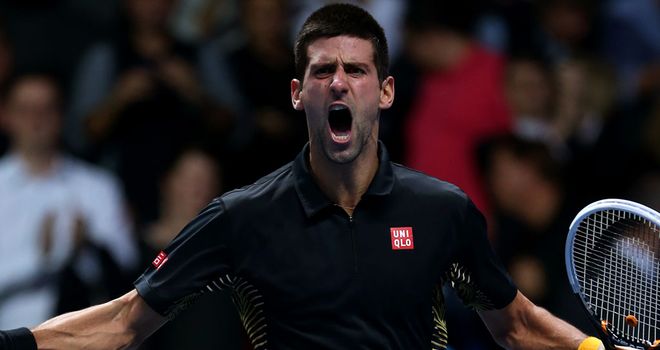 The Serb enjoyed a pulsating 7-6 7-5 win over a player regarded by many as the greatest in history and cemented his status as the world's number one as the 2012 season drew to a close.
Djokovic battled back from a break down in both sets of the two-and-a-quarter hour contest and Rusedski told Sky Sports he is now set to replace his opponent as the face of the sport.
He said: "Djokovic proved why he is the world number one and it was one of the best matches I've seen in a long time. Both players were playing at the highest level.
"He's trying to get out of the shadow of Federer and he's doing a great job. What emotion, what passion and he deserves it because he has the drive. He started off so nervously but found a way to get the job done on the big moments.
"Federer could have gone a double break up in the first set and in the second set as well, but Djokovic knows how to play those big points and believes in himself.
"He thinks 'I am the best player in the world. Roger Federer, you might be the fan favourite at the moment, but I'm taking over that mantle.'"
Best
Federer was typically humble in his post-match speech, paying tribute to his opponent as "the best".
Rusedski agrees that Djokovic has been the world's best player for the last two seasons, but says the tight nature of Monday night's contest suggests 2013 could be another vintage year for the sport.
"Djokovic is the best this year and he was the best last year," he said.
"Federer was giving credit to Djokovic after the final showdown and did everything he possibly could there, but Djokovic came up on the big moments.
"It was a close match. There were 96 points for Djokovic and 95 for Federer - a one-point difference - that's how close this battle was.
"Being at court-side was amazing because it looked like Federer was going to hit a winner and Djokovic just appeared out of nowhere to counter-attack with great depth.
"What a champion Djokovic is this year and this performance puts him in good stead for next year.
"They are two great champions and what more can you ask for? I can't wait for 2013 already!"
Wimbledon champion Federer was not at his consistent best throughout 2012, as highlighted by his quarter-final exit at the US Open, and in London he suffered a surprise defeat to Juan Martin Del Potro during the round robin phase.
But Rusedski says his performance in the final showed he was capable of challenging for the world number one spot again next season.
"Don't put anything out of Roger Federer's reach," he added.
"We keep writing him off. We said he was never going to win another major and he won Wimbledon and he got to the finals here when we said he wasn't playing great against Del Potro.
"Maybe he'll come back and surprise us all and win? He's playing great tennis and Djokovic had to play his best tennis to find a way to win."