Mark Petchey picks his top three most memorable Australian Open matches
'Epic' barely does credit to some of the Australian Open's most awesome matches. Mark Petchey picks his favourites...
Last Updated: 11/01/13 8:24am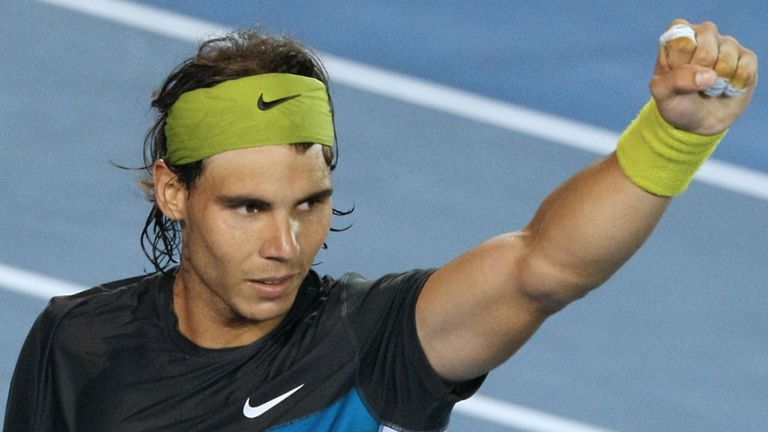 2009 semi-finals: Rafael Nadal bt Fernando Verdasco 7-6, 4-6, 6-7, 7-6, 4-6
The Australian Open has always been a great tournament but this match really grabbed my attention because it was such a joy to see Verdasco - a player who had so much potential - finally live up to his billing and really take the game to Nadal, his compatriot whom he sought to emulate. That year, 2009, was undoubtedly Verdasco's best ever and I can't think of him playing any better than he did that day - some of his shots were simply sensational.
It was a match full of modern-day contrasts: two lefties going at it but each in their own very different way. Verdasco was all power and aggression, hitting no less than 95 winners, while Nadal was virtually flawless in the way he got everything back, barely putting a foot wrong yet working his opponent so hard.
The contest was epic in length, lasting five hours 14 minutes in total, with the most poignant moment coming at the end when Verdasco served a double at match point down; it was a killer way to end such an amazing contest and just goes to show just how cruel tennis can be at times. Even though Verdasco played his best ever match, some people will only remember that one final error that he made.
At the time it was the longest men's singles match in Australian Open history, but it has since been eclipsed by last year's final between Nadal and Novak Djokovic. In contrast, Roger Federer had a relatively straightforward victory over Andy Roddick, so at that point you felt it was his title to lose.
But it didn't turn out that way as Nadal produced another incredible performance to beat the Swiss 7-5, 3-6, 7-6, 3-6, 6-2 and claim his sixth Grand Slam title (and first Australian) in an epic climax to one of the most memorable tournaments I'd seen up until then.
Murray makes his mark
2012 semi-finals: Novak Djokovic bt Andy Murray 6-3, 3-6, 6-7, 6-1, 7-5
If ever there was a match to whet the appetite for 2013, this is it. For three sets Murray delivered the sort of tennis that later would take him on to win the Olympic and US Open titles. His winner count was phenomenal and Djokovic, who looked fatigued, was struggling to keep pace. But the Serb showed his mettle by hitting back strongly in the fourth set, jumping out to a quick lead that he never relinquished and slowing Murray's momentum in the process.
Djokovic's upturn continued and he played a great fifth set, going 5-2 up, before Murray hit back. There were so many twists and turns in the match that at any one time you felt either player might be shown the exit door. Remarkably, Murray earned break points at 5-5 only for Djokovic to pull victory out of the bag.
Ivan Lendl said to Murray before the match 'are you ready for the pain?' and, as things turned out, it was maybe more painful than even Lendl envisaged! Although Murray had enjoyed wins against 'the top three' before this match, he'd never perhaps quite dominated proceedings against them as much as he would have liked.
But after three sets of this encounter he was winning on his terms; in a lot of people's eyes it was the first time that he'd done so against such a quality player as Djokovic. It seems crazy to say that when you think about just how good a player Murray is, but Djokovic had enjoyed such a phenomenal 2011 that to play so well could only have elevated Murray's self-belief.
A truly classic climax
2012 final: Novak Djokovic bt Rafael Nadal 5-7, 6-4, 6-2, 6-7, 7-5
The first set of this epic clash lasted 82 minutes - almost as long as the full duration of Victoria Azarenka's victory over Maria Sharapova in the women's final, which was decided in 88 minutes. Quite simply, some of the rallies were brutal.
Djokovic has, justifiably to a large extent, earned the mantle of somebody who plays his best tennis when he's behind and in this final we saw the best of him and Nadal when they were trailing. I remember a quote that described them both as the 'masters of the anti-choke', which I thought was particularly fitting.
Djokovic stormed into a 2-1 lead after losing the opening set - he found an incredible rhythm off the return, dominating Nadal in an area where most people struggle. Up to about 4-3 in the fourth set, it looked as though this would be Novak's match.
But at 0-40, 4-3 down in the fourth, Nadal showed exactly what he is made of. I remember this game very, very vividly because Nadal came up with some truly exceptional shots to win five straight points when all seemed lost. If you ever wanted a clip to explain what Nadal was all about, it would have to be this game.
He had his back against the wall, he had nowhere to go, but he came up with an incredible game that brought him to his knees and the crowd to their feet. Nadal went on to take the fourth set on the tie-breaker and suddenly you felt, that given how long Djokovic's semi-final had lasted, that this title was going to be Nadal's.
It certainly looked that way in the fifth as Nadal went 4-2 up but somehow he missed a backhand up the line on game point; it was an absolute sitter and in any other match, he would have buried the ball and gone 5-2 ahead but instead he pushed it wide and that error gave Djokovic enough breathing room to get back into the match. The Serb proved just what a great shot-maker he was to go on and win his third Australian Open title in seven minutes shy of six hours!
Nadal's absence from this year's tournament is a big loss - there's no other way to spin it. He's a captivating character and the perfect foil, in many ways, against Djokovic, Murray and Federer because he's such a fantastic defender of the ball, not to mention a great character; other players feed off him in much the same way as Lendl, John McEnroe and Jimmy Connors used to feed off Bjorn Borg.
Borg may have been ice cool on the court but the way in which he played was very similar, if less aggressive, than Nadal; his shot-making was fiery and exotic at times. Nadal's absence should take nothing away from the achievement of whoever wins this year's title, but there's no doubt that tennis loses a little of its sparkle when Nadal is not around.