Best of enemies
Novak Djokovic and Andy Murray have started a new era of dominance in men's tennis, writes Tim Clement.
Last Updated: 12/02/13 11:31am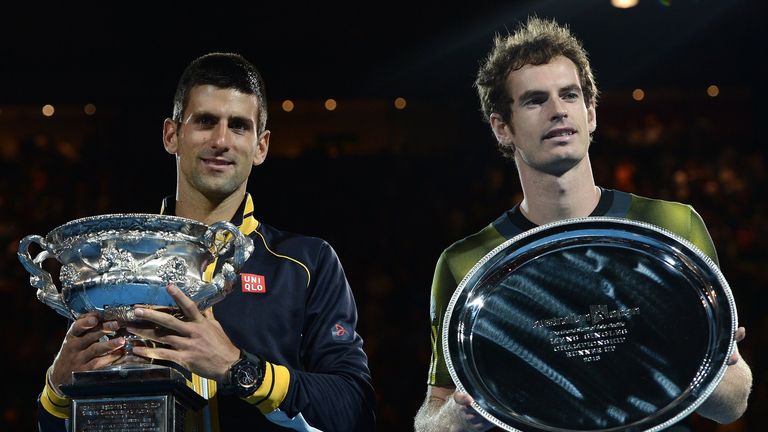 Novak Djokovic restated his position at the top of the game by battling back from a set behind to win the final, becoming the first male player in the Open Era to claim a third-successive title at Melbourne Park.
However, Andy Murray has surely established himself as the Serb's main competitor having made his third successive major final, while already commanding respect after winning the Olympics and the US Open.
It is certainly seen that way by Sky Bet, with Djokovic odds-on to end the year as world number one and Murray 7/4, while Roger Federer and Rafael Nadal are considered 14/1 apiece.
It seems remarkable to dismiss two of the greatest players ever to play the game while still holding Grand Slam titles, but the justifications are clear.
While Djokovic and Murray slogged out another brutal battle Down Under, Federer faces an increasingly difficult task in defying the effects of bedding in to his 30s, while Nadal remains without a competitive match since Wimbledon.
At 31, it is hard to see 17-time Grand Slam champion Federer putting too much energy into the clay swing, while anything less than another imperious display on the red dirt will see Nadal haemorrhage further points.
It must have made daunting viewing for rivals to see the way Djokovic defended in Melbourne, with his impenetrable defence and a counter-punching ability making Murray look toothless at times.
While Nadal's seven titles at Roland Garros justify his status as French Open favourite, it is hard to look past Djokovic as the man to stop during the clay swing.
A maiden title in Paris would set the world number one up for a serious chance of becoming the first male player since Rod Laver in 1969 to capture all four major titles in a single campaign.
Murray's chances are far more modest on his least favoured surface, but he must improve his record on the red dirt if he is to have any chance of wresting the world number one spot from Djokovic, having failed to make a single semi-final in 2012.
Bouncing back for the Indian Wells Masters will be of more immediate concern, after failing to make it past the second round in his last two visits on the back of painful defeats at Melbourne Park.
After another tough loss, Murray must prove he is not willing to settle back into the role of perennial bridesmaid.