Marin Cilic's height and serve can worry tennis' top stars in 2013, says Miles Maclagan
Marin Cilic has the tools to test the world's top tennis players in 2013, Miles Maclagan told Sky Sports.
Last Updated: 10/02/13 8:55pm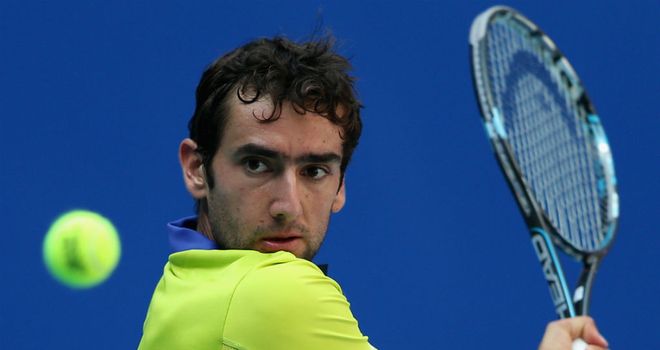 The Croatian beat Jurgen Melzer 6-3 6-1 in the PBZ Zagreb Indoors on Sunday to register his ninth career title, and Maclagan says the 24-year-old - who also won the men's singles at London's Aegon Championships at Queen's last summer - has the physique to trouble the world's best players.
But the former British Davis Cup player and erstwhile coach of Andy Murray wonders whether Cilic, a semi-finalist in the Australian Open three years ago, has the self-belief to best the likes of Novak Djokovic and Roger Federer on a consistent basis.
"He has had issues with injury but he is a tall guy so he should be growing into his body and being able to deal with tougher matches," Maclagan said of Cilic, who now has three PBZ Zagreb Indoors trophies to his name, having won in his homeland in 2009 and '10.
"It would be nice to see him push into the later rounds of tournaments and scare the top players - and he can do that.
"He has an effective serve, has the height - which negates someone like Rafa (Nadal) who likes to hit the ball high to your backhand - and can play well on all surfaces.
Base
"He probably doesn't believe he can ruffle the feathers of the top guys consistently and having seen him play Murray at Wimbledon last year (in the fourth round, in which he lost 7-5 6-2 6-3) and a few of his other matches, he has enough to dent the top four but not enough confidence or skill to keep doing it.
"Confidence comes with results so he needs to win three or four matches every week and build a base."
Maclagan described Cilic's victory in Croatia as "solid" but reckons Melzer contributed to his defeat by struggling to get over a controversial line call towards the back-end of the first set that went in his opponent's favour.
"Cilic dominated every statistic; he won 83 per cent of points on his second serve and you are not going to lose if you do that, so it was a solid win," added Maclagan.
"Melzer was understandably angry when he clearly hit the ball in and, due to Hawk-Eye not being utilised, it was called out and he lost the point - but you have to gather your thoughts and he didn't.
"Cilic is not an easy guy to play; he has long levers and there is not an obvious place to attack unless you can rush him, and when Melzer lost momentum - and his head - it became doubly difficult."