Mark Petchey still has concerns about Rafa Nadal's fitness
Tennis needs Rafa Nadal back at his best, but Mark Petchey has concerns about the Spaniard's fitness.
Last Updated: 27/02/13 2:49pm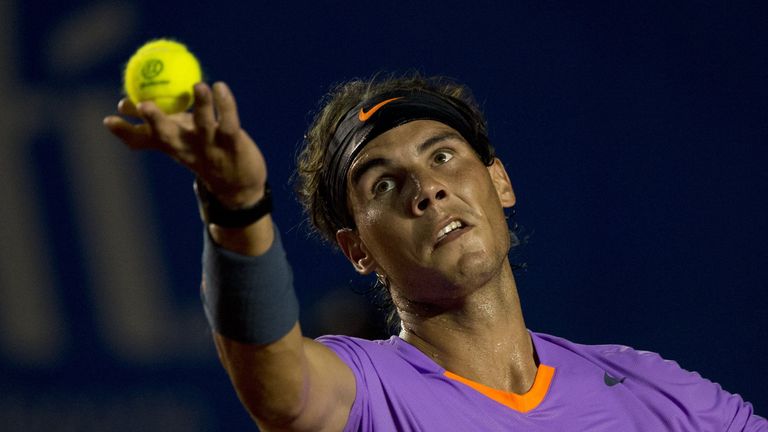 The former world number one succumbed to long-standing complaints last summer and only returned to action in February, after missing the Australian Open with a stomach virus.
He has enjoyed success since then, reaching the final of the VTR Open in Chile and winning the Brazil Open and is currently going well in the Acapulco Open in Mexico - all clay court tournaments.
However, Nadal seems set to skip the hard court BNP Paribas Open at Indian Wells and Miami Masters in favour of more red-dirt action ahead of the French Open, and Petchey reckons that suggests the Spaniard is not completely happy with his damaged knees.
"He's elected not to have surgery and try to rehab it and come back on his favourite surface, clay, which is more forgiving," said Andu Murray's former coach.
"That gives him the best possible chance as he gets back into competition, but the jury is still out a little bit - we're still unsure about his knees.
"His team say they haven't decided whether he's going to get back on the hard courts in California and Rafa said himself he's not sure.
"I hope he's there and think he needs to give it a go - but he knows his body better than anyone else."
However, Petchey believes the sport would receive a huge boost if the 11-time Grand Slam winner were to recapture his best form and fitness this season.
"I think tennis needs Rafa more than people realise," he said. "And as a fan I love watching him play.
"He's proved to be a foil for the great players out there and his defence, combined with the aggression of Roger Federer, has contributed to some of the special moments we've had in the last decade of our sport.
"If he did retire suddenly you'd have a huge void you weren't expecting; a back-to-full-health Rafa would certainly add some spice to the rest of this season."
Dominate
During Nadal's spell on the sidelines, Britain's Murray took the US Open and current world number one Novak Djokovic won the Australian Open in impressive style.
Whilst their tasks were made fractionally easier with the absence of Nadal, who made the final of both of those events the last time he competed in them, Petchey feels Djokovic and Murray are set to embark on an era of domination.
"There is a general feeling in tennis now that Andy and Novak are going to be the next big rivals who dominate the headlines over the next couple of seasons," he said.
"They're both in their prime and we look forward to more head-to-heads between them in the coming weeks.
"Djokovic had a phenomenal Australian Open and he's looking very sharp at the Dubai Duty Free Tennis Championships.
"This is his first singles tournament back since Melbourne and the way he has moved and hit the ball this week suggests he's not been sitting on a beach somewhere but working hard to be sharp from the get-go.
"Murray, meanwhile, is skipping Dubai to concentrate on Indian Wells. He'd love to add to his Grand Slam collection this season - as everyone would - but it's not going to be easy.
It may have been slightly easier in the last few months because Rafa hasn't played in one since Wimbledon but, with Novak in his current form and Roger still there, it's not going to be easy to pick up the big titles."
Watch the Dubai Duty Free Tennis Championships LIVE on Sky Sports all this week