Rafa Nadal in fine form at Barcelona Open, says Miles Maclagan
Rafa Nadal wore down Nicolas Almagro to win his eighth Barcelona Open, said Miles Maclagan.
Last Updated: 28/04/13 6:14pm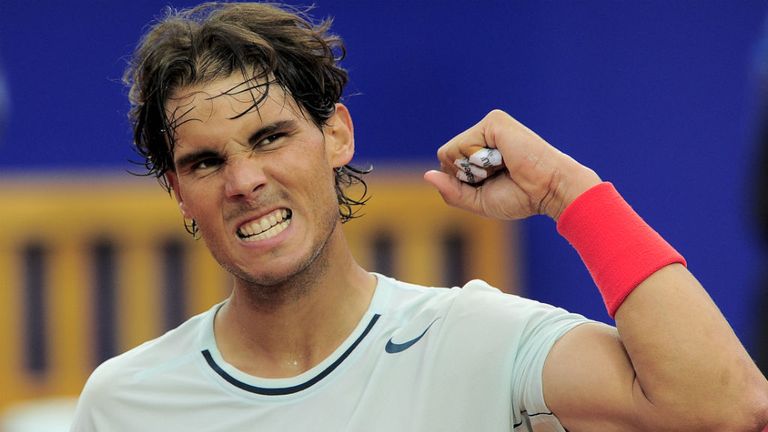 The king of clay racked up another tournament win with a 6-4, 6-3 victory over his fellow Spaniard on Sunday and appears to be in imperious form ahead of the approaching French Open.
And, as much as his shot-making and skill were as impressive as ever, Maclagan hailed Nadal's fighting spirit - which helped him come back from a break down in the first set - as a key component of his make-up.
"You do need to stop and think about it sometimes: he's had one loss at Roland Garos, one loss at Monte Carlo, one loss here - not in a week, in a career," said Andy Murray's former coach.
"The amount of battles Nadal's been through, the tough moments during that time - but he keeps finding the way. His heart is immeasurable and he's such a tough man to beat.
"Almagro has the firepower and he got off to a good start with the break - but once Nadal fought back and went a break up himself, as he has done all week, he just rolled with it."
Attack
Maclagan felt the rain delay midway through the first set may have played to Almagro's advantage, allowing him to perform in short, intense bursts but instead the weather cleared, Nadal put the pressure on and delivered a straight sets win.
However, the former Great Britain Davis Cup player, was critical of Almagro's repeated refusal to come forward when he had Nadal on the back foot.
"A lot of guys know what they have to do against Nadal on clay but doing it is different," he said. "You have to strike against the likes of Murray, Novak Djokovic and Nadal - players who move so well on the baseline.
"But we need a psychologist to explain why human nature is to not do things you know are going to help you and you know you are going to do. Almagro kept hesitating, knowing he should come in - and he stayed back."
Nadal appears to have put the injury problems that dogged his 2012 season behind him and Maclagan reckons he could even be challenging for the world number one spot come the end of the year.
"We haven't talked about Nadal as number one - but on this form he could be right in it at the end of the season," he said.
Catch the Madrid Open from midday on Monday, May 6, live on Sky Sports 3 HD