Second-half hopefuls
Tim Clement gives the lowdown on the Rome Masters, looking for value in the bottom half of the draw.
Last Updated: 16/05/13 10:21pm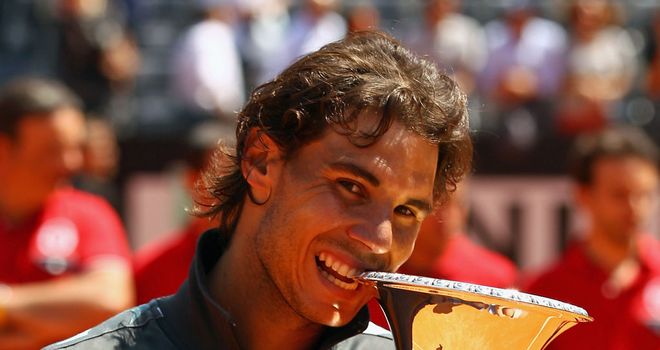 While competition will be at its fiercest, it takes a convoluted thought process to justify opposing odds-on favourite Rafael Nadal, with the reigning champion back to the height of his powers having notched five titles and two runner-up finishes since his return.
Sky Bet price it up as effectively a two-horse race with Nadal, who is looking to land his seventh title in the Italian capital, and two-time champion Djokovic 10/11 and 2/1 respectively. However, with the duo placed in their same half, the bottom half of the draw is wide open for an outsider to make the final.
Roger Federer and Andy Murray (both 12/1) are naturally considered the main opposition and have points to prove.
The surface
Being the final Masters event before the French Open, the clay at the Foro Italico is prepared to replicate the red dirt at Roland Garros. The traditional clay should certainly play into the hands of the specialists, but as we approach the back-end of the swing on the surface most should well adapted by now.
The weather
Last year's final was dragged out until Monday due to the wet weather and we could be in for a repeat with rain currently forecast for the back-end of the week. A fine start should see the courts playing relatively quick, but the expected overcast conditions will slow play down.
Last year
Nadal continued to reassert himself as the 'King of Clay' with a 7-5 6-3 final victory over 2011 champion Djokovic. More than just another title, it ensured the Spaniard carried the mental edge to Roland Garros, where he steamrolled all in his path before overcoming his great rival yet again in the final.
Leading contenders (and Sky Bet odds)
Rafael Nadal (10/11): It seems unthinkable now that just a matter of months ago serious doubts were being cast over the Spaniard's ability to be competitve again. The 26-year-old has lost none of the physical intensity and is, if anything, looking more aggressive and powerful than before his lay-off. Few places suit Nadal's game better than Rome and it will take an extraordinary display to stop him here. His pressence across the net on a claycourt represents one of sport's toughest propositions, a challenge that only Djokovic, who even he trails 3-12 on the surface, appears capable to taking on. Fatigue may be a concern however, having gone the distance in seven tournaments in seven months, but you can be sure only a buckling knee will halt Nadal's efforts.
Novak Djokovic (2/1): The Serb is a two-time champion here, with his 2011 final victory over Nadal signalling a shift in power on clay. As previously mentioned, the Spaniard has since reasserted his dominance, but Djokovic's triumph is Monte Carlo served a reminder of his threat on the surface. The 25-year-old was, however, then humbled in the second round of the Madrid Open by rising star Grigor Dimitrov, but that break between back-to-back events could well serve as a beneficial rest, especially given his recent ankle problems.
Andy Murray (12/1): Despite making all the right noises about his preparations and comfort on the surface, Murray's results remain below-par on clay. The Scot has failed to reach a semi-final on the red dirt since the 2011 French Open but is presented with as a good a chance as any to reach his first claycourt final here. Del Potro, who returns from illness and has posted inconsistent results this term, is the highest-ranked player in his quarter, while a lack of match practice raises concerns over Federer. If the world number two is to have any chance of fulfilling his next main goal of topping the rankings then such opportunities should not be squandered.
Roger Federer (12/1): Even the game's greatest was not immune to a bit of rustiness after an elongated break, with a third-round exit at the hands of Kei Nishikori halting his Madrid Open title defence. A favourable draw should see the 31-year-old gain more match practice at the very least on his least-favoured surface, but I suspect that Federer will fancy going all the way at one of the few top-tier titles he is yet to won. With Tsonga the top-ranked player in his quarter, a third final appearance in Rome looks a realistic possibility but toppling either Nadal or Djokovic in the final is a huge ask.
Juan Martin del Potro (18/1): The Argentine is yet again considered the best of the rest despite still not having a Masters title against his name. Illness ruled him out of Madrid so it is certainly worth gauging early-round performances before supporting significantly, but the ability is certainly there to go toe-to-toe with his half's top-ranked duo Murray and Federer on clay.
David Ferrer (40/1): The Spaniard will be cursing his luck after being placed in the same quarter as compatriot Nadal, who he has not defeated on clay since 2004, for a second successive event. Ferrer might take a degree of hope from taking a set in his quarter-final defeat in Madrid to the 'King of Clay', but the prospect of having to probably beat Djokovic as well just to make the final is a daunting one.
Best of the rest: Clay specialist Nicolas Almagro (28/1) looks the obvious candidate from the bottom half to upset the apple cart, but a hip problem and a last-32 loss to Mikhail Youzhny in Madrid deter interest. Tomas Berdych (33/1) may have beaten Murray in the Spanish capital but is drawn in the same quarter as Djokovic, to whom he has lost his last 12 meetings. Jo-Wilfried Tsonga (40/1) is drawn favourably and will be hoping to catch Federer below his best if they meet in the quarters, but is an each-way option at most. The significance of Dimitrov's (40/1) victory over Djokovic cannot be understated but understandably left him too drained for another three-set battle with Stanislas Wawrinka. With Richard Gasquet (50/1) awaiting in the second round at the time of writing, 'Baby Fed' faces a tough task in setting up a first clash with the man he has so commonly been compared with. Juan Monaco (66/1) is another candidate to utilise his speciality of the surface and benefit from a place in the bottom half of the draw, while odds of 100/1 for Madrid finalist Stanislas Wawrinka reflect just how much of disadvantage being halved with Nadal and Djokovic is.
Summary
With Nadal and Djokovic incredibly difficult to oppose, their inevitable semi-final meeting is likely to provide us with our winner. Whichever outsider manages to make it through in the other half will be hoping the incredibly competitive nature of the top section will do them some favours. Any opposition to the dominant duo should be done with some each-way cover, then just sit back and hope for some gruelling quarter and semi-final contests in the other half.
Top tips
Jo-Wilfried Tsonga - 33/1 (e/w)
---
Click here for completely free £10 bet with Sky Bet
---