Young guns
Razwan Mirza takes a look at some of the players who will hoping to make a breakthrough at the French Open
By Razwan Mirza - Tweet me: @RazMirza
Last Updated: 30/05/13 11:55am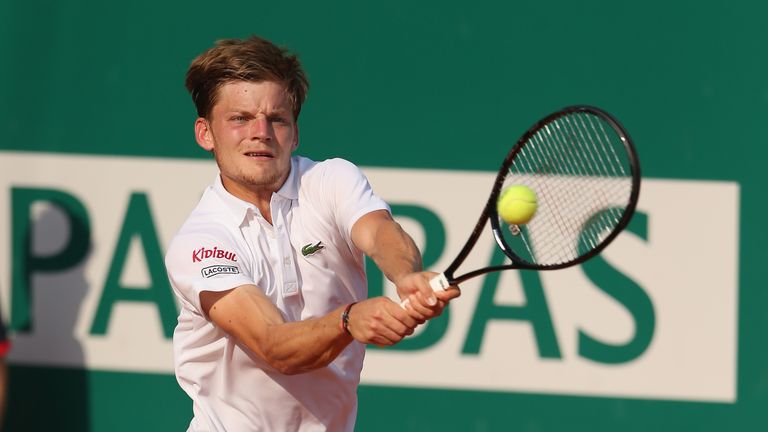 And given the fact that Andy Murray and Juan Martin Del Potro have so far only racked up one major title each, that has left Roger Federer, Rafael Nadal and Novak Djokovic to share an incredible 30 crowns between them.
But all eras must eventually come to an end and when the likes of Nadal and Djokovic do finally slow down, a new generation will be waiting to take up the mantle. Here, we take a look at five youngsters who are looking to make a major breakthrough at Roland Garros.
Grigor Dimitrov
The Bulgarian is not only the talk of the tabloids after pictures of him and Russian second seed Maria Sharapova walking hand-in-hand were published during the Madrid Open, but he is also starting to make huge strides in the men's game. Dimitrov earned the tag 'Baby Federer' following his triumph at Wimbledon and the US Open as a junior in 2008. He finished in top 50 for first time in his career last year before reaching the final in his first tournament of 2013 in Brisbane - a match which he lost to Andy Murray. Since then the 21-year-old stretched Rafael Nadal to the limit in the quarter-finals at Monaco last month and he then shocked world No 1 Novak Djokovic in the Madrid second round in the longest three-set match of the year for his first ever victory against a top-five player. His country feel they may have found a new hero after Hristo Stoichkov - a former footballer who led the national side to the 1994 World Cup semi-final. And his countrymen may just be right because this could be the year that the 26th-ranked Haskovo-born player steps up at a Grand Slam.
Milos Raonic
Born in Podgorica, Montenegro, Raonic moved to Canada with his family at the age of three and started playing the game at the age of eight. He has since grown into a 6ft 5in powerhouse. Last year he was named Newcomer of the Year after rising 125 places to No 31 in the world rankings. Raonic, 22, won the SAP Open title in San Jose title for the third year in a row earlier this year although he has struggled to make an impact on the red surface, losing to Fernando Verdasco in Madrid before a shock early exit to Philipp Kohlschreiber in Rome. He is known for his huge serves and bludgeoning groundstrokes and even had the nerve to give clay master Rafael Nadal a scare by taking him to five sets in the opening round of last year's French Open. He recently reached the semi-finals of the Barcelona Open before losing again to that man Nadal. Handily enough, Raonic trains in the Catalan city and is guided by Spanish coach Galo Blanco. Judging on his performances in the last year, he is certainly one to keep a close eye on during Roland Garros.
Bernard Tomic
Tomic was born in Stuttgart, Germany to a Croatian father and a Bosnian mother before the family migrated to Australia when he was three-years-old. He had a talent for the game from a young age and won three Orange Bowl titles before going on to win the Australian Open Junior Boys' Championships at the age of 15. Tomic went from World No 208 at the end of 2010 all the way to No 42 the following year. He reached his first Grand Slam quarter-final at Wimbledon before losing to eventual champion Novak Djokovic. He disappointed in 2012 with a number of early-tournament losses and created more headlines off the court than on it, including run-ins with police in his sports car and claims he was not trying hard enough. He was recently recalled to Australia's Davis Cup team after captain Pat Rafter disciplined him for a lack of professionalism. The 20-year-old did begin this season by bagging his first ATP title at the Apia International in Sydney. However, just as things seemed to be looking up, he was missing from the draw for the Rome Masters after his father, John was charged with assaulting his hitting partner, Thomas Drouet, after allegedly head-butting him near their hotel before the Madrid Open. What kind of mental state the player will be in at the start of Roland Garros is unclear, but he will hope for continued improvement in his game.
Jerzy Janowicz
Janowicz claims to have Pete Sampras' style and Marat Safin's attitude. He is Poland's very own rising star at 6ft 8in and is also climbing up the rankings like a steam train. He has gone from 161 in the world to No 24 in a little over two years. His parents were both professional volleyball players, so it was a no brainer that he was always going to follow in their footsteps and become a professional sportsperson. He picked up a racquet at the age of five and hasn't looked back. After making his Grand Slam debut as a qualifier at Wimbledon, Janowicz rose to prominence at last year's Paris Masters by reaching the final in his maiden Masters 1000 event. Although he lost in straight sets to Spain's David Ferrer, he has been trying to become the first Pole to win a title since Wojtek Fibak in 1982. The 22-year-old plays with passion and flair and never holds back with a dangerous crosscourt forehand and flat serves which hits top speeds of up to 140mph. The big-hitting beanpole is always seeking to improve his form on the dirt and recently crashed out of the Madrid Open to eventual semi-finalist Tomas Berdych, although he did make his mark in Rome by upsetting world No 8 Jo-Wilfried Tsonga by winning 75 per cent of his first serves and caught the attention of the female public by ripping his shirt in celebration at the end. His achievement is quite remarkable considering he has gone from playing a tournament in Barnstaple to the Italian capital in the space of 12 months.
David Goffin
The Belgian youngster is considered to be one of the sport's most promising stars but has only come to prominence in the last year. He was born in Rocourt, which is the same town as seven-time Grand Slam champion Justine Henin, and was taught the game by his father, Michel from the age of six. Claycourts are his forte and he surprised everybody by reaching the fourth round of the French Open last year after entering the tournament's main draw as a lucky loser. He went on to beat Radek Stepanek in five sets before dispatching Arnaud Clement and Lukasz Kubot. Goffin became the first lucky loser to reach the fourth round of a major championship since fellow Belgian Dick Norman at Wimbledon in 1995. He faced his childhood idol Roger Federer. The Swiss master prevailed in four sets that day, but spoke positively about his younger opponent after the match. After winning two Challenger events in his career, Goffin has certainly come a long way in a short space of time. He also went on to reach the third round at Wimbledon and the 22-year-old has since climbed to world No 59. However, he has gone somewhat off the radar this year as he struggles to find his best form. He will hopefully look to come good in time for Roland Garros.