Serena factfile
Sky Sports takes a look at the American's career following her success at Roland Garros
Last Updated: 09/06/13 2:07pm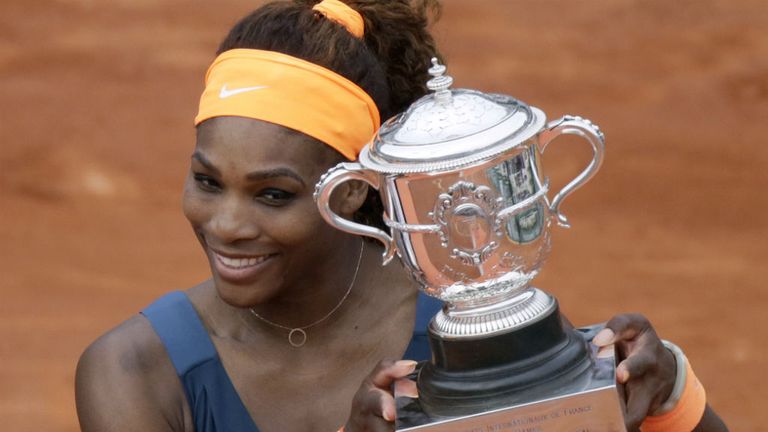 1981: Born September 26 in Saginaw, Michigan.
1995: Turns professional in September. Loses first professional match - as a wild card in Quebec - to Annie Miller 6-1 6-1.
1997: Reaches first major semi-final, in Chicago.
1998: Wins Wimbledon and US Open mixed doubles title with Max Mirnyi.
1999: Aged 17, wins first grand slam at US Open. Serena and sister Venus become the first sisters to meet in a WTA Tour final, Venus winning in Miami. Joins forces with Venus to become the first sisters in the 20th century to win a grand slam doubles title at US Open.
2000: Wins Olympic gold with Venus in doubles, the first sisters to do so. Seals first Wimbledon title, the doubles alongside Venus - but loses to her sister in singles semi-final.
2001: Wins Australian Open doubles with Venus. Wins the WTA season-ending championships but loses US Open final to her sister.
2002: Wins French Open. Establishes herself as world number one for the first time on her way to Wimbledon final against Venus as they become first sisters to contest the final since 1884.
July - Beats Venus in straight sets to become new Wimbledon women's champion and combines with her sister to win doubles title.
September - Wins US Open, her third consecutive grand slam.
2003: Holds all four grand slam titles at same time when she wins the Australian Open, again beating her sister, completing the 'Serena Slam'.
Her 21-match winning streak is ended by straight-sets defeat to Justine Henin at Charleston in April, with the Belgian also claiming a controversial win in the semi-finals of the French Open, which ended Serena's grand slam winning-run at 33 matches.
July - Wins Wimbledon for second year in a row with a 4-6 6-4 6-2 defeat of her sister in the final.
August - Has surgery on knee injury and misses US Open. Loses number-one ranking to Kim Clijsters and falls to number three, the first time out of top two since June 2002.
2004: Recovery process from knee injury keeps Williams out of Australian Open.
March - First tournament since Wimbledon 2003, Williams wins Miami singles title.
May - Beaten by Jennifer Capriati both in semi-finals at Rome and then in the quarter-finals of the French Open.
July - Returns to Wimbledon as defending champion and number one seed but loses her crown to teenage sensation Maria Sharapova in the final.
2005: January - Beats fellow American Lindsay Davenport 2-6 6-3 6-0 to win Australian Open.
May - Misses French Open with an ankle injury but loses 6-3 7-6 against world number 85 Jill Craybas to exit Wimbledon in third round.
2006: Plays sparingly and drops to a low in the rankings of 139, missing the French Open and Wimbledon.
2007: January - Despite a ranking of 81, storms through the field to win the Australian Open. She beats six seeds to win the title, including top seed Maria Sharapova 6-1 6-2 in the final.
2008: July 5 - Beaten 7-5 6-4 by Venus in Wimbledon final.
August - Serena and Venus win Olympic gold medal in doubles.
September - Wins US Open title, beating Jelena Jankovic 6-4 7-5.
2009: February - Wins Australian Open, thrashing Dinara Safina 6-0 6-3.
July 4 - Beats Venus 7-6 6-2 in the Wimbledon final, having saved match point in semi-final against Elena Dementieva.
September 12 - Loses to eventual champion Clijsters in the semi-finals of the US Open. The Belgian wins when Williams incurs a point penalty on match point for a rant at a line judge. Serena is criticised further for taking two days to issue an apology.
November 30 - Fined US dollars 82,500 and given a suspended three-year ban for her outburst.
2010: January 30 - Wins Australian Open, beating a returning Justine Henin 6-4 3-6 6-2, equalling Billie Jean King's record of 12 grand slam titles.
July - Defends Wimbledon title with victory over Vera Zvonareva. Days later steps on glass at a restaurant in Germany and does not play again all season.
2011: February - Williams suffers potentially-fatal blood clots on her lungs but recovers.
June - Plays her first match for nearly a year in Eastbourne. Loses to Marion Bartoli in the fourth round at Wimbledon.
September - Reaches the US Open final but loses to Sam Stosur and is in disciplinary trouble again after a row with umpire Eva Asderaki.
2012: January - Upset by Ekaterina Makarova in the fourth round at the Australian Open.
May - Suffers first ever opening-round defeat at a grand slam against Virginie Razzano at French Open.
July - Wins her fifth Wimbledon title by beating Agnieszka Radwanska.
August - Beats Maria Sharapova 6-0 6-1 at Wimbledon to win her first Olympic singles gold medal and defends women's doubles title with sister Venus. Both become the first tennis players to win four gold medals.
September - Continues great run by beating Victoria Azarenka in US Open final.
2013: January - Hampered by an ankle problem, loses to Sloane Stephens in the Australian Open quarter-finals.
June 8 - Makes it 31 victories in a row and 74 from 77 singles matches with a 6-4 6-4 victory over Maria Sharapova in the French Open final - her 16th grand slam singles crown.