Rafa to regain No.1?
Sky Bet's Tim Clement explains why Rafael Nadal is now considered the favourite to end the year as World No 1.
Last Updated: 11/06/13 5:26pm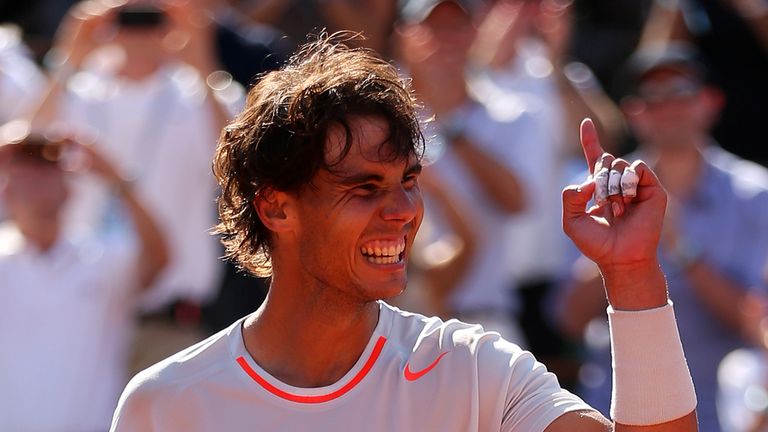 Rafael Nadal may have slipped down to fifth in the ATP rankings despite his historic eighth French Open title, but the Spaniard is now considered favourite to end the year as world No.1.
David Ferrer will now be seeded fourth for Wimbledon by virtue of improving on last year's run to the semi-finals at Roland Garros with Sunday's final appearance, while the reigning champion only defended points he already held.
Despite the drop in the overall ATP rankings, Nadal has now won nearly 2,000 more points than any other player in 2013, having secured seven titles and finished runner-up at two more since returning from injury.
To put that into perspective, Ferrer ended 2012 with the most titles to his name on tour, landing the same amount as his compatriot has managed in just four months.
Nadal now has 6,895 points to his name this year and just 45 to improve on from his early exit at Wimbledon last year, while his rivals will have the majority of their points to defend between now and the season's end.
Sky Bet offered 16/1 for the 27-year-old to be the season-ending No.1 after he missed the Australian Open but now go 1/2, with Djokovic 13/8 in what is considered a two-way battle as 'Any Other Player' is offered at 16/1.
Andy Murray's chances have been all but ended by a curtailed clay campaign, while Roger Federer currently sits down in seventh in the 'Race to London', having failed to land a single title in 2012.
Nadal may have been rampant on the clay swing, but his greater challenge naturally lies with the second half of the campaign as his body is tested on less favoured surfaces.
The Spaniard acknowledged after his straight-sets win over Ferrer: "To be No. 1 in this era, you have to play during the whole season and do well during the rest of the season, because the rest of the players are very competitive. They're going to be there.
"I need to keep winning a lot of points if I want to have any chance to be No 1 at the end of the season."
Health
His injury-ravaged knees gave in as he transferred from red dirt to green grass last year, with a second-round defeat to Lukas Rosol marking the start of a seven-month spell on the sidelines.
Second guessing Nadal's current condition is pointless given the complexity of the problems.
It was impossible to tell the extent of his problems at Wimbledon last year as he battled on against Rosol.
He proved in claiming the title on hard courts in Indian Wells that his ability can certainly still be transferred across the surfaces, but it would be a surprise if such dominance was maintained throughout the year.
What is sure is that Djokovic, Federer and Murray will have used Nadal's headline hogging as motivation to bounce back stronger from their respective disappointments, starting with the grass swing.
Djokovic and Nadal both sit out this week's warm-up events, with Murray 15/8 favourite for the Aegon International at Queen's while Federer is an even shorter price to win at Halle for a sixth time.
In terms of Wimbledon, Nadal's odds have been progressively trimmed since his comeback, coming in from 4/1 to 10/3 joint second favourite with Murray.
Djokovic is still considered the man to beat at 15/8 but Friday's draw is sure to force a reshuffle, with Nadal to be placed in the same quarter as one of the top four seeds.
In terms of Nadal's standing amongst the game's greats, he will surely secure an unsurpassable amount of Roland Garros titles before his time is out, while Federer's record of 17 majors is certainly not beyond him.
Sky Bet go 11/2 for him to win the next three French Open titles, which would see him move onto 15 Grand Slams and only needing a couple from the other three majors, all of which he has previously won.
One thing is for sure though; Nadal has cemented his status as the greatest clay court player of all time, with such dominance of an event possibly unparalleled in sport.