Mark Petchey calls on nation to cherish 'special' Andy Murray
Mark Petchey says Andy Murray's dedication and ability made him Wimbledon champion.
Last Updated: 07/07/13 7:50pm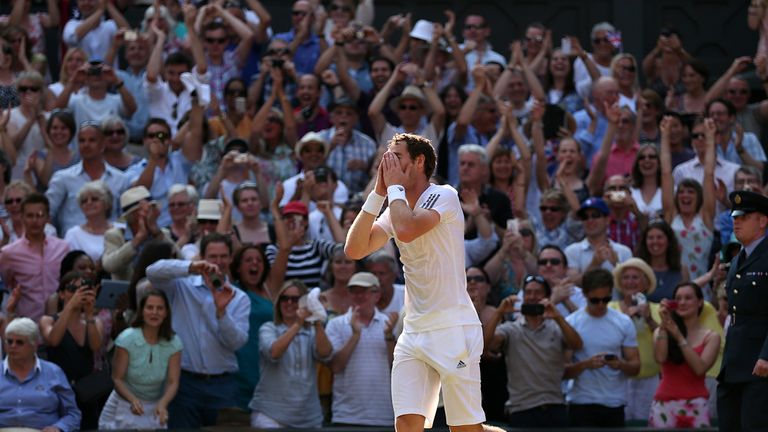 The Sky Sports pundit was speaking after watching the Scot end Britain's 77-year wait for a men's singles champion at Wimbledon with an outstanding straight sets victory over Novak Djokovic in blazing sunshine on Centre Court.
Petchey coached Murray between 2005 and 2006 and says Murray has been willing to push himself to the limit for success - and now deserves to be recognised as a great champion.
He told Sky Sports News: "You need to have a depth of character and you need to have resilience, but you need exquisite skill as well, which is what he displayed today to win these championships.
"Everything has got to converge and come together and he's put the hard yards in. He's bought a place in Miami, not because he wants to go to South Beach and hang out in the nightclubs, but because he wants to go there and sweat it out in the insanely hot heat and get fit enough for a day like today when it could have gone five or six hours.
"Andy has gone to the nth degree, he's left no stone unturned and he's a very unique character. He's a very special champion and I'm not sure we're going to see another one in our lifetime.
"It took 77 years and we've got one now and I think we need to embrace him, cherish him and enjoy the moments that he's around for however long that will be."
Scene
Murray broke his major championship duck in the US Open Final last year when he beat Djokovic in five sets and Petchey believes that triumph set the scene for Sunday's success.
But he says there is no doubt that winning the sport's biggest prize in front of a home crowd must go down as the ultimate achievement for any British tennis player.
Petchey added: "I'm sharing in the joy of all British tennis fans right now and any sports fan in Britain as well to see somebody go out and achieve the pinnacle of their career in front of a home crowd in the manner that he did against somebody that is a great champion, a world number one and has won this title before.
"The quality of the tennis that was produced out there was just sensational from Andy's perspective. It was pretty emotional at the end of the match.
"This was the Holy Grail. This was climbing Everest for him, being a British player. Obviously it was massive in New York to win his first [Grand Slam] and we'd waited 76 years for that.
"So let's not underplay what he achieved in New York with Novak coming back for two sets before getting it done in the fifth against somebody who'd barely lost on a hard court in the previous two years. That was an accomplishment all of its own.
"But there's no question that here, with the media spotlight on him and with everything that's gone on to this stage, including the Olympic Championship and the gold medal that he won last year, everybody was expecting great things today.
"To go out and perform to the necessary level - because Novak played about as well as he can - speaks volumes about Andy."
Number one
Three of the last four major finals have been contested between Djokovic and Murray and they have established themselves as the top two players in the world ahead of Roger Federer and Rafael Nadal.
The Serb will remain top of the rankings after Murray missed the French Open, but Petchey says the British player could claim the world number one spot before the end of the year.
"I think he's got a great shot," he added.
"Obviously it was disappointing for him to miss the French Open. There's a lot of ranking points on offer there and clearly that was something that got Novak ahead of him right now.
"But it's definitely the Novak and Andy rivalry right now. Rafa's in the mix at the moment, as is Roger, but those two - in terms of the major finals that they've played at New York, Australia and now here at Wimbledon are certainly going to be vying for number one by the end of the year.
"It's going to be fantastic to see that race and it'd be another tick in the resume if Andy can get there.
"You wouldn't bet against it."