Milos Raonic: Rogers Cup finalist must improve serve and dexterity
Milos Raonic must develop many aspects of his game to become a top-five player, says Mark Petchey.
Last Updated: 12/08/13 12:26pm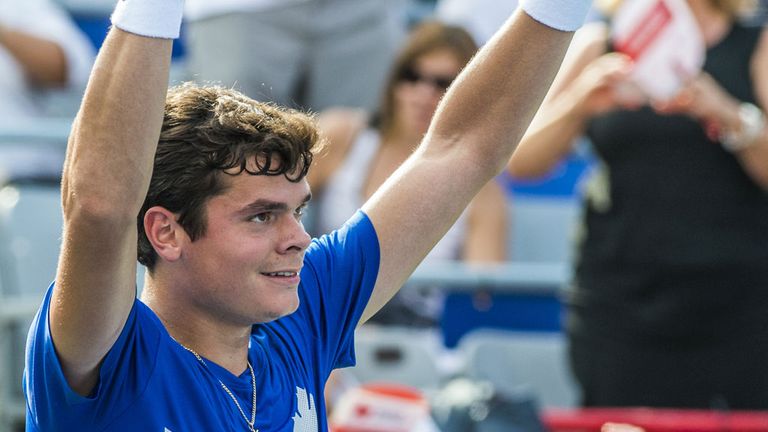 That's the view of Sky Sports pundit Mark Petchey after the Canadian - who has not yet passed the fourth round of a Grand Slam lost 6-2 6-2 to Rafael Nadal in his first Masters 1000 final appearance, in Montreal.
Read our report of the final here

Raonic - who has collected four titles on the ATP Tour, the most recent of which at the SAP Open in San Jose, California in February - defeated fellow home player Vasek Pospisil 7-6 in the third set in the semi-finals at the Rogers Cup.
But the world number 10 could not replicate that performance against Nadal - who has won eight of the 11 events in which he has competed this season - and Petchey says there are many aspects of his game that the 22-year-old must improve.
"Raonic had to play the match of his life to beat Nadal and he didn't hit those heights," said Petchey, who formerly coached British number one and current Wimbledon champion Andy Murray.
"He was unable to deliver on the first serve which was going to be crucial to some sort of success and once that was misfiring he was always going to be second best as he doesn't have enough of a plan B to overcome that sort of deficit.
"To get into the top five and be challenging for majors, you have to have many layers to your game but you're A-game has to be immaculate and you need to be able to hit spots all the time and make your opponents change their game.
"But Raonic doesn't get enough width on his serve against the absolute best, and he doesn't have the dexterity to get on an even keel and stay in rallies against players like Rafa."
Intensity
Petchey does not feel that Raonic can put his defeat to Nadal - who has moved up to world number three in Monday's rankings, ahead of compatriot David Ferrer - down to fatigue and instead feels the 6f 5in right-hander struggled to deal with the pressure of a big final.
But Leif Shiras - who lost to John McEnroe in the final of Queen's in 1984 - thinks the Ivan Ljubicic-coached Raonic will bounce back - if he adds an element of surprise to his game.
"It would be disappointing if Raonic said he was tired," said Petchey.
"His semi-final was long but Rafa had a bruising encounter with Novak [Djokovic] and it was far tougher than Raonic's because of the intensity that he and Novak bring a court.
"I could, though, understand if the occasion was too much for Raonic."
Shiras added: "Raonic's first-serve percentage (50 per cent) was a little surprising but when you look down the other end of the court and see one of the all-time greats [in Rafa] you can get a little excited and try to do too much.
"He needs to add a little more variety as he is a big guy and leaves a lot of one space around the court - something the top players can exploit - but he is taking his first steps and will learn."