After Marion Bartoli surprise decision we look at Top 10 sports retirement stories
As Wimbledon champion Marion Bartoli shocked tennis by quitting, we pick a Top 10 shock retirements.
Last Updated: 15/08/13 4:25pm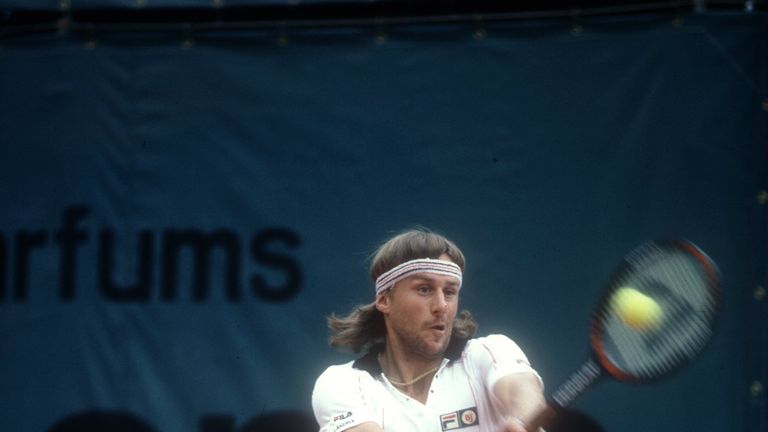 Here we look at ten other big names to have stunned their sport by quitting unexpectedly.
Bjorn Borg
Bjorn Borg had fended off the likes of John McEnroe and Jimmy Connors to win five straight Wimbledon titles, surely he would go on to win many more? Unfortunately we will never know, as the Swede called a hugely premature end to his career in 1983 aged just 26. True, he had been battling it out on court for a decade, but he was such a smooth mover you feel he could have gone on for years, and he himself said he had at least five more years in him. He had lost the desire though, so quit having also won six French Open titles in eight years. He is often regarded as the best player ever.
Justine Henin
Aged just 25, with seven grand slam titles under her belt and at World No 1 in the rankings, Justine Henin stunned the tennis world by calling it quits at the start of 2008. Despite being in her prime, Henin said she had lost the desire to train hard to remain at the top of her game, and wanted to focus on her personal life. Retirement was not permanent and she returned to court early in 2010 - making the Australian Open final in only her second event back, but she was forced to retire for good in 2011 due to an elbow injury.
Eric Cantona
King Eric stunned Manchester United fans when he announced his decision to retire just short of his 31st birthday. The Frenchman had become an instant hero at Old Trafford after crossing the Pennines from Leeds - leading them to four Premier League titles in five years and two league and FA Cup doubles. Disciplinary issues only served to add to the intrigue and enigma of the man - which continued as he turned his attentions to acting after hanging up his boots.
George Best
Another famous United No 7 also retired unexpectedly, but he returned to football soon after and had a nomadic second career playing for Fulham but also all over the world in America and Australia. Arguably the most naturally gifted footballer ever produced in the UK, Best mesmerized fans and terrorised defences before leaving Old Trafford in 1974 aged just 27. Best's lifestyle had started to catch up on him and although he returned to football until 1984, he was never the same as his days with the Red Devils.
Ian Thorpe
Australia's greatest ever Olympian hung up his swimming cap aged just 24. The Thorpedo swam his way to five Olympic gold medals, nine overall, along with 11 world titles and 13 world records. A lack of motivation though was again the reason for a top-level sportsman calling an early end to his career, but again the lure of competition meant that the retirement was not permanent. Thorpe returned in 2011 in a bid to qualify for the London 2012 Olympics, but he failed to make the Australian team at the trials.
Kim Clijsters
What is it with Belgian tennis players?! Clijsters had also been World No 1 and had won one grand slam title when she announced her decision to quit tennis in 2007 aged just 23. After two years out though and having given birth to her daughter, Clijsters returned to action and did so in style as she won the US Open in just her third comeback event. From there she went on to win another two slams before retiring for good this time at the 2012 US Open.
Sugar Ray Leonard
Leonard had beaten Thomas Hearns in 'The Showdown' in September 1981, but early the next year the champion suffered an eye injury and required surgery on a detached retina. One of the best boxers of all time then called a news conference and invited Marvin Hagler where he was expected to announce a highly-anticipated clash between the two. Leonard even appeared in a boxing ring for the event, but to everyone's amazement he announced he was retiring from boxing aged just 26. Of course, Leonard would return to fight on numerous occasions after this.
Mike Hussey
Hussey was not exactly a spring chicken so his retirement could have been expected on the age front, but he was in the form of his life towards the end of 2012 when he decided to quit the Australian Test team. With a host of big names also gone and with back-to-back Ashes series coming up in 2013, Australia badly needed Mr Cricket on board but he surprisingly signalled enough was enough and opted to retire before a huge year of cricket.
Barry Sanders
One of the greatest running backs in NFL history, Sanders made the league's All-Star team the 'Pro Bowl', in all ten of his seasons playing. He was 31 and had just come off a season running for 1,491 yards so was in no way slowing down and starting to feel the pace. Within 1,500 of beating Walter Payton's career record for rushing yards, Sanders called it quits just before the start of training for the 1999 season.
Alain Prost
An enigmatic and studious driver, Prost is among Formula One's greats, but he was desperate to go out on top - leading him to retire from the sport after winning the title for fourth time in 1993. He seemed to be at the peak of his career and riving in a brilliant Williams car, but he wanted to leave while he was the best - and in that sense it was job done.