US Open: Rafa Nadal is favourite; John Isner could make quarters
Greg Rusedski analyses the US Open hopes of Rafael Nadal, Roger Federer and Juan Martin del Potro.
Last Updated: 19/08/13 11:06am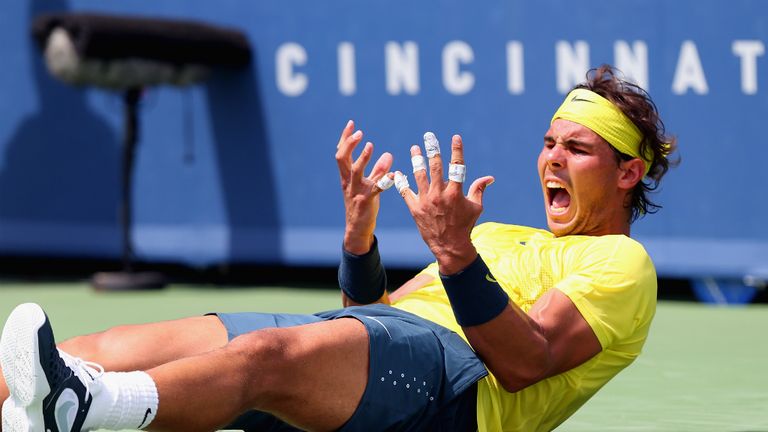 The Spaniard was defeated by Belgian journeyman Steve Darcis in the first round at the All England Club in June, but has since been unstoppable over the North American swing as he fine tunes his preparations for the US Open.
Nadal defeated Canada's Milos Raonic in the final of the Montreal Masters last week and, on Sunday, beat John Isner 7-6 7-6 to take the Cincinnati Masters trophy for the first time.
And Sky Sports pundit and former British number one Rusedski feels the 27-year-old, who has now seized nine titles this year and 26 career Masters 1000 victories, will head to Flushing Meadows later this month as the favourite to pluck the final major of the season.
"The fact Rafa lost so early at Wimbledon meant he had so much time to prepare for the hard courts," said Rusedski. "Usually he is in the latter stages but that hiccup has actually helped him and he has gotten better because of it.
"No-one has beaten Rafa on hard courts this year and it's because of his amazing court craft.
"He does so many things really well out there like opening up the space and pushing his opponent back, and he always plays the right shot at the right moment.
"This is about as well as Rafa has played on the hard courts for years and he has got to be the red-hot favourite going into the US Open."
Pedigree
However, Rusedski also believes that American Isner - whose appearance in Sunday's showpiece in Cincinnati was just his second in a Masters 1000 final, the other coming in Indian Wells in 2012 - could also flourish at the US Open due to his height and serving prowess.
"Isner played one of his best matches [against Nadal] and he has shown he has the pedigree to go deep into a major and if he gets a good draw he could maybe get to the quarter-finals in New York," added Rusedski, who lost to Pat Rafter in the 1997 US Open final.
"The Americans will be excited about him and playing him is a disaster because of the height you have to return the ball from, which for Nadal was over his head.
"He is one of the dangerous six-foot-six floaters that could [threaten] at the US Open."
Rusedski also listed 2009 Flushing Meadows victor Juan Martin del Potro as a 'dangerous floater' but reckons the way the Argentine buckled in his semi-final with Isner in Ohio - where he doubled faulted when serving for the match - will dampen his hopes of lifting the title.
And the Canadian-born Brit also expects five-time US Open champion Roger Federer - who has slipped to seventh in the world rankings following his quarter-final exit in Cincinnati at the hands of Nadal - to leave New York empty handed.
Choked
"I think Del Potro will come up short as that loss against Isner will hurt him physically and mentally," said Rusedski. "He was completely in control and then choked.
"That does not put him in good stead for a major and while he could get to the US Open semis I don't see him beating on of the top three of Nadal, Andy Murray and Novak Djokovic."
On Federer, who has been beaten by the unheralded Federico Delbonis and Daniel Brands since his Wimbledon humbling against Sergiy Stakhovsky, the Sky Sports analyst added: "He hasn't played much tennis this year and has been troubled by a bad back.
"He tried a bigger racket frame after Wimbledon and lost to opponents he shouldn't have lost to and when he went back to his regular racket in Cincinnati he still couldn't beat Nadal.
"I'm not saying he won't make the semis but he could play Rafa, Novak or Andy in the quarters [so it will be tough]."