US Open: Mark Petchey picks top three Flushing Meadows matches
Tennis' leading lights are on the road to Flushing Meadows for the final Grand Slam of the season. There should be a series of titanic tussles over the next two weeks but, ahead of Monday's big kick-off, Mark Petchey has selected his top three matches from yesteryear...
Last Updated: 22/08/13 3:46pm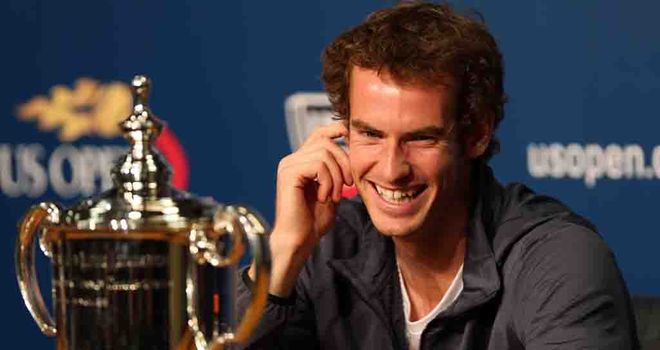 I don't think Novak Djokovic plays as well in the wind as Andy Murray but having won the US Open before and the fact he was world number one, I think the Serb went into this match as slight favourite.
The opening set, then, was going to be huge for Andy and it was full of drama - there were breaks of serve and a 24-minute tiebreak - but Murray won it on his sixth set point to get off to the perfect start.
The Scot then raced into a double-break lead in the second and you thought: 'This is it', and even though it didn't prove that routine - Djokovic clawed his way from 5-2 to 5-5 - Andy won the next two games to take a 2-0 advantage in sets.
He had the momentum but Novak seized it right back by coming back strongly and playing great in sets three and four; you really feared for Andy at that point, having not won a Grand Slam before, but his response was tremendous.
He produced perhaps the most courageous portion of tennis he has ever played at the start of the fifth, getting early breaks and really knocking the stuffing out of Novak, who was the defending champion after beating Rafa Nadal in 2011.
Murray lost one of those breaks, though that just added to the spectacle, but he still went on to win the title, a triumph that was richly deserved because he is such a tough kid and made tremendous sacrifices to get to the top.
I was awesomely happy that things went right for him in New York in his favourite Grand Slam and as someone who has played a part in Andy's career, albeit a small one, it was really exciting to watch him produce one of the greatest ever moments in British, and perhaps world, tennis.
However, the match itself was terrific as, in difficult conditions, you had two guys hitting the ball really well and the contest had real fluctuations; in lots of matches there is a natural ebb and flow, but not in this great one.
US Open Semi-Final 2008
Andy Murray bt Rafa Nadal 6-2, 7-6, 4-6, 6-4
This was a big breakthrough for Andy, as not only was it his first Grand Slam semi but he had lost to Nadal, the man who probably poses the biggest questions of Andy's game out of everyone on the ATP Tour, the previous five times he had played him.
You knew he would have to play unbelievably well to beat the Spaniard in this semi and I think the fact the match was switched to Louis Armstrong because of rain played into Andy's favour; it's not a court he particularly like but there was a really quiet atmosphere.
Murray proceeded to play two of the best sets of tennis I think I have ever seen, swinging from the hip and hitting winners to all parts. There was nothing that Rafa could do and that breath-taking display showed us all how great a player Andy was going to become.
The rain came, though, at the start of the third set and Murray had to come back the next day on Arthur Ashe with a pumped-up crowd and a slower court and Rafa was right back in it, especially after taking the third.
You wondered whether Andy would get over the finish line and even more so when he failed to capitalise on break-point chances in the fourth and was broken himself; you felt we could have a Tim Henman-Goran Ivanisevic situation from Wimbledon in 2001.
But Murray kept fighting and toughed it out with some great tennis and for possibly the first time in his career was able to stay with Rafa, who has the arguably the best forehand in the game with its speed and top spin, and compete physically in the extended rallies.
US Open Semi-Final 2011
Novak Djokovic by Roger Federer 6-7, 4-6, 6-3, 6-2, 7-5
At the time, the Federer-Djokovic rivalry was probably the least friendly amongst the top four; there was plenty of respect there between two great players, but there was also lots of spice and you knew this would be a great encounter as hard court is both guys' favourite surface.
Roger had lost to Jo-Wilfried Tsonga from two sets up at Wimbledon earlier in the season and the same thing happened in New York against Novak, who is a master at coming from behind and retrieving difficult situations.
The crowd in the States were getting raucous as not only did they want blood and guts spilled all over the court but they also wanted value for money and they certainly got that as Dkokovic launched a stunning comeback.
Roger served for the match but Novak came back when it looked like he had nothing left and came up with the shot of the century, smashing a Federer serve cross court for a winner at match point down; there was an element of luck in that but he still had to have the talent and bottle to make it.
That rocked Roger and then you had an epic match on your hands, one that was reminiscent of a Pete Sampras-Andre Agassi clash where both men played brilliantly and left absolutely nothing out on the court - and one you only get at the US Open.
The year 2011 was sensational for Djokovic as a whole, though, not just because of the matches that he won but because of the way he won them. His ability to keep going and the endurance he showed was brilliant and it will go down as one of the great years of all time.
It will be interesting to see if anyone can match it.