Sky Sports' Annabel Croft answers your questions ahead of US Open
Annabel Croft responds to YOUR questions on Laura Robson, Sloane Stephens and Marion Bartoli.
Last Updated: 25/08/13 6:27pm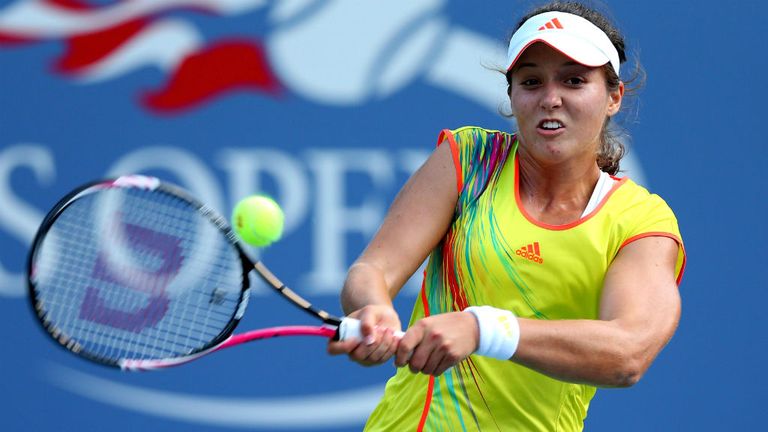 You sent in loads of teasers to skysports.com for Croft to chew over, and in the section below she gives her responses to the best ones, including her thoughts on Laura Robson, Marion Bartoli and her favourite players of all time.
See what Annabel had to say and then make sure you stay glued to Sky Sports from Monday as we bring you live coverage of every day of the final Grand Slam of the season at Flushing Meadows in New York...
ANOTHER 1000?
Hi Annabel, When the extra week between the French Open and Wimbledon comes into place, do you think a 10th Masters 1000 event should be introduced on grass? Stephen
ANNABEL REPLIES: I do think that and the most obvious choice would be Queen's. The French and US Opens have Masters 1000 events preceding them and with Wimbledon being one of the biggest events of the year, it feels right that it should have one, too. I know people have discussed it and it seem an obvious thing to happen, so let's hope it does.
FAVOURITE FEMALE
Who is your favourite female player to watch? I really like the grace of Agnieszka Radwañska? Stephanie
ANNABEL REPLIES: I am a huge fan of Radwanska because of her effortless gracefulness and fluidity of movement, so in terms of sheer beauty I would say she is one of my favourites, but in terms of breath-taking power and for having the most beautiful service action I have ever witnessed on a tennis court, it would have to be Serena Williams.
RATING ROBSON
Does the US Open represent Laura Robson's best chance of winning a Major and how far could she go this year? Craig
ANNABEL REPLIES: This year for Laura is a little bit suspect because she has an injury to her right wrist, so I think expectations are a little bit lower. She is also defending an awful lot of points after making the fourth round last year so there is a lot of pressure on her and, in my mind, Wimbledon represents Laura's best chance of winning Grand Slam as she is left-handed and very similar to 2011 Wimbledon champion Petra Kvitova.
MORE FROM MARION?
Have we seen the last of Marion Bartoli or could she cancel her retirement? Lucy
ANNABEL REPLIES: She could come back but I think we have seen the last of her - and feel it is a great decision to stop. Marion realised a dream that she had since a young child by winning Wimbledon and thought the only way on from there was down. She is highly intellectual and wants to go on and enjoy other things while she is still young - and what a fantastic way to go out.
FALTERING FED
What do you think of Roger Federer's form going into the US Open and what are his chances of winning? @olumcjobson
ANNABEL REPLIES: You can never underestimate a great champion as they can find another gear when it really matters, but he is coming in with the least amount of form he has had for a number of years and the least amount of confidence. He did resurrect some form and confidence, though, in his quarter-final with Rafael Nadal in Cincinnati but I think we could be in for a bit of an upset in New York.
SLOANE FLAIR
Do you think Sloane Stephens is ready to take over from Serena Williams as American number one? Melanie
ANNABEL REPLIES: Sloane is not going to overtake Serena yet but she is definitely a massive star of the future and has more than proved herself on the big stage. She has made enormous progress since she beat Serena in the Australian Open earlier this year and made the quarter-finals, and I have only been impressed by the way she has developed. I really like her game, I think she is a great athlete and she brings a lot of character and personality to the court.
BEST OF ALL TIME
Who do you think are the greatest male and female players of all time? Ricky
ANNABEL REPLIES: I would have to say Federer for what he has achieved in the game but my favourite tennis player in the men's game and the guy who inspired me to take up the sport was Bjorn Borg; he took tennis to superstar status and brought in teeny-bopper fans for the first time. In the women's game, Margaret Court has the record of 24 Grand Slam singles titles, and Martina Navratilova has won lots, too, but it is hard to look past Steffi Graf for her athleticism, the way she played the game, all she brought to a tennis court and 22 Grand Slams in the Open era.