US Open: Novak Djokovic profiting from Ivan Lendl's former coach Wojtek Fibak
Novak Djokovic changed up his game with good effect against Marcel Granollers, says Annabel Croft.
Last Updated: 04/09/13 2:01pm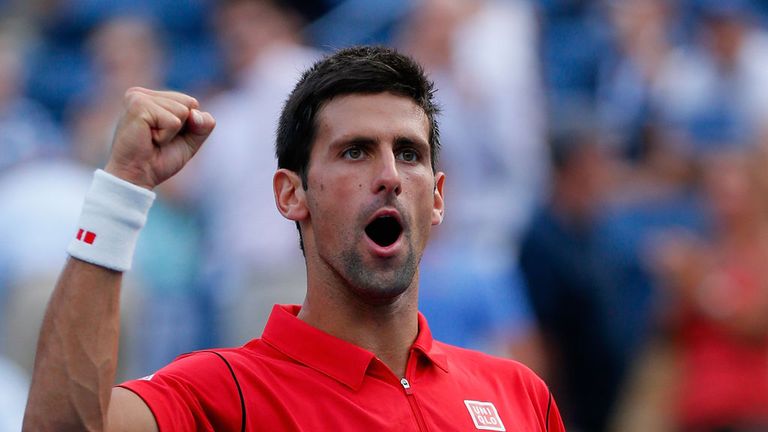 The world number one stormed past his fourth round opponent 6-3, 6-0, 6-0 to set up a quarter-final date with Mikhail Youzhny and Sky Sports expert Annabel Croft was hugely impressed with the Serbian's performance.
However, she pointed out after the contest that Djokovic had employed several new approaches in his match-up with Granollers, which could have been influenced by his recently-appointed 'coaching consultant' Wojtek Fibak.
The Pole steered Ivan Lendl from also-ran to Grand Slam winner and it appears Fibak is now helping to improve Djokovic's game as well.
"Djokovic was so in control of the match he thought 'why not try and bring into a match situation things I am working on in practice'," said Croft.
"It was an ideal time to do it in a match like that and he definitely came to the net more, and there was certainly evidence of a bit more mixture in his game here."
"His consultation with Fibak is intriguing and I think it's fascinating that Djokovic has brought him into the fold, just to try to get into the inside of what Lendl has been feeding into Andy Murray and find out a bit more information.
Boris Becker, who claimed the US Open in 1989, agreed Djokovic had changed things up and credited the Serb for his rutheless performance.
However, the German did have some sympathy for Spaniard Granollers, who may have felt the strain of having to win three five-set matches to set up his clash with Djokovic.
Brutal
"The scoreline indicates a pretty easy match but we shouldn't really forget his opponent had a brutal first week, with his last match before this one going on until midnight after four hours," said six-time Grand Slam champion Becker.
"After the first set you could see the legs were gone but, on the other hand Djokovic, didn't give him a chance.
"He was trying out a few new things, came to the net on many more occasions than I've seen him before and maybe we've seen the Fibak affect, with Djokovic mixing up his game a little bit more."
Djokovic's next opponent, Youzhny, battled past Lleyton Hewitt in five sets to reach the final eight, and Becker paid tribute to the defeated Australian, who has battled back from a string of injuries to perform well at Flushing Meadows.
"I respect Hewitt so much," said Becker. "He's a great fighter and a great ambassador for tennis.
"I don't know how many US Open quarter finals he has left in his bag but he certainly had a big chance today, leading the fourth and fifth sets. It was sad to see - but Youzhny was better.
"Hewitt, though, has always been told he couldn't do things - whether that was come back from injuries or win a Grand Slam - and he proved everyone wrong all his career.
"I can't complement him highly enough."