US Open Women's Final: Annabel Croft expecting a tight tussle
Annabel Croft says Victoria Azarenka's ball striking can test Serena Williams in Sunday's US Open final.
Last Updated: 07/09/13 3:59pm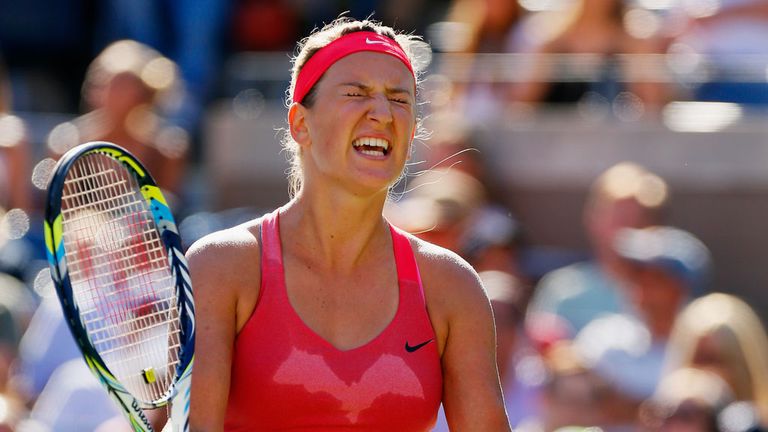 Serena Williams and Victoria Azarenka locked horns in the 2012 US Open final and they will do so again in this year's showpiece, live on Sky Sports 1 on Sunday night.
Williams bested her Belarusian rival last season and has breezed through to this weekend's showdown without dropping a set, so will the American prevail once more?
We asked Sky Sports pundit Annabel Croft to preview the encounter...
The US Open decision makers obviously thought Serena Williams and Victoria Azarenka would meet in the Flushing Meadows final for the second year running - and so did I.
Therefore, it is no surprise that the number one and two seeds will battle it out on Sunday and even though Azarenka has had a rockier road to get there than Williams, I think we will see a terrific match.
Victoria has had a real problem with her serve this season and even in this tournament she has thrown in quite a few double faults and not been able to give her serve as much kick as she had before.
That part of her game is a bit fragile and that is not a position you want to be in against Serena, but she did beat the American in the final of the Cincinnati event recently and that will give her a lot of confidence, as will the fact she served for this title last year.
Azarenka is a great competitor, too, while she is also an unbelievable ball striker from the back of the court and one of the few players who can live with Serena in rallies.
Uptight
If she can do that on Sunday, that will force more errors to creep into Williams' game but there could be a few anyway because as she is so desperate to win this title, she has become a bit uptight.
So if things don't go Serena's way against Azarenka you wonder how she will react.
Williams is the much fresher player, though, as in the 12 sets of tennis she has played to get this far, she has won five of them 6-0 and what is even more extraordinary is that she doesn't even seem to be playing her best tennis in New York.
Serena is better now than she has ever been; her serve is phenomenal, she is moving brilliantly and she also has this ability to take her game down a couple of notches to see what her opponent has got and then, if necessary, raise it again.
I don't think it is a foregone conclusion that Williams will win this final, though, and neither do I think Azarenka has to make the better start of the two because she lost the first set to Serena last year and still fought her way back into the match.
Victoria will be mentally tougher than anyone Serena has faced yet, too, but I will tip Williams to win a close match.
Pressurised
Five of this year's female quarter-finalists - Williams, Roberta Vinci, Flavia Pennetta, Li Na, and Daniel Hantuchova - were 30 or over which is a sea change from when I was playing when teenagers were having all the success.
You'd think players' fitness would deteriorate as they got older but it appears that the experience of being on the tour for so many years and knowing what to do in pressurised situations counts for a lot more these days.
However, I think that, in Laura Robson, there will be a young lady sitting at home thinking: 'I could have got into the latter stages of this tournament' after seeing the woman that beat her, Li Na, make the last four.
Robson has a game with real firepower that can trouble so many of the top players and if she sticks with it, works hard and gets fitter than she has ever been, there are huge opportunities for her in the women's game.
I look forward to watching her progress.