Djokovic v Nadal: Greatest matches
Ahead of their US Open final, we take a look back at some of the best matches between Novak Djokovic and Rafael Nadal
Last Updated: 09/09/13 12:48pm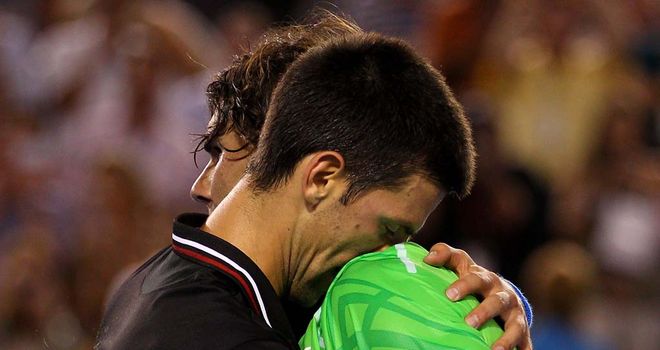 Back in the days when Nadal was still sporting a muscle top and pirate pants, Djokovic was simply an upcoming challenger to the Spaniard and the Queen's Club was decked in Stella Artois red, these two played out a high-quality final in west London. With Nadal having yet to win on grass and Djokovic holding little experience on the surface, there were still some doubts about their ability on the green stuff. By the end of the contest, such theories had been debunked. Nadal fought back from 0-3 in the opener, saving a set point as he took it on a tie-break. Playing to a high level and trading well from the back of the court, Djokovic came from a break down in the second set and actually served for it before Nadal closed out to claim the title. It was the platform he needed to win a thrilling Wimbledon final three weeks later.
Madrid, 2009, SF (outdoor clay) - Nadal 3-6 7-6 7-6
At four hours and three minutes, this contest is one of the longest-ever three-set matches and what a match it was. This was a gruelling, attritional battle on the clay of the Caja Magica where Nadal delighted the home fans by digging deep to emerge victorious. He had to save three match points in the final-set tie-break but save them he did. A dejected Djokovic, whose defeat meant he remained without a win against Nadal in nine claycourt meetings, summed things up with his post-match comment: "It's very disappointing to play as well as I have and still lose the match. I played one of my best matches ever. I was a couple of points from the victory. I even played a few points above my limits and I still didn't win."
US Open, 2011, F (outdoor hard) - Djokovic 6-2 6-4 6-7 6-1
The pair's last meeting in New York was a memorable one. It came during Djokovic's golden year of 2011 and victory in this match gave him a third Grand Slam title of the season. For much of the showdown the pair pushed each other to new heights, some of the rallies needing to be seen to be believed. Djokovic reeled off six straight games to take the first set and also edged a see-saw second. Getting stuck into Nadal's serve on a regular basis, Djokovic looked set for victory when he broke for 6-5 in the third but he could not serve out and when he lost the ensuing tie-break, the momentum was with a pumped-up Nadal. Djokovic looked weary and needed treatment on a back problem but just when you thought an epic Nadal comeback was very much on the cards, Djokovic rediscovered his form and instead it was the Spaniard who fell away in the fourth set as his opponent wrapped up victory after four horus and 10 minutes of majestic tennis.
Australian Open, 2012, F (outdoor/indoor hard) - Djokovic 5-7 6-4 6-2 6-7 7-5
By now, Djokovic-Nadal matches were must-see affairs and this one did not let anybody down. The pair could barely be separated over five hours and 53 minutes on the Rod Laver Arena - this remains the longest Grand Slam final in history - as both men showed their dogged resistance. It was clear from the outset that it would be a lengthy affair and although Nadal started the better, it was his nemesis who managed to grab the lead by battling back and winning the third. At 4-4 0-40 in the fourth, Nadal stood on the brink but refused to wilt and when he also fought back from behind in the following tie-break he claimed control. He duly opened a 4-2 lead in the decider but then came a moment he will regret to this day. The Spaniard missed a simple backhand down the line which would have given him two more break points. Again the momentum swung and this time Djokovic would not let it go. Having finished at 1.47am local time, it was fitting that during the presentation ceremony chairs were brought onto court for both players to enjoy a well-deserved sit down.
Roland Garros, 2013, SF (outdoor clay) - Nadal 6-4 3-6 6-1 6-7 9-7
Another classic and one which had remarkably similar traits to the pair's 2012 Australian Open clash. This one may 'only' have lasted four hours and 37 minutes but the rallies were again to be marvelled at, while a final set again featured a twist and a possible moment of regret. When Nadal stormed through the third, he looked on course for a fairly comfortable win but to think that is to ignore the history books when it comes to these two. The Spaniard, already a seven-time champion at Roland Garros, served for the match at 6-5 in the fourth but lost his serve and the resultant tie-break. Djokovic was the ascendant but, just as Nadal had done in Melbourne, failed to hammer home a 4-2 final-set advantage. It can be argued he lost the match mentally for as the decider wore on Djokovic complained bitterly about the slippery state of the court, saying it needed watering on what was a scorching Paris day. He probably had a point but Nadal did not argee and, more importantly, neither did the umpire. The more focused man broke in the 16th game of the set to end yet another classic between the duo.