We look at the fortunes of tennis' big four in the wake of Rafa Nadal's US Open win
After Rafael Nadal's win in New York, we assess what the future could hold for tennis' 'big four'.
By Mark Kendall - Twitter: @SkySportsMK
Last Updated: 11/09/13 6:11pm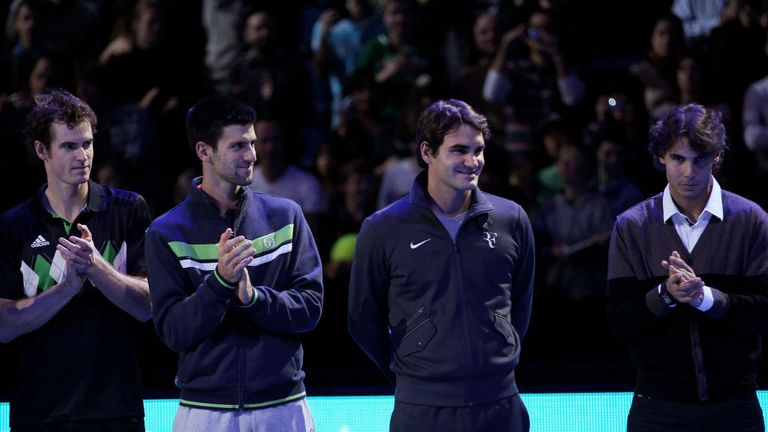 His stunning renaissance was fittingly underlined with victory over World No 1 Novak Djokovic in the US Open final at Flushing Meadows on Monday in a match of breath-taking quality and intensity.
Perhaps as telling as the win itself was the fact it came on a surface that had seemingly threatened Nadal's very career.
During his enforced hiatus from the sport to tackle acute tendinitis in his knees, there were whispers that Nadal might have to forgo or certainly curtail his hard-court endeavours in order to prolong his playing days.
Such fears now appear unfounded with Nadal producing an irresistible mix of physicality and flair in New York to re-establish himself as the man to beat in the men's game.
His coronation should be confirmed in the weeks ahead if, as expected, he usurps Djokovic at the top of the rankings, but there is now another, more compelling landmark on the horizon.
Nadal's US Open success was the 13th grand slam title of his career and - with his health issues seemingly resolved, at least for the time being - talk has inevitably turned to chasing down Roger Federer's all-time mark of 17.
At 27, injury problems aside, the Mallorcan would appear well-placed to overtake his Swiss rival, especially given his dominance at Roland Garros.
But raising the bar now seems the norm at the very top of the men's game and Djokovic, Murray (both lest we forget grand slam winners this season) and Federer will all ensure that record will take a lot of beating if indeed it does fall.
We assess the game's 'Big Four' and ask what the future could hold.
Roger Federer:
Perhaps the first question to ask is whether the game now has a 'Big Three' rather than a 'Big Four'? For so long things seemed effortless for the Swiss trailblazer, or at least he made them appear effortless with a style utterly beguiling in its gracefulness. But where once his sheer artistry was the equal of his rivals, it would now appear that Federer does not have the physical weapons to compete with Nadal, Djokovic or Murray. At 32, Federer's advancing years are finally looking a factor and one must question whether there remains the desire, motivation or physical capability to undertake the kind of uncompromising conditioning changes that have seen his adversaries take their games to new levels, especially with a young family growing up around him. In his pomp, Federer reached 18 of 19 grand slam finals between 2005-2010 as he eclipsed Pete Sampras as the greatest the game had ever seen. But he has managed just two in his last 15 major appearances and, with a current world ranking of seven to complicate his passage at future tournaments, it would now take a leap of faith to see him adding to his tally of 17 slams. There seems little doubt Federer will be back next season to at least try and silence the doubters, but could 2014 in fact prove his swansong?
Andy Murray:
It is easy to read too much into a single defeat, especially in a sport where just four tournaments so dominate the landscape. Following his victory at Wimbledon talk was rife that Murray could go on to finish the year as World No 1 and hopes were high of a successful defence in New York. Indeed, it was Nadal and Djokovic who had questions to answer after SW19. But fast forward two months and it would now seem Murray has it all to prove again after defeat to an inspired Stanislas Wawrinka. In truth, Murray has had a fantastic year, his exploits at Wimbledon were career-defining and, given they represented the accomplishment of a lifetime's ambition as the Scot himself admitted, it should not be surprising he subsequently found it hard to maintain momentum. The physical and emotional toll of that success should not be underestimated. If there is one thing Murray has demonstrated in recent years, though, it is the appetite to put the work in to achieve his goals. With coach Ivan Lendl in his corner, Murray will reassess and work out what now needs to be done. His physical level is not in question, if one were looking to highlight areas of improvement for the Scot then the second serve would perhaps be the most obvious, along with his continued poor performance on clay. But it could be that most important of all will be the chance to readjust his targets and refocus following a year which has seen him write his name into British sporting folklore.
Novak Djokovic:
It's not just about reaching the top, it's about staying there. Just as Murray might need new goals to reinvigorate himself after that Wimbledon win, it could also be Nadal's re-emergence could be just the motivation that Djokovic needs after two-and-a-half years as the benchmark. In order to become the undisputed World No 1, the Serb undertook several changes to improve himself, from diet to equipment to training regime. The results spoke for themselves following a quite sensational 2011 season that saw him claim three of the big four. Certainly there is no shame in his performance this year, but there is just the feeling that some of Djokovic's swagger and belief has disappeared having lost in four of his last five major finals. The defeat to Nadal in New York means that he is now likely to be the hunter rather than the hunted, although there was also plenty to encourage the 26-year-old. For a set and a half he outplayed Nadal and showed he knows what is required to eclipse the Spaniard. There was, though, always the feeling that Novak was playing right on the edge to stay in contention, taking risks, whereas Rafa was in his comfort zone, prepared to grind his man down. A hugely resilient character, Djokovic will know it is improving on the one-percenters, the undefinables that is now required to make the difference again and keep pace with his rivals. It is a different challenge to the one from which has become accustomed, but one that could bring out the best in him.
Rafael Nadal:
"This is probably the greatest comeback I have seen in sport." So said Greg Rusedski after watching Nadal pick up his second slam of the season in New York. Since returning to the Tour back in February, the Spaniard has a record of 60 wins against just three losses, an incredible feat for a player many thought would struggle to shake off what was and presumably still remains a chronic knee condition. But whatever the questions about his body, Nadal's real genius lies in his continued ability to evolve as a player and it's why he could end up as the greatest of them all. He will forever be regarded as the 'King of Clay', but the Spaniard learned to adapt his game to ensure that by the age of just 24 he had completed a career Grand Slam. When challenges have presented themselves, Nadal has found an answer as his latest defeat of Djokovic demonstrated. Having added weight and variety that now makes his serve a genuine weapon, the left-hander also moved to a more aggressive returning position to help impose himself against the Serb and saw his tactics handsomely pay off. Now just four grand slams behind Federer if, and it remains a big if, he can stay fit then he can surely move past his great rival. Sense dictates that a 27-year-old with a 59-1 record at Roland Garros could reasonably have claims on at least three more French Open titles. That would leave two more to find and with Murray (5-13) and Djokovic (15-22) both losing against the Mallorcan far more often than they beat him, it would take a brave man to back against a Nadal currently looking better than ever before.