Grand Slam review: Sky Sports pick out the best tennis moments of 2013
We pick out the most memorable moments from the Grand Slam events in our review of the year.
By Razwan Mirza - Tweet me: @RazMirza
Last Updated: 30/09/13 2:30pm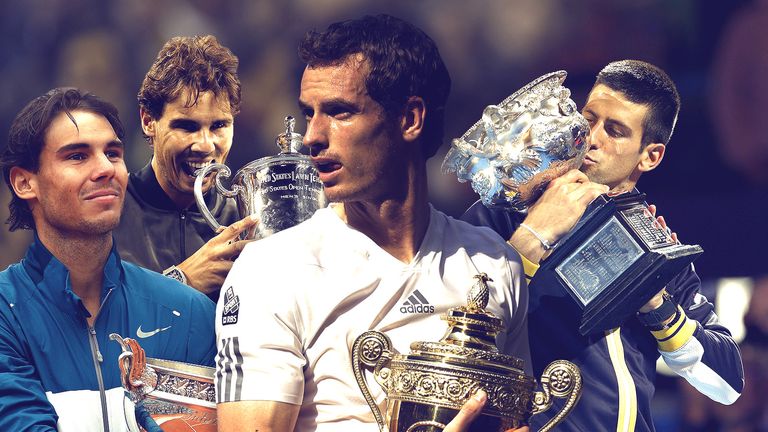 2013 has been a memorable year for tennis with the standard getting better and better with each tournament.
Two players stood out during the four Grand Slam events this year - Rafael Nadal and Serena Williams.
Here, we look back on the four majors and pick out some unforgettable matches and one defining moment in British tennis.
Australian Open
The year got underway on the speedy plexicushion hardcourt at a hot and humid Australian Open, where Novak Djokovic and Victoria Azarenka were looking to defend their titles.
A certain Mr Andy Murray had his sights set on winning back-to-back Grand Slam titles following his memorable victory in New York just four months earlier.
The British No 1 was in the form of his life at the back end of 2012 and he came into the tournament seeking successive hardcourt titles.
He sailed past Robin Haase, Portuguese No 1 Joao Sousa, Lithuanian qualifier Ricardas Berankis, Gilles Simon and the unseeded Jeremy Chardy before setting up a semi-final against 17-time Grand Slam champion Roger Federer - a player he had never beaten at a major.
But this was a different, more confident, more relaxed Murray on court. He was now a champion and a man in impeccable form, playing at the peak of his powers.
The Scot served for the match at 6-5 in the fourth, but the Swiss ace broke back and then won the subsequent tiebreaker to take it to a decider.
Once again, Murray was putting the British viewers through the ringer as thoughts of his famous line following his 2010 Australian Open final defeat to Federer came flooding back: "I can cry like Roger. It's just a shame I can't play like him."
But following his Olympic final success against him, Murray knew he could play like him now and came through in the decider to complete a defining 6-4 6-7 (5) 6-3 6-7 (2) 6-2 victory.
The relief was palpable as he finally overcame the great man in a Slam event.
Waiting for him in the final would be a man seeking revenge on the Scot - world No 1 and US Open runner-up Novak Djokovic.
The Serbian was involved in the match of the tournament when Stanislas Wawrinka made him look mortal in an epic fourth-round clash which lasted five hours, 1-6 7-5 6-4 6-7 (5) 12-10. The deciding set alone lasted a remarkable one hour and 44 minutes.
The match finished at 1.40am local time as Djokovic kept alive his hopes of becoming the first man in the Open era to win this title three years in a row.
"I feel sorry that one of us had to lose," Djokovic said afterwards. "He definitely deserved to win, but I'm just thrilled to be able to fight once again up to the last moment."
Djokovic made it an incredible 21 successive wins in Australia when he overcame Murray in the final to prove that he was the top dog Down Under.
He produced a convincing 6-7 (2) 7-6 (3) 6-3 6-2 victory at Rod Laver arena to claim the sixth Grand Slam title of his career.
In the women's event, 19-year-old American Sloane Stephens announced herself to the world by upsetting pre-tournament favourite Serena Williams, 3-6 7-5 6-4 in the quarter-finals.
She went on to lose to Victoria Azarenka in the last four, although the match proved highly controversial after the Belarusian was accused of gamesmanship following a nine-minute medical time-out deep in the second set.
The controversy came afterwards while speaking to television interviewers, she said: "I had to take a little bit of time to calm down."
Stephens' coach, David Nainkin, was far more outspoken when he told USA Today. "I thought it was very unfair - cheating within the rules. It was unsportsmanlike."

The Minsk Miss went on to beat China's Li Na in the final, 4-6 6-4 6-3 to secure back-to-back titles in Melbourne, although the semi-final controversy somewhat soured her victory.
French Open
Rafael Nadal made his long-awaited return to the game at the Brazil Open in February after suffering from tendonitis in his knee, which forced him to miss seven months of action.
The Spaniard was back to defend his French Open crown in May where he was looking beastly on his favourite surface.
British fans wouldn't get to see Murray at Roland Garros after his back flared up badly during the Rome Masters, forcing him to pull out.
It was possibly a blessing in disguise because nobody looked like stopping Nadal, who was running over his opponents like a juggernaut, from one round to the next.
There were no major shocks until the quarter-finals when home favourite Jo-Wilfried Tsonga destroyed Federer in straight-sets.
However, the Frenchman was unable to reach his second major final after being run off court by the roadrunner, David Ferrer.
The other semi-final was out of this world as Djokovic gave Nadal arguably his hardest match ever on the red dirt.
The drama on Court Philippe Chatrier overflowed as the beefcake Spaniard's biceps proved too strong for his opponent in a match of unrelenting drama, 6-4 3-6 6-1 6-7 (3) 9-7.
Nadal was the 'King of Clay' and he went on to seal a record eighth French Open title thanks to a comfortable straight-sets victory over his compatriot David Ferrer, who was playing in his first major final, 6-3 6-2 6-3.
There was a familiar feel about the women's final in Paris as world No 1 Serena Williams faced second seed Maria Sharapova, with another all too familiar ending for the Russian.
The American extended her remarkable winning streak against Sharapova to 13 matches and ended her 11-year wait for a second title at Roland Garros with a 6-4 6-4 win.
After collecting the Coupe Suzanne Lenglen - her 16th Grand Slam championship, she addressed the 15,000 spectators in French, saying, "Je suis incroyable!" and "J'adore Paris". She now considered herself Parisienne.
Wimbledon
From croissants and crepes to the delights of strawberries and cream at Wimbledon - the greatest tennis tournament of them all and it did not disappoint.
There were some big-name casualties in the early rounds and it all started with Rafael Nadal - fresh from another victory at Roland Garros and seemingly invincible, the two-time champion at the All England Club was sent crashing out of the first round by unknown Belgian Steve Darcis - ranked 135th in the world.
Nadal was followed out by a string of players on Wednesday 26 June - a day which became known as 'Black Wednesday' with a total of 12 seeds slipping and stumbling on their way out.
These players included two-time semi-finalist Jo-Wilfried Tsonga, 2004 champion Maria Sharapova, Australian Open champion Victoria Azarenka and star names such as Lleyton Hewitt, Ana Ivanovic, Jelena Jankovic and Caroline Wozniacki.
Then came an even bigger seismic shock as seven-time Wimbledon champion Roger Federer fell in the second round to world No 116 Sergiy Stakhovsky the same day.
The eccentric 27 year-old from Ukraine was perhaps best known for using his iPhone to challenge a line call at the French Open before his win against Federer.
But he ended the Swiss star's streak of reaching the quarter-finals in 36 straight Grand Slam events, stretching back to 2004.
After his 6-7 (5) 7-6 (5) 7-5 7-6 (5) triumph on Centre Court, Stakhovsky and his wife, the Russian model Anfisa Bulgakova became headline news at SW19.
"Beating Roger on this court, where he is a legend, is a special place in my career," said a disbelieving Stakhovsky.
"When you come here Roger Federer is on the cover of the Wimbledon book. You're playing the guy and you're playing the legend which is following him, who won it seven times. You're playing two of them. When you're beating one you still have the other who is pressing you. You keep thinking am I really beating him?"
While the carnage continued, two men were seamlessly moving towards a dream final date at SW19.
Djokovic and Murray hadn't dropped a set en route to the quarter-finals and when the Serb swept past the dangerous Tomas Berdych, it seemed the Scotsman would do the same against Fernando Verdasco of Spain.
But what followed was another dramatic, tense and nerve-wracking Centre Court five-set thriller as Murray battled back from two sets down to defeat 'The Muscles from Madrid' and equal Fred Perry's British record of 13 grand slam semi-final appearances.
The first semi-final match-up between Novak Djokovic and Juan Martin del Potro proved to be the longest last four clash in Wimbledon history with the world No 1 outlasting his opponent following a feast of tennis, 7-5 4-6 7-6 (2) 6-7 (6-8) 6-3.
Despite an early scare, Murray reached his second successive Wimbledon final against the monster serve of Poland's Jerzy Janowicz under the Centre Court roof 6-7 (2) 6-4 6-4 6-3, to earn himself another chance to emulate Perry's 1936 title.
The final itself was a memorable event on a steaming hot Sunday in July with Murray playing the match of his life to seal a straight sets, 6-4 7-5 6-4 win in front of a watching audience that included the Prime Minister David Cameron, Victoria Beckham, Wayne Rooney and Hollywood royalty including Bradley Cooper and Gerard Butler.
Murray had squandered three match points before winning the championship when the Serbian netted a backhand, sparking wild celebrations among the 15,000 crowd.
The 26-year-old Scot, who held his trophy aloft and kissed it, said: "That was one of the toughest moments. Today was (an) unbelievably tough match.
"I don't know how I came through the final three points, I'm so glad to do it.
"I have played Novak many times and when everyone finishes playing, he will go down as one of the fighters.
"I understand how much everyone wanted to see (a) British winner at Wimbledon and I hope everyone enjoyed it."
Over in the women's draw, Sabine Lisicki was causing shockwaves after upsetting top seed and favourite Serena Williams 6-2 1-6 6-4 in the fourth round before edging Agnieszka Radwanska in a dramatic semi-final, 6-4 2-6 9-7.
The final was contested between the big-serving German Lisicki and 15th seed Marion Bartoli from France.
Surprisingly, it was the 28-year-old with an IQ of 175 and a tendency to power nap just before playing her matches who beat the poster girl 6-1 6-4 to win the title without dropping a set. Just six weeks later, she retired from the game.
US Open
The tournament was extended to 15 days after inclement weather conditions had seen the men's final postponed to a third Monday for the last five years.
But before it had even started, 2006 champion Maria Sharapova withdrew due to a shoulder injury. However, Andy Murray was back to defend the title he won 12 months before at Flushing Meadows.
And normal service had resumed with the world's top players coming through their early matches unscathed until round two, when 2009 champion Juan Martin del Potro was beaten by 2001 champion Lleyton Hewitt in five gruelling sets lasting over four hours.
In the fourth round, five-time US Open champion Roger Federer made another early Grand Slam exit as he succumbed to the man who ended Briton Dan Evans' dream run in the third round - Spain's Tommy Robredo 7-6 (3) 6-3 6-4.
At 32, Federer looked to be steadily sliding further away from the summit upon which he stood for so long.
The former world No 1 experimented with a new, bigger frame after Wimbledon, but he went back to his regular Wilson racket in time for New York.
"It's been a difficult last three months," said Federer after his loss. "My consistency is just not quite there yet. Against a quality player, it becomes more difficult to keep that level up."
The next big seed to tumble was defending champion Murray, who was a shadow of the player who won Wimbledon just a few months earlier.
He was left mentally exhausted following a 6-4 6-3 6-2 hammering at the hand of an unstoppable Stanislas Wawrinka whose crisp, thunderbolt groundstrokes left the Scot broken.
One man who was making serene progress was Nadal, who had demolished Ryan Harrison, Rogerio Dutra da Silva and Ivan Dodig, before dropping his first set of the tournament against Philipp Kohlschreiber in a tie-break.
The Spaniard did come through in four before normal service resumed against Federer's conqueror Robredo and Richard Gasquet in the semis.
The other last four clash pitted Novak Djkokovic and Wawrinka and it did not disappoint as the Serb survived a barrage of bold attacking play from his opponent to subdue the fiery Swiss 2-6 7-6 (4) 3-6 6-3 6-4.
It certainly deserved it's place in the pantheon of great matches played on Arthur Ashe.
Djokovic confessed to feeling mightily relieved to have come through, saying: "I think it was obvious that Stan played more aggressive, and that he played the better tennis overall.
"I was just trying to hang in there. I tried to adjust. I had to run a lot, and I wasn't playing as well as I wanted, but all the credit to him for being so aggressive and playing so well. I was fortunate to be able to play my best tennis when I needed."
The final was amongst the best in recent years over four action-packed sets and included a 54-shot rally which could only be described as tennis from another planet.
In the end, the Mallorcan was unrelenting in his attacking play and secured his second title at Flushing Meadows and his 13th major crown with a 6-2 3-6 6-4 6-1 win.
"This is probably the most emotional one in my career," said Nadal. "I know I had to be almost perfect to win."
Nadal improved to 22-0 on hard courts and 60-3 overall in 2013 with 10 titles, including the French Open, which made him the first man with at least one Grand Slam trophy in nine consecutive seasons.
While it was Nadal's year in the men's, Serena Williams was the dominant force in the women's game.
She defeated Victoria Azarenka in a thrilling final in New York to win her fifth US Open title and the 17th Grand Slam title of her career.
The 32-year-old American came into the match having lost only 16 games in 12 sets and inflicting five bagels on her opponents, but was given a stern test by the Australian Open champion in a 7-5 6-7 (6-8) 6-1 victory.
Since a first-round exit at the 2012 French Open, Williams is 98-5 with 14 titles, winning four of the past six Grand Slam tournaments.
What was your Grand Slam moment of 2013? Submit your comment below.