Novak Djokovic: Serb's forehand was awesome against Rafael Nadal
Leif Shiras says Novak Djokovic's brutal ball hitting vanquished Rafa Nadal in the China Open final.
Last Updated: 06/10/13 5:49pm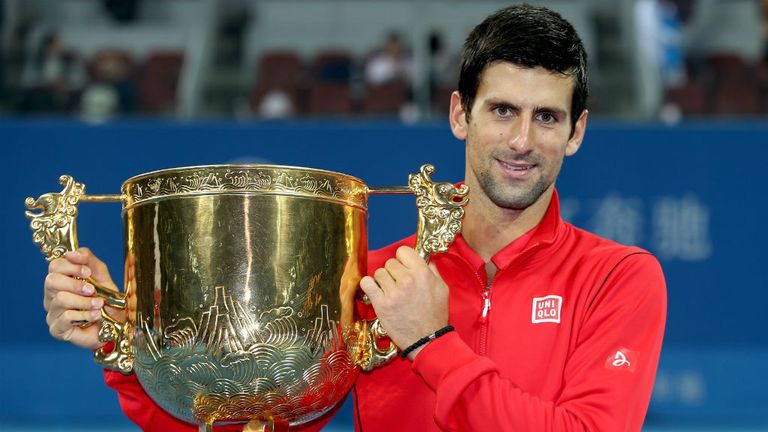 That was the view of Sky Sports pundit Leif Shiras after Djokovic - who has been dethroned by Nadal at the summit of the world rankings - beat his Spanish rival 6-3 6-4 to win the Beijing event for the fourth time in five seasons.
Djokovic lost just six points on his first serve but Shiras says the way he was able to send Nadal scurrying around the court and into difficult spots was how he managed to hand his opponent his first hard-court defeat of the campaign.
"Conditions were ripe for Novak but he struck the ball so cleanly and his forehand was awesome," said Shiras, after Djokovic overcame reigning US Open champion Nadal in the pair's 38th career meeting.
"His length forces you into awkward positions and doesn't give you much time and I don't feel Rafa ever had the chance to get into this match, but it is tough to keep a streak going as it requires so much energy and preparation."
Shiras' fellow analyst Barry Cowan added: "Djokovic took control of the rallies early which unsettled Nadal; it was definitely his day and I think we will see an even better Djokovic next year.
Excited
"Rafa, though, looked a shadow of what he has been this year but ends it as world number one and won two big ones - the French Open and the US Open."
Juan Martin Del Potro was also celebrating in Asia on Sunday after conquering the big-serving Milos Raonic in the Japan Open, an event won last term by home favourite Kei Nishikori.
However, Cowan was impressed by the display of Raonic - who finished runner-up to Nishikori in Tokyo in 2012 - and feels the 22-year-old is on the verge of a major breakthrough.
"Raonic has to be excited for the future as I saw some really encouraging signs," said Cowan.
"You question whether other young players, like Ryan Harrison and Grigor Dimitrov, are evolving week by week but this tall Canadian definitely is.
"He is looking more and more comfortable at the back of the court - he is playing shots he wouldn't have five months ago - but we also saw some good volleys and I like his state of mind, too."
The live tennis keeps on coming thick and fast on Sky Sports with action over the next few weeks from Shanghai, Basel, Paris and, finally, the season-ending ATP World Tour Finals at London's O2 Arena. Click here for coverage details.