Real chance Roger Federer won't make London's ATP Finals, says Leif Shiras
Leif Shiras analyses Roger Federer's early Shanghai exit and worries he won't make it to London.
Last Updated: 10/10/13 3:20pm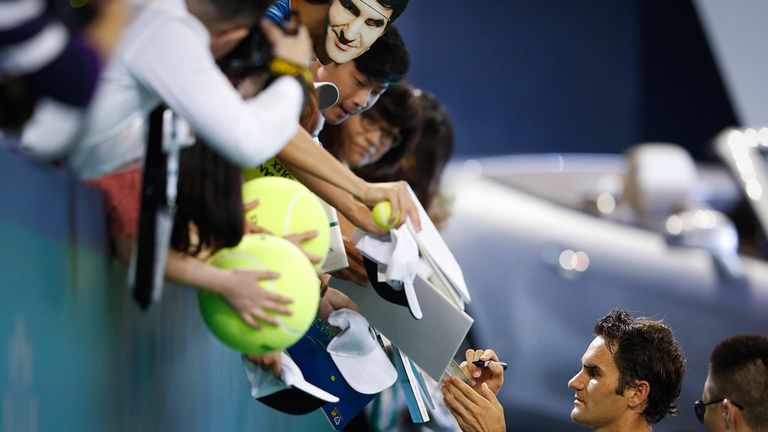 Federer hasn't appeared in a professional singles tournament since his defeat to Tommy Robredo at the same stage of this year's US Open and the former World No1 has slipped to seventh in the rankings following a tumultuous season, during which he failed to reach a Grand Slam final for the first time since 2002.
Tennis expert Leif Shiras told Sky Sports that Thursday's 6-4, 6-7, 6-3 defeat to France's Gael Monfils signals worrying times for Federer.
He said: "Maybe the avatar has left the building because Federer was the embodiment of all that was good in tennis, but now he's just getting a little frustrated, pressing a little bit, errors are starting to appear and these are all things that can happen when you get later-on in your career and it all relates to your nerve a little bit.
"He hasn't played any matches since the US Open so this is also a symptom of lack of match play. But these pressure-filled moments are normally when he thrives, but he hasn't really stepped up has he?
"I think this is a concern for him, no doubt about it. I think there are some physical issues as well. He's always managed to mask his fatigue in the past, but I think it is fairly clear that coming down the stretch he was tired and he couldn't quite muster enough brilliance when he needed it; Monfils was also feeling the effects - it's very warm and humid in Shanghai and I think it was taking its toll on both guys, but a little bit more on the older man."
Race to London
The loss leaves Federer still searching for points to qualify for the ATP Tour World Finals at London's O2 Arena in November, with Paris the only ATP 1000 left to pick points up.
At present (play in Shanghai will change results) Federer could be pushed out of the qualifying eight by Stanislas Wawrinka, Richard Gasquet, Jo-Wilfried Tsonga or Milos Raonic, even with Andy Murray withdrawing through injury.
And Shiras believes that Federer could be desperate for points in the French capital.
He added: "There is now a concern that Roger Federer will not make the ATP World Tour Finals. The race is getting tight and there's not a lot of room left on the track as we head down to the finish line.
"There's a real chance that Federer will go in to the Paris ATP 1000 desperate for points to qualify, but we have to see whether Novak and Rafa will play at the tournament; they've entered but as they've qualified they might not play and rather have a little bit of time to themselves to prepare.
"That might open things up a little for Roger, but the fact that he is down the rankings means he is not going to get the nice draws and he was slated to play Novak here in Shanghai in the next round - so it wasn't going to get any easier.
"For him right now those 90 points he would have got for beating Monfils would have been valuable. It's very tight, it's going to be very dramatic coming down the finish line."