ATP Tour Finals: Barry Cowan looks ahead to the tennis season's finale
Barry Cowan previews next week's ATP Tour Finals where the top eight compete at the O2 Arena.
Last Updated: 01/11/13 4:19pm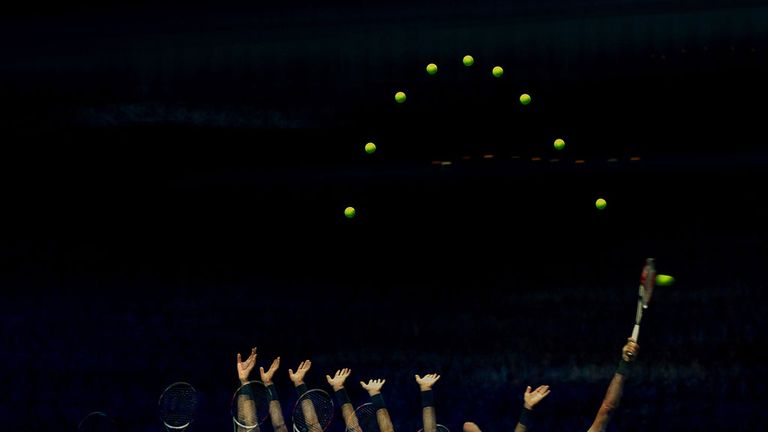 The crowd, the arena and the atmosphere make it one of the best places to play tennis outside the four Grand Slams.
With the history of the event, where it is and how strong the top guys are these days, it's become such a huge title for all of them to try and win.
The same eight to reach the finals reached the quarter-finals of the Paris Masters, so we know all eight of them are in great form, which is exactly what we want.
Nothing against Janko Tipsarevic last year but he ran out of steam, Mardy Fish a couple of years ago wasn't 100 per cent fit and I remember when Andy Roddick turned up one year and wasn't 100 per cent fit.
The fact that all eight are playing great means that everyone can beat each other.
WHAT AN ATMOSPHERE
I'm probably slightly biased but I think here in London, we've got the best Grand Slam in Wimbledon and then we have the World Tour Finals to finish the year, with the top eight showcasing the talent and depth we have in the men's game. It would be great if it could stay here forever.
But, it's realistic that we won't have it when Andy Murray decides to move on and do other things. At the moment we should treasure the fact that we have the event and as long as people vote with their seats we've got more chance of keeping the event.
The fact that it is going to be another sell-out proves that fans clearly enjoy the experience because it is different. You get music at the change of ends and as the players walk on. It's closer to a concert as opposed to the tranquil, peaceful ambience of Wimbledon.
I wouldn't want every week to be like the O2, but neither would I want every week to be like Wimbledon. I think it's important to have a mix and the O2 certainly gets the balance right.
THE FINALISTS
I felt this would be the eight to play in London from a long time ago. I always thought it would be tough for Jo-Wilfried Tsonga to make it - he actually came a lot closer than I thought he would with the injury problems he's had.
These eight looked like making it as soon as Murray had the back surgery after the Davis Cup. I'm delighted that Richard Gasquet made it; here's a guy who's been through a lot and had to serve a ban and prove his innocence. Now, he's rebuilt his confidence and is playing some brilliant tennis, the way he plays is a bit different to some of the others.
There's a real mix of styles this year. You've got you're 6ft 6in Juan Martin Del Potro, then you've got David Ferrer - who is so resilient, then there's the shot making of Gasquet and the power of Stanislas Wawrinka who has had a great 12 months.
Rafael Nadal and Djokovic do stand out as favourites in terms of titles won this year, but any of the other six on any other given day could beat those top two, so I'm so excited about what could potentially happen next week.
But for me its Djokovic and Del Potro that should be favourites to reach the final - and Djokovic would be my number one because of the run he's on.
I think since Nadal regained the world number one spot he's got that monkey off his back and he's now focussed on hunting down Rafa. The conditions are in his favour, too, because he's a great hard court player and is also a great indoor player. He would be my favourite.
I'll also stick with Del Potro because of the great form he's in and his brilliance playing indoors. The reason I'm putting Nadal down in the pecking order is because he's only ever won one indoor title on hard and that was back in 2005.
He still has a little bit to prove amazingly, given what he's achieved throughout his career, as he's never won this event. But you'd always be brave to say Nadal can't win it and it wouldn't be a surprise if he did.
Playing indoors is more about front foot tennis. It's more about trying to get your foot on the accelerator and it's much more difficult to defend; that's why Nadal has struggled indoors in the past.
Although, I think anyone who's seen Rafa this year will know he's improved his tennis on faster hard courts and improved his return, which hasn't necessarily been his best asset off the big first serve.
Nadal's improved his ability to play further up the court and obviously with that, it is more difficult to defend and that's why Federer feels more comfortable against Nadal indoors than he does outdoors; if Federer hits one or two good shots indoors he wins the point. Outdoors he has to hit five or six good shots and mentally that takes its toll.
Watch every session of the ATP World Tour Finals - which run from November 4-11 - on Sky Sports. Click here for coverage details.
You can catch all the action from the ATP World Tour Final with a Sky Sports Day Pass. For more information click here