ATP World Tour Finals: Boris Becker assesses the eight players involved
ATP World Tour Finals legend Boris Becker assesses the octet of stars gunning for glory in London.
Last Updated: 04/11/13 10:53am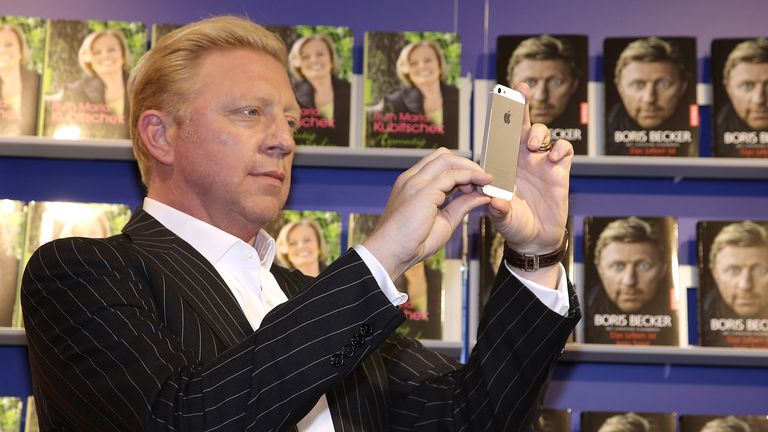 The German superstar won the season-ending event three times - in 1988, 1992, and 1995 - and was vanquished in the final on a further five occasions, twice by Pete Sampras and Ivan Lendl and once by Stefan Edberg.
Becker made the last of his 11 appearances at the tournament in 1996 but will analyse the tennis titans of today when he re-joins the Sky Sports punditry team for this year's showdown at London's O2 Arena.
However, the six-time Grand Slam champion - who said of the ATP World Tour Finals: "I got to play back-to-back against my toughest competitors, which was a great thrill and something I loved" - began his assessment of Rafael Nadal and co early during an exclusive chat with skysports.com.
So read below to discover Becker's views on each of the players that will be in action in the English capital - and who he is tipping to lift the title aloft on Monday week...
"After Rafael Nadal's injury led to him missing the Australian Open, I don't think anyone - including probably himself - thought he would have a career year, winning two Grand Slams and ending the year as world number one. The fact he has done that is remarkable and shows just how much determination and willpower this young man from Spain has.
"It looks to me that Nadal is playing with more aggression and taking more chances since he returned to the court, something that I thought was missing in the earlier part of his career. He showed at the US Open that he has a bigger serve and increased power from the baseline and I think he is a better player than before.
"Rafa does not like the indoors much and prefers the elements - the wind and sun give him a bit more time to play his shots, whereas he can find things a bit too quick inside - and while that could be different this year, I don't know how much different.
"Novak Djokovic has only won five titles to Nadal's 10 in 2013, but he beat Rafa in the final of the Masters 1000 event on the clay in Monte Carlo - something that was important for his confidence - and was world number one until a couple of weeks ago, so he has not done too bad.
"Obviously, though, after the standard he has set in the previous few seasons, you could say he has dropped his level a little bit after losing to Andy Murray in the Wimbledon final and finishing runner-up to Nadal at Flushing Meadows.
"I think that is something that bothers him and that determination to win a huge title - which the ATP World Tour Finals is - is what makes him my favourite at the O2 Arena, but my dark horse is Juan Martin Del Potro, who has won four Masters 500 events this season, most recently in Basel.
"Everyone is hoping to see Juan Martin consistently play to the level of Djokovic, Nadal, Murray and Roger Federer and I think he has the quality, the power, the size and the mentality - he won the 2009 US Open, don't forget - to do that.
"Del Potro was out for a year with a wrist injury and it took him a while to return, but he is back now and back to his very best at the right time. He plays wonderful high-risk tennis, always aiming for the lines, and that approach gets rewarded indoors so it wouldn't surprise me if he went one better at the O2 than 2009 when he lost in the final to Nikolay Davydenko.
"Tomas Berdych, meanwhile, is the only player headed to London who hasn't won a title this year but you can look at that statistic two ways, either by questioning it or applauding his ability to get to the latter stages of tournaments.
"Berdych is a powerful and talented man who many people think should win a Masters 1000 event or, perhaps, even a Grand Slam, but he has been rewarded for consistently making quarter-finals, semi-finals and finals this year and on his day in London, he could beat anybody.
"The same goes for Federer; his level has dropped, no doubt about it, but he has realised that the time has come to give it his all and after making the final at the O2 last year, there's no reason he can't do it again, especially after his recent improvement that has included losing a very close match to Del Potro in Basel and having a good run in Paris.
"You also have to have so much respect for David Ferrer, who is never a favourite for any tournament but wins a lot! He is a remarkable man who has made the most out of every ounce of ability that he has and is somebody that no-one will want to play in London.
"Ferrer - who made his first Grand Slam final this year, at Roland Garros - has great fitness and energy levels but I also love his never-say-die attitude; there is not a point that he doesn't try to win and I have never seen him put his head down. He is the ultimate fighter.
"Stanislas Wawrinka has seemed a different man since he pushed Djokovic all the way at the Australian Open, and he had another great match with Novak in the semi-finals of the US Open, which he only lost at the end of a thrilling five-setter.
"I expect great things from Wawrinka, not just at the O2 but also in 2014, as he has come out of his shell, matured and at the age of nearly 29 he is playing better than ever. Plus, he is a terrifically nice guy and it's always good to see people like that do well.
"Last but not least we have Richard Gasquet, one of the most talented players to ever play the game but someone who went through a few off-court difficulties and had to fight his way back to the top of the sport.
"That, however, has been a learning curve for him and he has had a very solid year with the highlight being making the semi-finals of the US Open and having a wonderful match with Nadal. He also won the Kremlin Cup in Moscow not so long ago and will be a dangerous proposition for anybody."
Watch every session of the ATP World Tour Finals - which run from November 4-11 - on Sky Sports. Click here for coverage details.
You can catch all the action from the ATP World Tour Finals with a Sky Sports Day Pass. For more information click here