ATP World Tour Finals: Annabel Croft impressed by Nadal v Wawrinka
Rafa Nadal and Stanislas Wawrinka played superb tennis in their O2 Arena duel, says Annabel Croft.
Last Updated: 06/11/13 6:13pm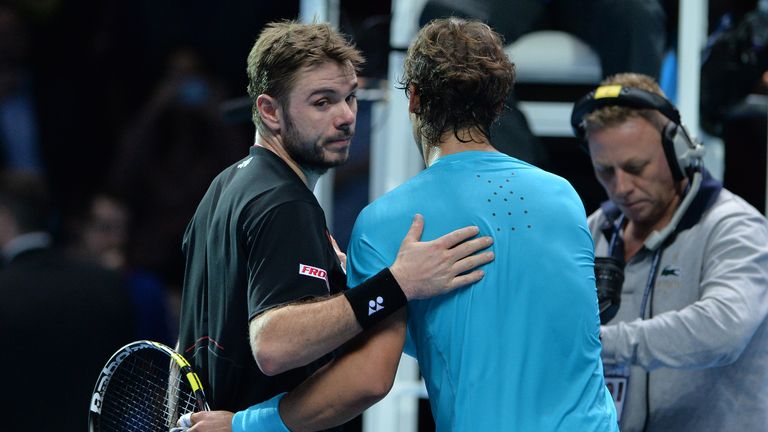 Nadal edged the clash 7-6, 7-6 to take his career record against the swashbuckling Swiss to 12-0, book a semi-final berth at the O2 Arena,and guarantee his status as the end-of-year world number one.
Sky Sports pundit Croft, who watched the action unfold with fellow analysts Greg Rusedski and Boris Becker, was impressed by both players' performances, but reserved hearty praise for Nadal and the Spaniard's ability to mix up his strategies.
"I thought it was an amazing tennis match and anyone who had a ticket to it was really entertained," said Croft, after Nadal followed up his win over David Ferrer with another triumph.
"The tennis was of the highest quality and there were some exhilarating points, but I was just in awe of how Nadal turned situations around and how he changed tactics throughout the match.
"Sometimes he went up high to the Wawrinka backhand, other times he used the sliced backhand very effectively, while on some occasions he served and volleyed.
Movement
"There is so much going on with his tactics, but his movement around the court is also phenomenal and it is very difficult to get him off balance."
Nadal was vanquished by Ferrer in the semi-finals of last week's Paris Masters - a tournament reigning ATP World Tour Finals champion Novak Djokovic went on to win - and Rusedski reckons that defeat benefitted the Mallorcan ahead of his trip to the English capital.
Meanwhile, Becker - a three-time victor of the ATP World Tour Finals - had words of encouragement for the conquered Wawrinka, who bested Tomas Berdych in his opening O2 encounter on Monday.
Rusedski said: "I think it helped Rafa losing in the semi-finals of Paris as it gave him an extra few days off.
"And what he produced against Wawrinka was spectacular - but he need to produce it because Wawrinka was hitting the ball beautifully."
Of Wawrinka, who reached the last four of this term's US Open at Flushing Meadows, Becker added: "He has really come alive, not only in this match but this year, and he is one hell of a player.
"He is not out of this tournament yet and I expect him to get to the semi-finals and be a real threat to win the event."
Watch every session of the ATP World Tour Finals - which run from November 4-11 - on Sky Sports. Click here for coverage details.
You can catch all the action from the ATP World Tour Finals with a Sky Sports Day Pass. For more information click here