Richard Gasquet needs to convince himself he can win, says Greg Rusedski
Greg Rusedski says Richard Gasquet's mentality is the only thing stopping him beating the top players.
Last Updated: 12/12/13 10:04am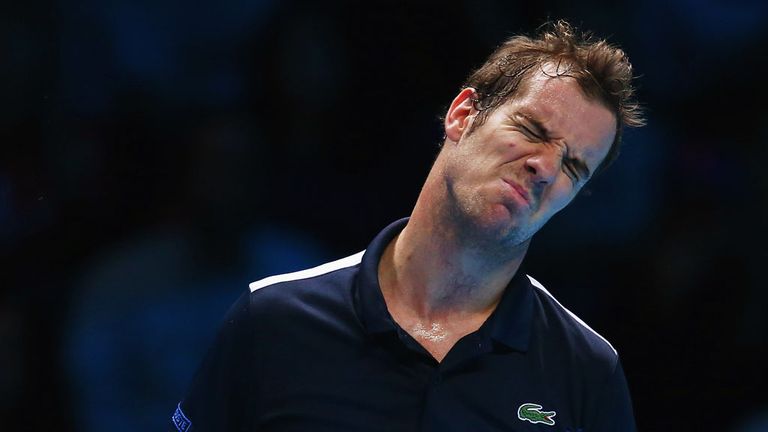 The Frenchman, 27, had no answer to six-time ATP World Tour Finals winner Roger Federer who swept past 6-4 6-3 in their Group B match at the O2 Arena.
The world number nine has won three ATP Tour titles this season but this loss means the US Open semi-finalist has no chance of progressing further in London.
His sporadic form since bursting on to the scene in 2002 has been well documented, but Sky Sports expert Greg Rusedski believes it's time Gasquet sorted his mind out and takes that next step.
"Technical changes start early in the mind, the whole game of tennis is between the ears," said Rusedski.
"If you can convince your mind you've got half that battle won already and with Gasquet that is a key ingredient.
"It was chalk and cheese; you look at his performance against Juan Martin Del Potro and you think 'wow, that's progress', then you look at him today and you say 'well that's the old Gasquet we knew before'.
"He needs to be consistent in practice, consistent on the match court and know that that's the way you have to go forward. The way he's playing now he can stay at around 7-10 in the world rankings but if he wants to beat the top guys like Federer, Novak Djokovic and Rafa Nadal he has to push forward and that's what he needs to accept himself.
"I could tell him, Sebastien Grosjean [his coach] could tell him, Boris Becker could even tell him, but it comes down to him at the end of the day and the player believing that this is the way - that is a huge key in tennis."
Former world number one Boris Becker added to Rusedski's comments, saying: "Gasquet's problem throughout his career is he can't accept greatness.
"He had a problem coming up to be the new French superstar. For many years he almost had a complex, he needs to accept that he's that good now. I think the attitude was his problem today."
Nervy Federer
Roger Federer will now face Juan Martin Del Potro on Saturday in a shoot-out to see who joins Novak Djokovic in qualifying for the semi-finals from Group B.
Despite his two-set victory, the Sky Sports tennis panel said the 17-time Grand Slam looked nervous on the O2 court and will just be happy to get a win under his belt.
"I think he needs to lift his level for the next group game coming up against Juan Martin Del Potro," said Rusedski.
"He was slightly better than he was against Djokovic and he looked very nervy in the first set, but a win is a win and with Roger Federer he could come out on Saturday and be the old Roger Federer on fire."
Watch every session of the ATP World Tour Finals - which run from November 4-11 - on Sky Sports. Click here for coverage details.
You can catch all the action from the ATP World Tour Finals with a Sky Sports Day Pass. For more information click here