Novak Djokovic's mental strength is incredible, says Annabel Croft
Noval Djokovic may be fiery but his mental strength is taking him to new heights, says Annabel Croft.
Last Updated: 08/11/13 9:32am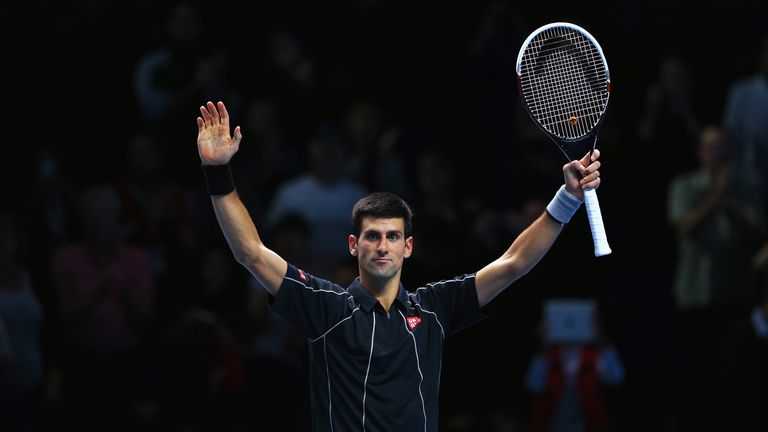 The Serb came through three brutal sets against an on-song Juan Martin Del Potro on Thursday night to secure his place in the semi-finals of the ATP World Tour Finals.
After winning the opening set 6-3, Djokovic was broken when 3-2 down in the second but despite a slight wobble, he was able to hit back and conquer the Argentine to make it 19 wins in a row.
Croft told Sky Sports: "It's just incredible how he takes difficult situations on the chin and finds a way to bring back the level of concentration and focus.
"He battens down the hatches and becomes even tougher to beat and that winning run is counting so much for his confidence and he's the man to beat.
"He gets really cross with himself and quite petulant and he was venting at his team. He was getting quite animated and agitated because things in his mind weren't working perfectly.
"The scoreline was actually pretty level at that stage (in the second set) and it was extraordinary the body language and signals he was giving off and then there was the break in the next game."
Style
The result continued an incredible run of victories for Djokovic, who last lost against Rafael Nadal in the US Open final in September.
Greg Rusedski added: "Novak has got better with every match he's played. That was a big test against Del Potro and he'll want to go out in style at the end of the season. He's the man to beat and looking very, very good."
There were times in the middle of Thursday's stirring contest that Del Potro looked like he could produce a shock, but Djokovic stayed cool with a relentless array of deft drop shots and baseline power.
The 26-year-old Djokovic suggested the court had been playing faster than expected, something contradicted by some of the other players on show in London this week.
"I think the court did seem quicker," Croft added. "There have been doubles matches and players warming up and the courts can speed up during the course of a few days.
"It also depends on the heat factor in the building. You look at Del Potro, who's the hardest striker of the ball anybody's witnessed on the tennis court, and he can make that court look lightening quick.
"Then there's a player like Nadal who puts so much more spin on the ball and it won't travel as quick as Del Potro's. It's a surface that can take the pace but it can also take the spin and make it a bit slower as well."
Watch every session of the ATP World Tour Finals - which run from November 4-11 - on Sky Sports. Click here for coverage details.
You can catch all the action from the ATP World Tour Finals with a Sky Sports Day Pass. For more information click here