Tennis review 2013
We take a look back on another dramatic and historic year on the court
By Alex Williams
Last Updated: 22/12/13 11:34am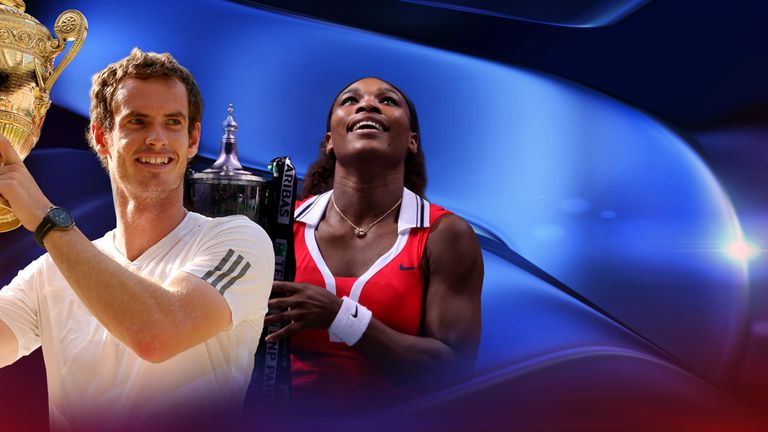 While Williams' rise back to the top of the world rankings was somewhat predictable - the American having won the last two grand slams of 2012 - Nadal surprised many observers by returning from a serious knee injury to win the French Open, US Open and five Masters 1000 events.
Nadal's achievements did not mean Novak Djokovic and Andy Murray were put completely in the shade as the duo shared the two remaining major titles between them.
The same could not be said for Roger Federer, who endured his worst season in a decade, dropping out of the world's top five amid a string of shock exits at the grand slams.
Victoria Azarenka started the year as the women's world No 1 and justified that billing by winning the Australian Open for a second straight year, but she was soon put in the shade by Williams' continuing resurgence.
The American veteran took her grand slam tally to 17 with wins at the French Open and US Open, with Marion Bartoli springing a surprise in between by taking the Wimbledon title.
In a prelude to the Czech Republic retaining the Davis Cup, three different players from the central European nation won at least one major doubles title, while the Bryan brothers just missed out on completing a calendar-year Grand Slam.
Man of the year - Rafael Nadal
For the second time, the Spaniard came back from seemingly chronic injury problems to produce one of the most dominant seasons in history. A tame exit at the 2010 Australian Open left many fearing for his career as an elite player, and the same was being said when a seven-month lay-off spilled over into the start of this year. Despite being out for so long he did not have much rust to shake off on his return, making the final of every tournament he played - bar one - from his season debut in February until the start of October. At the end of the US Open his record for the year was an incredible 60-3.
Nadal's dominance of the clay season was not anything new but his unstoppable form on hard courts, which saw him win 26 straight matches, three Masters 1000 events and a grand slam on the surface, was less expected. If he can maintain the same form in 2014, Roger Federer's record of 17 grand slam titles will soon come under threat.
Honourable mentions: Novak Djokovic, Andy Murray
Woman of the year - Serena Williams
Williams has now put herself firmly in the pantheon of tennis' true greats after winning two more grand slam titles. Although her defeat to young American compatriot Sloane Stephens in Australia could have been viewed as a 'passing the torch' moment, Williams' form over the rest of the season suggests she will be holding the flame for some time yet.
A 34-match winning run in the middle of the year saw her win the French Open and Sony Open, among others, while victories at the US Open and WTA Championships completed her season. From March until October she was a mind-boggling 66-2.
Honourable mentions: Victoria Azarenka, Marion Bartoli
Match of the year - Djokovic v Del Potro, Wimbledon semi-final
Many of the most enjoyable tennis matches come about as a result of unexpected rather than predictable brilliance. When Rafael Nadal took on Novak Djokovic in the French Open semi-final many sat down to watch it expecting an epic, but only a few predicted how hard Juan Martin del Potro would push the Serbian in the last four of Wimbledon.
Del Potro was expected to be hobbled by a knee injury picked up in his quarter-final but went blow for blow with his top-seeded opponent, even threatening to pull off the upset following a tremendous fourth set tie-break. In the end, however, Djokovic found away to survive the Argentine's frightening forehand and emerge with a 7-5 4-6 7-6 6-7 6-3 win.
Honourable mentions: S Williams v Lisicki, Wimbledon fourth round. Djokovic v Nadal, French Open semi-final
Controversy of the year - The doping issue
A problem which some say has been brewing for years finally came to prominence in 2013. While the year started with the International Tennis Federation stating their intention to start a cycling-style biological passport, blood tests were soon in the headlines for all the wrong reasons as Viktor Troicki earned a year-long ban for missing one. The subsequent recriminations, claims and counter-claims were unedifying for all involved.
The sport's worst-kept secret was revealed in September when it was announced Marin Cilic had tested positive for nikethamide, with the ultimate upshot a four-month ban for the Croatian. The year then ended with Nuria Llagostera Vives' positive test for d-methamphetamine, which did little to placate some of the doubts over the sport.
(Dis)honourable mentions: Serena Williams-Maria Sharapova spat, injuries at Wimbledon
Memorable moments
Murray makes history
After Britain's 76-year wait for a male grand slam singles champion ended in 2012, the nation had a renewed sense of belief over Andy Murray's Wimbledon hopes this year. Early exits for Rafael Nadal and Roger Federer only heightened the sense of expectation, with Murray heavily favoured to reach the final after those shocks. Looming on the other side of Centre Court on Sunday July 7 was then world No 1 Novak Djokovic, but Murray produced a performance of the utmost confidence to see the Serbian off in three historic sets.
Bartoli's fairytale
It is a testament to Marion Bartoli's story that she was able to capture the imagination of the British public almost as much as Murray did. The French veteran took advantage of a wide open draw to set-up a final clash with the popular Sabine Lisicki. A match billed as unique clash between two grass-court specialists ended in a one-sided victory for Bartoli, who retired shortly afterwards having achieved her dream.
Demolition job
Never was Serena Williams' superiority better displayed than in her French Open semi-final against Sara Errani. The tiny Italian, a nifty clay-court specialist who reached the Roland Garros final the previous year, suffered the type of defeat that is very rarely seen in the latter stages of a major event. Williams won 52 points to her opponents' 16 and dropped just one game as she utterly steamrollered the fifth seed in 46 minutes of brutally one-sided tennis.
Davis Cup marathon
While John Isner and Nicolas Mahut's act of insanity at Wimbledon 2010 may never be beaten for the 'longest match ever' prize, the Czech Republic's Tomas Berdych and Lukas Rosol came closer than anyone else during their Davis Cup doubles marathon with Switzerland's Marco Chiudinelli and Stanislas Wawrinka. In what was a crucial first round rubber, the two teams battled it out for seven hours and two minutes before Berdych and Rosol prevailed 6-4 5-7 6-4 6-7 24-22. It was the second-longest match in history and longest ever held over one day.
Robson the battler
The British No 1 looked to have made a real breakthrough at this year's Australian Open when she dumped out former Wimbledon champion Petra Kvitova in the second round. Then still a few days shy of her 19th birthday, Robson came back from a set down to level things up before eventually coming out on top 11-9 in an epic, back-and-forth final set. The win showed the youngster did have the capability to close things out against the big names.
Quotes of the year
"I would have probably gotten in a fight with him in the locker room before the match. I might have had a chance there." Andre Agassi reveals what his strategy would have been if faced with a match against Novak Djokovic.
"Tennis today badly lacks characters. I respect Roger, Rafa, Novak and Murray but, for me, all four of them are boring players. Their interviews are boring." Ernests Gulbis speaks out on the elite players' lack of flamboyance.
"She begins every interview with, 'I'm so happy. I'm so lucky' - it's so boring. She's still not going to be invited to the cool parties." Although she doesn't mention the Russian by name, this thinly-veiled dig sparks a public feud between Serena Williams and Maria Sharapova.
"This decision puts an end to my dreams of being a top player, of reaching the ATP Finals and fighting against the best in the world." Viktor Troicki tries to point the finger elsewhere after being given a one-year ban for missing a drugs test.
"I have been challenged by someone on Twitter to take on Serena Williams. I'd be up for it, why not?" Andy Murray lays down the gauntlet the No 1 player in the women's game.
"I made my dream a reality and it will stay forever with me, but now my body just can't cope with everything." Marion Bartoli bows out of tennis shortly after winning Wimbledon.