Djokovic to reign?
Andy Murray is an 8/1 chance to be 2014's No 1, with Sky Bet rating Novak Djokovic most likely to rule.
Last Updated: 15/06/14 9:45pm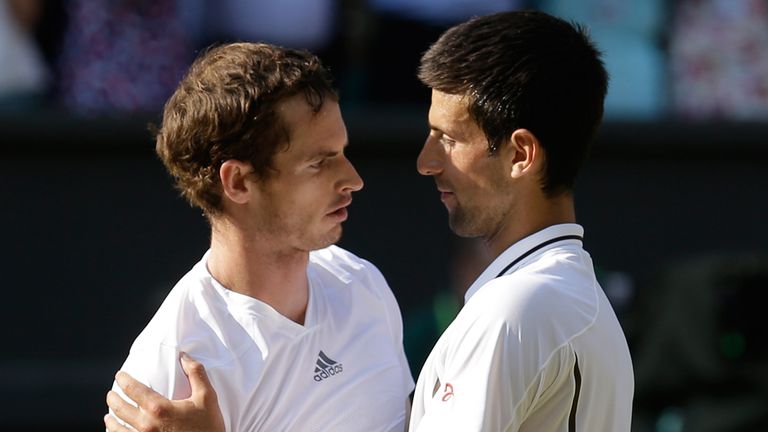 Andy Murray is considered an 8/1 chance to be 2014's number one player, with Sky Bet rating Novak Djokovic the most likely candidate to top the rankings.
The online bookmaker are expecting the Serb to dominate the upcoming campaign, making him favourite for three of the four majors, while Rafael Nadal is odds-on for a ninth French Open title.
The Spaniard was the 2013 season-ending no.1 but is 6/4 to repeat that feat in what is virtually a match bet against Djokovic, with Murray the only realistic candidate to disturb their dominance.
The Scot is making his comeback following back surgery and will head into the forthcoming campaign free of the burden of history, having ended Britain's 76-year wait for a Wimbledon champion last summer.
Despite winning two of the last five major events, Murray is 11/2 to improve on his three final defeats by lifting the Australian Open trophy with Djokovic just 5/4 for fifth triumph at Melbourne Park.
Nadal is second favourite for the event at 9/4 and the same price to retain his US Open crown, with Sky Bet going odds-against that anyone other than the aformentioned trio win any of the Grand Slam titles.
Juan Martin del Potro is considered the main challenger to their dominance at 10/1 to win the Australian Open, while Roger Federer is next in line at 14/1.
The bookmaker doubt Federer's chances of adding to his 16 Grand Slam titles at 7/2 to land another this year, while he is 13/8 to even reach a major final and 10/1 to win another Wimbledon title.
Sky Bet's Ned Brooker said: "While we make Murray odds-on to win another major in 2013, it will take more sustained success than previously shown to capture to top spot in the rankings.
"Failing to do anything of note on clay last year was his major undoing but if his back is 100 per cent then he's certainly got a chance."