Heated debate
Our man at the Australian Open reflects on a week of record temperatures, fainting players and strange hunting analogies
Last Updated: 17/01/14 9:19am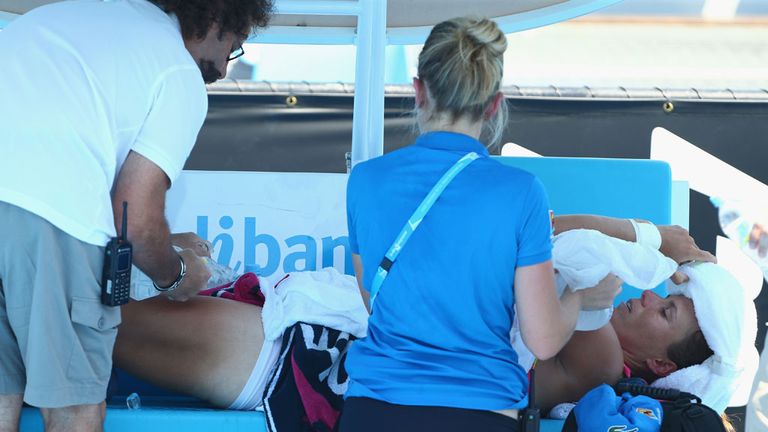 Like the bush fires among the Grampians, the debate has raged on throughout the first week of the Australian Open as to how best to deal with the relentless heat.
Melbourne has endured its longest heat wave in more than 100 years with four successive days where the temperature has reached 40c+, rarely dropping much below during daytime.
The result has been attendances significantly down, with over 15,000 less attending Tuesday's day session in comparison to last year, while several players have been treated courtside as ice jackets struggle to counter the brutal heat.
However, play has gone on with exception to a four-hour break as the extreme heat rule was implemented for the first time in five years on Thursday, meaning we have no backlog in play heading into the weekend.
Good for the organisers but the sense around Melbourne Park is that the safety of players, officials and fans was somewhat gambled with in order to let the show go on.
While nobody has cited the heat for retiring from a match, there have been plenty of cases of concern, with one player fainting, another being sick on court and Jamie Murray suffering heat stroke and intense cramps for a matter of hours after his match.
The powers that be will certainly have breathed a sigh of relief as the temperatures plummeted for the weekend without a real headline case to defend, having allowed the decision over suspending play to be made at the referee's discretion.
Bizarre comment
Chief medical officer Dr Tim Wood attempted to appease concerns by stating: "We evolved on the high plains of Africa chasing antelope for eight hours under these conditions," a bizarre comment which is unlikely to have gone down well in the locker room.
The general consensus seems to be better clarification and clearer information are both needed, while the rule of having to complete sets after suspension of play, which leaves an infinite period of play for those embroiled in a decider, needs to be addressed.
In fairness the situation has been virtually impossible, with temperatures rarely dipping below 35c during the last four days.
Looking forward, Andy Murray will enjoy playing in far cooler conditions with the temperature dropping a remarkable 20c from Friday to Saturday.
The Scot has avoided the worst of it with successive late matches, while his opponents have hardly thrown up much of a challenge either with Go Soeda virtually unarmed and Vincent Millot putting together just one decent set, only for the Scot to reel off 23 successive points en route to victory.
Feliciano Lopez has little reason to expect to fare any better, having lost all of their seven previous meetings, although the Scot needed three tie-break triumphs to win their last meeting in four sets at the 2012 US Open.
I was fortunate enough to be there at Flushing Meadows as Murray laboured through in the blazing heat en route to lifting the trophy - few would have suggested after that match that his time to secure that illusive first Grand Slam title had finally come.
It may sound foolish to some but I feel he could do with another tough battle like that to build the belief that he can come through tough matches, especially with Roger Federer, Rafael Nadal and Novak Djokovic almost inevitably waiting in his path.
We're yet to get even a sniff of those guys suffering an upset but fifth seed Juan Martin del Potro, who remains far too inconsistent to be considered a successor to the No 1 throne, went down in five to world 62 Roberto Bautista Agut on Thursday night, the biggest upset of the tournament so far.
Predictions
As always in the first week of Grand Slams, it is tough to pick an upset on the show courts so I'm heading outside for my selections.
Milos Raonic versus Grigor Dimitrov represents a battle of the game's rising stars and a common theme to the former's games here catches my eye - with the big-serving Canadian prevailing in tie-breaks in the first set of his last two matches.
There is a logic behind backing this happening again with Raonic's hefty serve incredibly difficult to adapt to, while Dimitrov has also been fantastic at holding in his first two matches, winning an event high of 87 per cent of points on serve.
Therefore back this one to start with a tie-break, with Raonic the more likely to prevail, and then sit back and enjoy a match full of attacking prowess.
Murray's tendency of dropping the first set is my old favourite angle and the attack-minded Lopez has the weapons to catch him cold following two uncompetitive matches.
Sky Bet's 'Set Exacta' allows you to take advantage, with a significant price on him coming through LWWW.
Gilles Simon verses compatriot Jo-Wilfried Tsonga is a tough one to call given the lower ranked of the two has won two of their last three meetings.
I like the look of this one going the distance, which is priced at 9/2 with Sky Bet, with two contrasting styles making for an entertaining match.
Anyway, I'm off to chase some antelope - should be easy now it has cooled down, right?
Follow Tim's tips and Barry Cowan's charity bets here.