A star is born
Our man at Melbourne Park looks at the remarkable rise of Australian Open semi-finalist Eugenie Bouchard
Last Updated: 22/01/14 4:28pm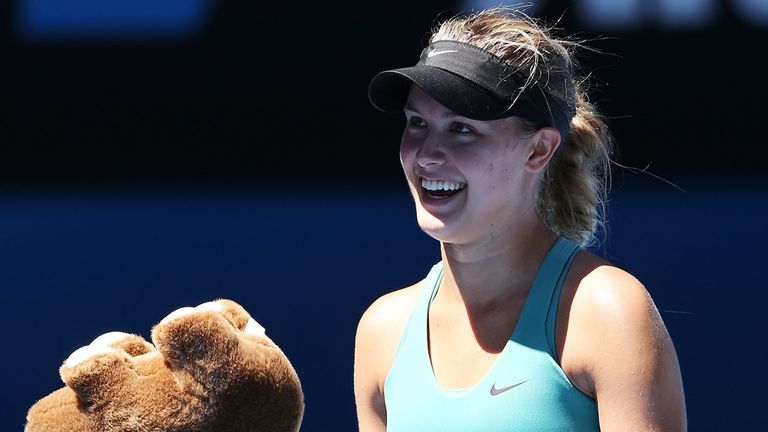 A year may seem a long time in sport but it has still been a remarkable rise for Eugenie Bouchard, going from failed qualifier to Australian Open semi-finalist.
As an 18-year-old ranked 145 in the world, the Canadian went down in straight sets in the second round of qualifying to a girl of the same age, Daria Gavrilova.
Not heard of her? That's because she's yet to go past the first round of a full WTA event since booking her place in the Melbourne Park main draw at the expense of Bouchard, who will break the top 20 thanks to her quarter-final victory over Ana Ivanovic.
In an era where youngsters are finding it so hard to break through, in both the men's and women's game, the 2012 Wimbledon girls' champion has defied the norm in going from junior talent to major title contender in just two years.
The most impressive nature of her run has been the emotional calm on show throughout a breakthrough run, especially in winning from a set down in both of her last two matches.
Remarkably mature
While the majority of the tennis world has been stunned by her achievements, the remarkably mature Bouchard is hardly likely to be spotted with self-inflicted pinch marks.
"It's something I've been doing since I was five years old and working my whole life for and sacrificing a lot of things for. It's not exactly a surprise. I always expect myself to do well," she said after ousting Ivanovic.
"I'm happy to have gone through this step. I'm not done. I have a match on Thursday."
Bouchard feels her main flaw is impatience but her failure to wait her time is about to propel her into international stardom.
We can only hope that it is her achievements on court that dominate the focus rather than her agreeable appearance but questions over her outfit in dream date, which she unfortunately revealed to be Justin Bieber, are unlikely to help.
Indeed, you suspect the 'Genie Army' have not positioned themselves by her side in admiration of a formidable backhand or her ability to strike the ball early to devastating effect - especially given they're actually all from Melbourne.
However, regardless of the nature of the attention, you sense Bouchard will neither play up to it nor shy away but merely see it as part of the process to an inevitable route to the top.
Her focus on tennis will face its greatest test over the next few months as fame, fortune and a retweet from Justin Beiber come her way but the Canadian seems as well equipped as any to cope.
Time will ultimately tell whether 'Genie' has the bottle (sorry), starting with a semi-final against Na Li on Thursday with a place in the Australian Open final on the line.