Australian Open: Andy Murray v Roger Federer tactical preview
Andy Murray takes on Roger Federer on Wednesday in what promises to be a fascinating tactical battle.
Last Updated: 21/01/14 9:04pm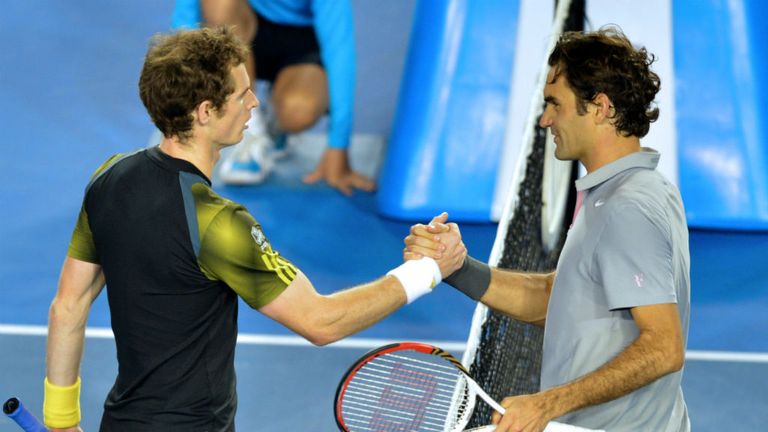 The pair have met 20 times, with Murray edging the head-to-head record 11-9. The last time they met was in the semi-finals of the Australian Open last year when Murray beat the great man in five terrific sets - the first time he got the better of Federer in a grand slam.
At the start of the tournament the smart money would have been on Murray. That was probably true before the fourth round too. But Federer's astonishing performance against Jo-Wilfried Tsonga has changed the thinking radically.
He dumped the mighty Tsonga out in straight sets, but it was the manner of his victory that left seasoned Federer-watchers open-mouthed. There was a distinct menace and purpose about Federer's play, the first time we have seen that arguably since Wimbledon 2012.
He kept putting the ball precisely where Tsonga did not want it, and the Frenchman looked absolutely exhausted by the end of it, having effectively undergone two hours of tortuous sprint training.
The stats from that match will be of serious interest to the Murray camp. Federer's first serve percentage was low at 47%, but when it was in he won 88% of the points - in other words, he is really going for it on his first serve, confident that his second serve is good enough to be a weapon rather than a weakness. And he is right. He still won 69% of the points on his second serve.
Attacking intent
Then there are the net stats. Federer advanced to the net 41 times in a three-set match - a huge number these days. And he won 34 of those points. By comparison Murray, in four sets against Stephane Robert, came to the net just 24 times, winning 16 of them.
The key takeaway from the service and net-play stats is that Federer is playing aggressive, attacking tennis, and executing his plan superbly. He is going for it. Has Stefan Edberg, his new coach, simply reminded Federer what he is good at, and got him doing it again?
Federer's problem is that whilst Murray has made an attempt to be more aggressive himself in the last two years, he is probably the best counter-puncher in the game. He loves nothing more than having his back against the wall, soaking up the pressure, letting his opponent come forward, and then nailing a winner. In other words, Federer's preferred tactics happen to play to Murray's strengths.
Murray will try to slow everything down and drag Federer into long, drawn-out exchanges, grind him down and be prepared to go long. Federer will try to dictate play, get on the front foot and win points quickly.
Federer and Murray are the perfect pair to watch for the neutral. It is Federer's Cavalier v Murray's Roundhead, The Dreamer v The Pragmatist. Federer is slight favourite with most bookies and that is about right, given Murray's lack of match time in the last six months. But this one could go either way.
If Federer wins, expect it to be in three sets. If Murray does, it is likely to be a four or five-set classic.