Undercooked
Our man Down Under reflects on Murray's loss, a magnificent Melbourne and some woeful predictions.
Last Updated: 23/01/14 5:05pm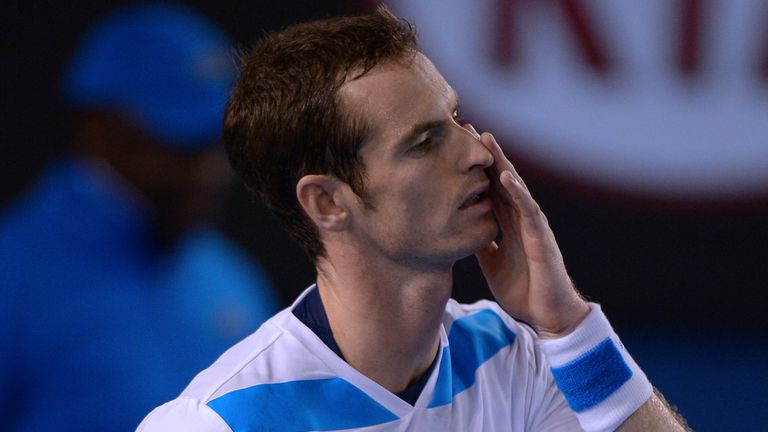 The big question surrounding Andy Murray heading into the Australian Open was whether he could produce his best tennis so soon after back surgery - the answer was apparent very early on Wednesday.
Roger Federer predictably took the attack to the Wimbledon champion from the off - and Murray's counter-punching clearly was not close to its laser-accurate best, with a slower first step leaving him scrambling throughout and merely scrapping to stay alive.
After resisting at the death several times, Murray's campaign was finally put to bed in the fourth set with a comeback victory never really looking within his grasp.
The feeling in the Murray camp was that the Scot was 'undercooked' heading into the first Grand Slam of the season, having played just two competitive and three exhibition matches, with largely disappointing results, since back surgery.
Even the word from the ever-demanding British press was 'patience', appropriately allowing some margin for a man who has justified another jaunt Down Under.
Indeed, those of use lucky enough to follow his journey may not have witnessed more records being rewritten but it's not been all bad.
You would do well to find a better city in the world to cover a sporting event, with the colossal MCG and the futuristic AAMI Park next door and the city in general embracing the competition wholly.
The way grassroots is incorporated with the elite competition here is impressive and I'll be looking at the contrast between the Australian Open set up and Wimbledon in my final blog (hopefully the suspense doesn't cause any fatalities).
The weather has perhaps been a tad too hot, but I suspect that won't evoke too much sympathy from back home.
Resurrected hero
The biggest issue Down Under is getting up in the middle of the night to follow my beloved Tottenham, which feels like somewhat of an odd dream with Tim Sherwood in charge and Emmanuel Adebayor a resurrected hero.
Predictions haven't brought too much joy either, having tipped up Murray to lift the trophy and "the inconsistent" Dominika Cibulkova to lose in the second round before she dumped out five higher-ranked players en route to the final.
In fact, Murray went to the extent of suggesting it would be "stupid" to expect him to win his first Grand Slam after such a major operation - just when I was starting to think we were developing a mutual respect.
In all seriousness, one thing really strikes you when spending a fortnight following Murray is his relentless competitiveness.
At one point he revealed he didn't let girlfriend Kim win a single point when they played air hockey on their first date and, probably more significantly, you really feel the intensity when watching him train.
Every missed shot in practice is followed by a wince and a curse, leaving me wondering what he was like after each of those four Grand Slam loses.
Being around foreign journalists makes you very aware of how he still divides opinion, with teeth-pulling press conferences and jokes as likely to make an appearance as an England shirt.
However, unlike some of those who do bare the Three Lions on their chests, Murray's professionalism ensures that he attracts attention solely for what he achieves within his sporting domain and a better sporting role model would be hard to come by.
He must be regarded as Britain's most talented ever tennis player regardless of what he goes on to achieve from here onwards and, after correcting an issue he managed to rewrite history despite, I'd suggest that further heights will be reached.
My aforementioned prediction record will probably provoke plenty to back the opposite but for the record I'm going to go for Rafael Nadal to win in four against Roger Federer in Friday night's final at 3/1 with Sky Bet- you can read my preview here.