Rafael Nadal v Roger Federer: Greatest matches
Ahead of their Australian Open semi-final, we look back at the best Nadal v Federer matches.
Last Updated: 23/01/14 5:18pm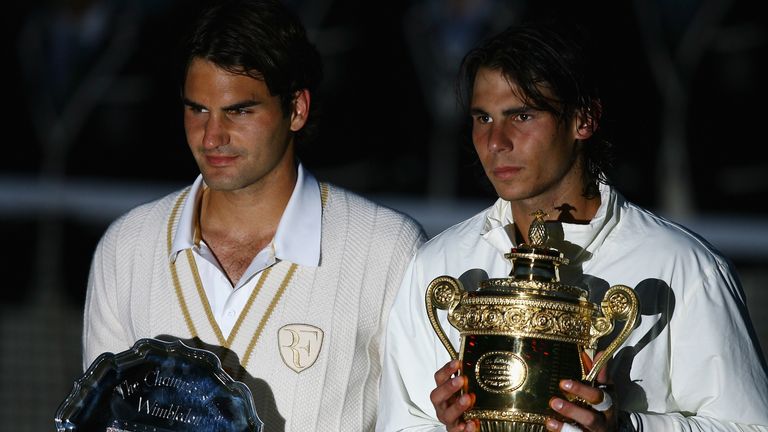 Miami, 2005, F (outdoor hard) - Federer 2-6 6-7 7-6 6-3 6-1
In what was just their second match against each other, Federer came from two sets down to claim the Masters title in Miami. Already a multiple Grand Slam winner, Federer knew all about the rising star of Nadal, who had beaten him at the same venue 12 months earlier when he was only 17. Yet he was unable to fend off the teenager in the early stages and when he fell 4-1 down in the third set, the game looked up. However, using his greater experience to the maximum effect, Federer dug deep and managed to turn the match around, Nadal wilting in the final stages. This remains the only match Nadal has lost from two sets up.
Rome, 2006, F (outdoor clay) - Nadal 6-7 7-6 6-4 2-6 7-6
The best claycourt match these two greats have played came not at Roland Garros but in the Eternal City. The contest certainly went on and on - it lasted more than five hours - but it kept an enthralled crowd on the edge of their seats. There was rarely little between the pair as they traded from the baseline, although Federer did have plenty of success when he came forward. The Swiss had the momentum when he took control in the fourth set. He went a break up in the decider but Nadal's ability to run all day was already well known and he would not stay down. He did, however, stand on the brink at 5-6 15-40 only to save two match points and then claim the resultant tie-break, again after Federer led. The victory was Nadal's 53rd in a row on the clay. His streak would finally stop at 81.
Wimbledon, 2008, F (outdoor grass) - Nadal 6-4 6-4 6-7 6-7 9-7
For me, and many others, this is not only the greatest match Federer and Nadal have ever played but also the best tennis match of all time. Bar none. The quality was staggeringly high, reaching a peak in the fourth-set tie-break as Federer fought back from two sets down to level the match. With Nadal having missed two championship points - more accurately Federer saved them - the five-time defending champion looked the more likely winner heading into a decider which was interrupted by rain. The gloom was gathering when the players returned but on they went, both refusing to relent. Federer finally cracked in the 15th game. Nadal duly served out, clinching victory after four hours and 48 minutes of sensational tennis at 9.15pm.
Australian Open, 2009, F (outdoor hard) - Nadal 7-5 3-6 7-6 3-6 6-2
Six months on from their classic Wimbledon encounter came another epic in the Melbourne final. It actually challenged the SW19 clash in terms of quality - the high-bouncing hardcourt allowing both players to show off their full array of shotmaking skills. However, having twice fought back from a set down, Federer looked weary in the decider as Nadal took control, pushing on to add another notch to his tally of wins over Federer. Having previously taken Federer down on the clay and the grass, this win confirmed Nadal as the new king of the court.
Cincinnati, 2013, QF (outdoor hard) - Nadal 5-7 6-4 6-3
In recent years, Federer-Nadal matches have been much-anticipated but often failed to live up to the high expectations created by what has gone before. However, the pair's meeting in Ohio last summer was something of a 'mini-classic' and suggests much lies in store on Friday. Federer came into the clash in poor form but grabbed the first set, often driving through his backhand - a wing so often attacked by his nemesis. However, Nadal hit back as Federer's error count rose. The Spaniard grabbed an early break in the final set and, despite Federer's best efforts, held onto it throughout.