Stanislas Wawrinka is the poster boy for persistence after his Australian Open victory, says Tim Clement
Tim Clement salutes Stanislas Wawrinka's persistence after the Swiss won the Australian Open.
Last Updated: 26/01/14 3:31pm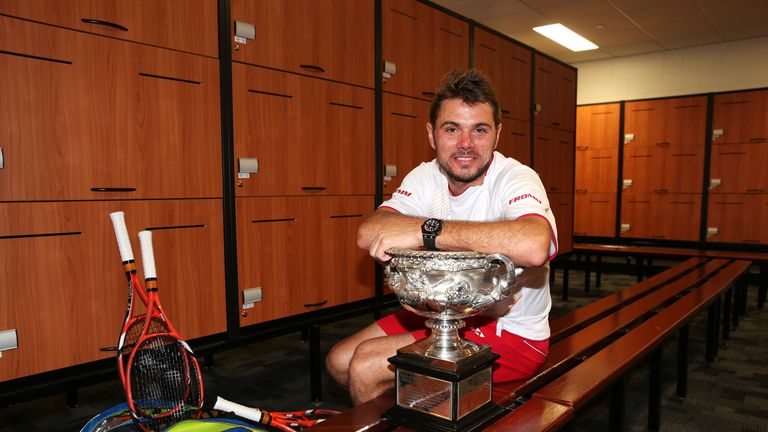 Constantly cast in the shadow of compatriot Roger Federer and forever defied by the rest of the 'big four', Wawrinka has, until now, had to pick up the scraps, repeatedly denied in the big moments.
"Ever tried. Ever failed. No matter. Try Again. Fail again. Fail better," reads the inner forearm of the 28-year-old, a quote from poet Samuel Beckett.
An acceptance that striving to improve is enough of a target alone, failure is inevitable, especially when you haven't beaten either of the top two in your sport for nearly a decade - until now that is.
Wawrinka rewrote the story of his career in a matter of days, going from perennial nearly man to the only player to beat both Novak Djokovic and Rafael Nadal in a Grand Slam, en route to winning the Australian Open.
Following Sunday's final victory over Nadal, he said: "Before today, I was always saying that except Roger, Rafa, Novak, you always lose. So it's not easy because tennis life, when you lose, it's tough to get through and to take a positive from a loss, from failing.
"So that's how I see, in general, my career. I always go back to the court. I always go back to practice to try to improve myself and to give me all the chance to beat the best player in the world."
Defeats
The Grand Slam dream looked as unlikely as ever heading Down Under after the Swiss was placed in the same quarter as three-time reigning champion Djokovic, a man who he had lost to 14 successive times.
However, after two epic defeats and another couple of one-sided contests last year, Wawrinka finally saw off the Serb with a phenomenal display of attacking prowess.
Tomas Berdych, another nearly man, went down next in the semi-final but still it defied all logic for the eighth seed to secure the title.
All 12 previous meetings with Nadal had ended with in straight-sets defeats but, like the way he pushed Djokovic hard in 2013, Wawrinka proved he had the quality if not the killer instinct to battle with the best as he took the Spaniard to two tie-breaks at the World Tour Finals at the back end of last year.
While 2013 was certainly his most successful it was surely also his most painful - but still the perennial Swiss No 2 endured.
That endurance reaped rewards on Sunday night with a four-set triumph and, while we'll never know whether a fully-fit Nadal would have had his usual way, praise must be given to the underdog for finally crossing a finish line which must have seemed so distant until that last winner.
A 303rd winner, a tournament high, aptly sealed it for a man who had kept on swinging bravely throughout, albeit erratically through a worrying third set.
Wawrinka needed to look no further than across the net for inspiration, with a back-injury hampered Nadal struggling on against all odds to keep the dream alive.
The Spaniard admitted it was "impossible" for him to be victorious after the match but the fact he continued to put on the best show possible for the crowd, or which a minority booed his return to the court after treatment.
Dithered
Like his tattoo, Wawrinka's victory on Sunday night is sure to be interpreted various ways, especially as he dithered in putting down the wounded Nadal.
However, any player will tell you facing an injured opponent is far less a straightforward task that is appears, especially when that opponent has the heart of a lion and history in his sights.
Watching Nadal's press conference after he was once again undermined by injury Down Under was difficult viewing but, having entered the room on the brink of tears and with his cap folded down over his face, he eventually embraced the realisation of his general fortune and fondly of his friend Wawrinka.
The new Swiss No 1 and world No 3 is sure to have fun embracing his own realisation of fortune and, in the process, providing inspiration for the supposedly best of the rest that only failing better will lead to achieving better.